Skirts have been around for centuries, and various types of skirts evolved as the length or fullness of the skirt varies. Skirt styles can be body-hugging or loose-fitting. Skirts can emphasize the waistline or change the hemline.
Skirt is just clothes in the shape of a tube hanging from the waist. But this is a very versatile tube that makes it more sophisticated, feminine, flirty, warm, stylish, decent and correct, bold – depending on its mode and way of working.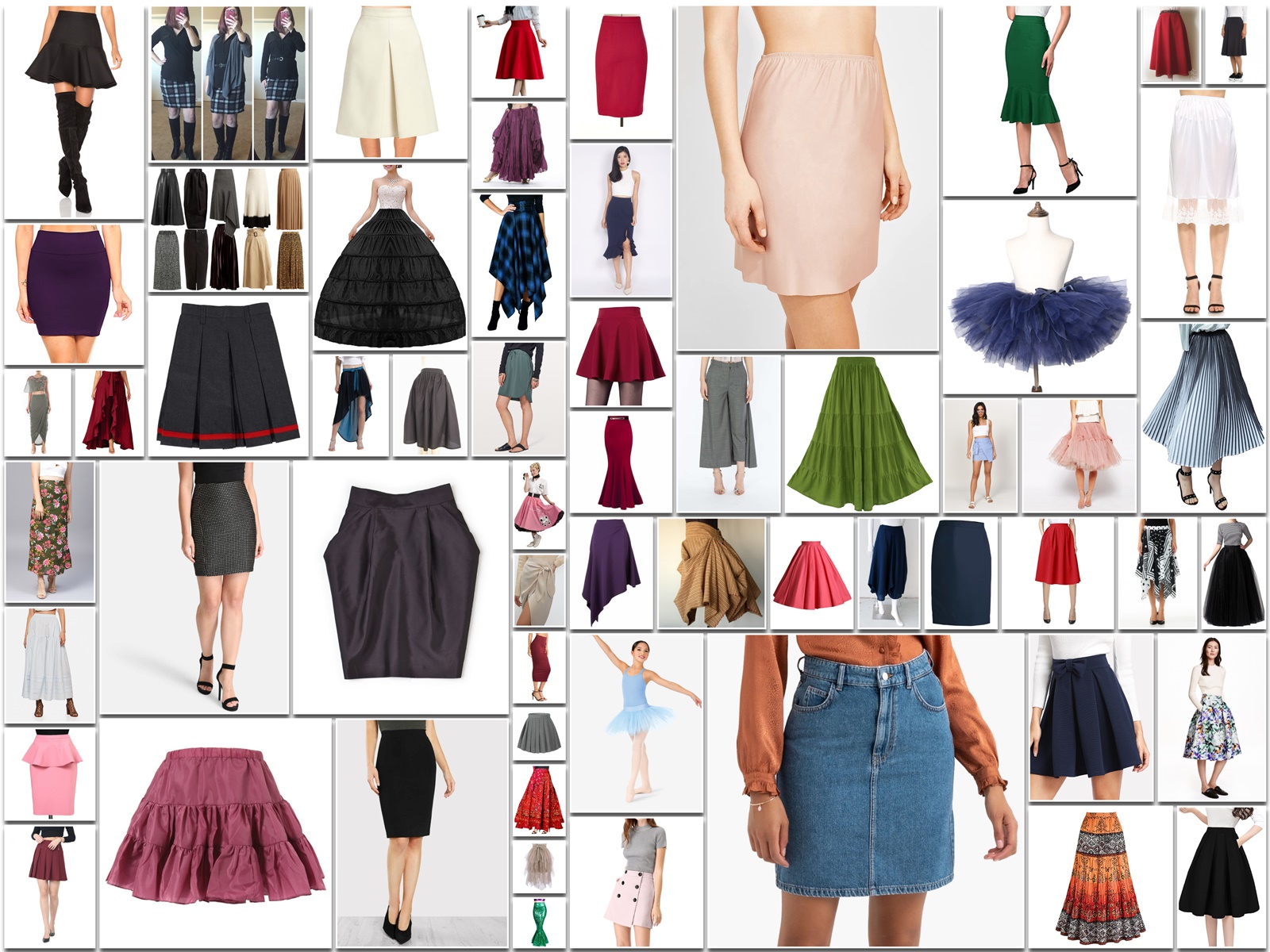 Since skirts are available in different styles and lengths, they have become one of the most popular items in any mid-size wardrobe. If you choose a suitable skirt according to your body type, you will have a wide selection of styles within the collection of your wardrobe.
Note: All types of skirt style names for every body shape shown in this page is in alphabetical order.
Different Types of Skirts Names With Pictures
Skirts come in a variety of lengths and styles. They can be worn at work, for formal occasions, or even as everyday wear. Here is the latest list of all types of skirts names with pictures and images that you should know about.
1. 8 Panel Skirt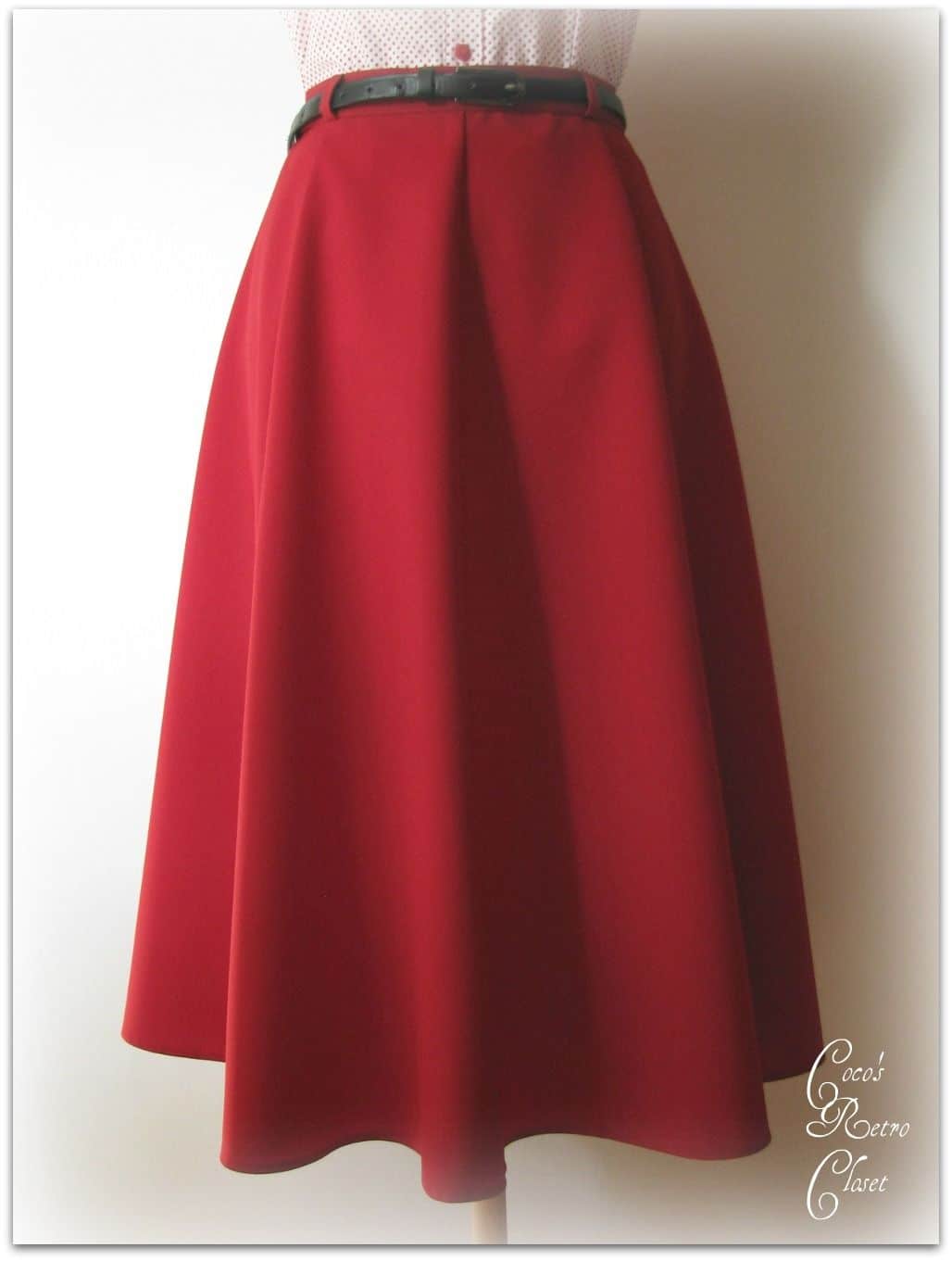 There is a simple and basic waist belt, along with pleats in 8 panel skirts. For casual wear, you can add this to your wardrobe. 8 panel skirts fit just below the waist and have a central back zipper.
2. A-Line Skirt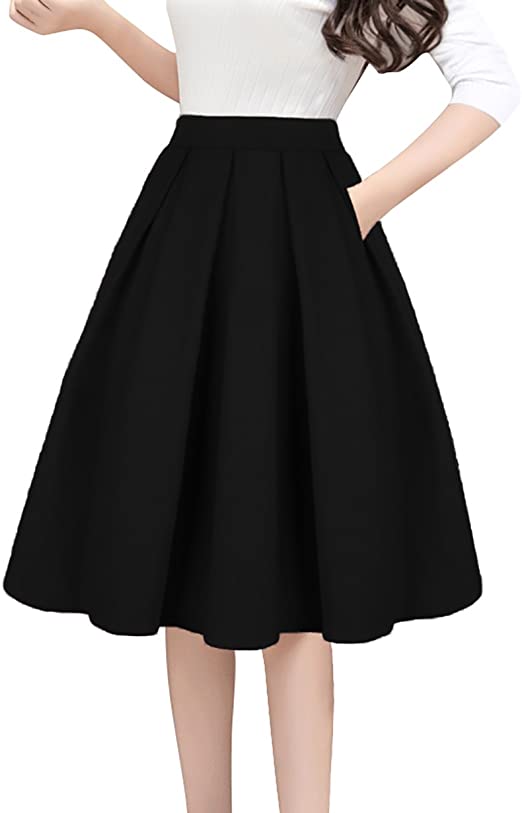 A-line skirt is a great pear shape skirt. This skirt is usually knee-length and forms a triangular shape when styling. It is an simple sewing method that surpasses most types of fabrics.
The A-line skirt smoothly flares out from the waist and does not stick to the hips, which makes it a flattering skirt. Due to its flat shape, it doesn't need slits on the side or back for easy walking. A-line skirts are usually fitted in the waist area and therefore should be in the form of darts or a slightly curved waistband. Waistband can be high, lower or even elasticized.
3. Accordion Skirt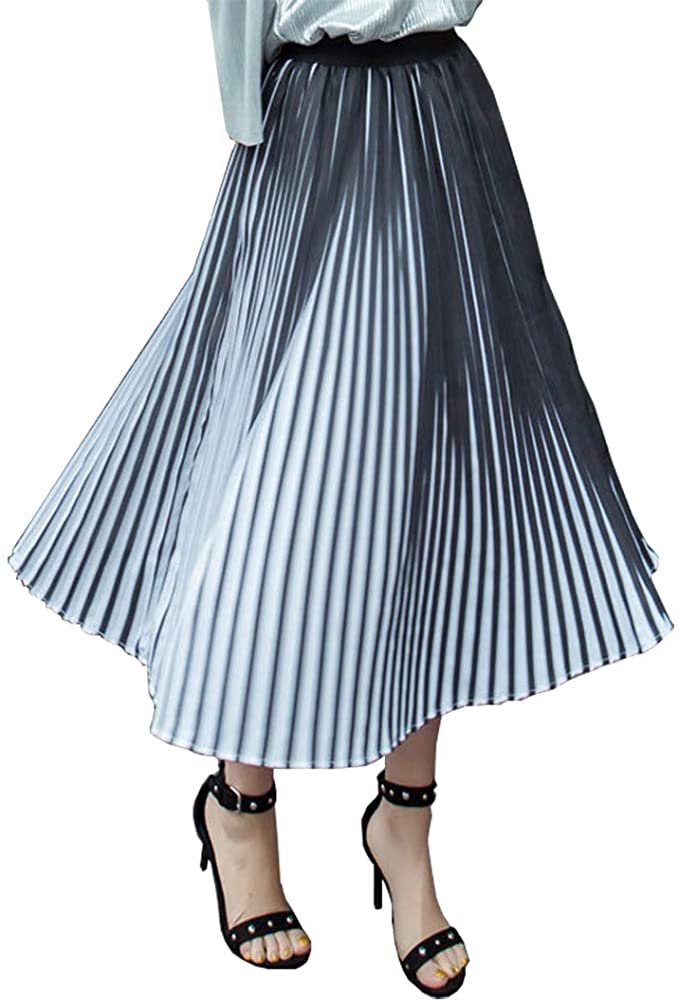 An accordion-style skirt is a tight pleated skirt with a full circle in which narrow, evenly spaced vertical pleats are pressed into the fabric. This leads to the alternation of raised and concave ridges. The width of the pleat at the hem is the widest, gradually narrowing as it goes down to the waist, which gives the accordion skirt a flattened look. Its name comes from the fact that when you spread its open fabric, it looks like an accordion. They are soft, loose fitting and come in different fabrics and lengths.
4. Asymmetrical Hem Skirt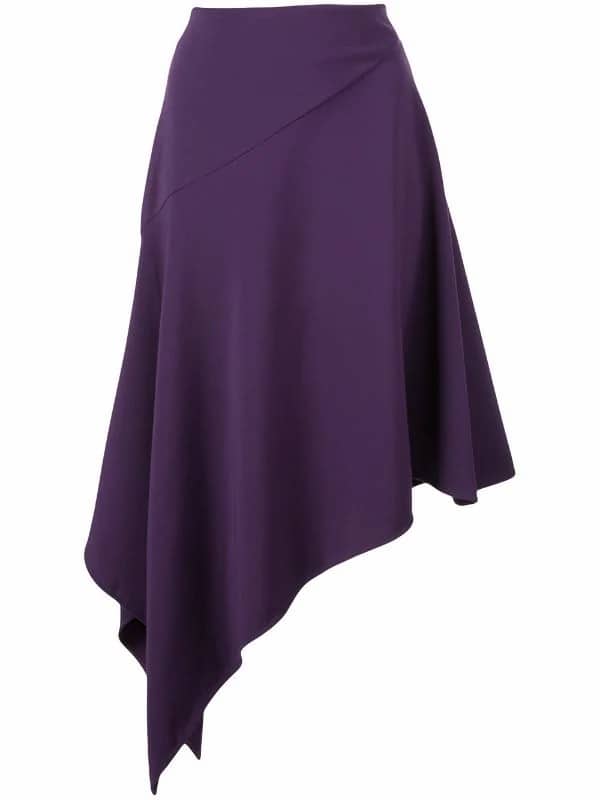 These are skirts with a hem that looks like asymmetrical; A Handkerchief skirt looks like you are holding a handkerchief, compressing its center with the corners down.
The attractiveness of the asymmetrical hemline is that it is unusual, modern and even a little sharp; it also lies the fact that this hemline is tantalizing; giving a glimpse of the legs in case of a skirt or dress; in the case of blouses and tops, the shape of the hemline allows you to emphasize the thin part of the body.
An asymmetrical hemline is usually considered a casual look, although you can add an asymmetrical hemline for more formal wear with subtlety.
5. Asymmetrical Skirt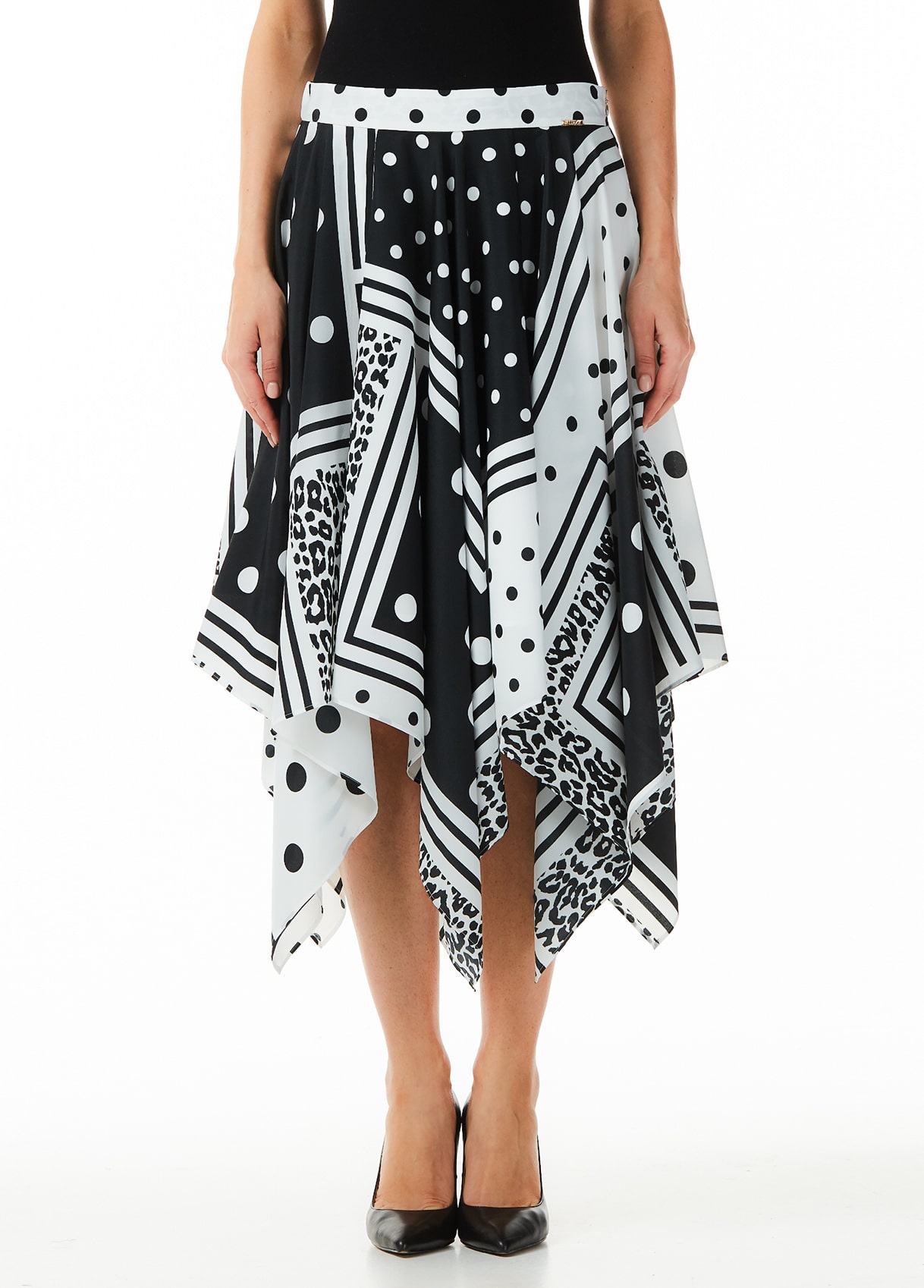 The design of this skirt is based on asymmetric lines created by a cut of fabric and various levels of the hem. Asymmetrical skirt is usually cut diagonally across the body, one side below the other. This is different from high and low skirts where asymmetries are front and back.
Asymmetric skirts can be narrow, flared out or billowing.
6. Ball Gown Skirt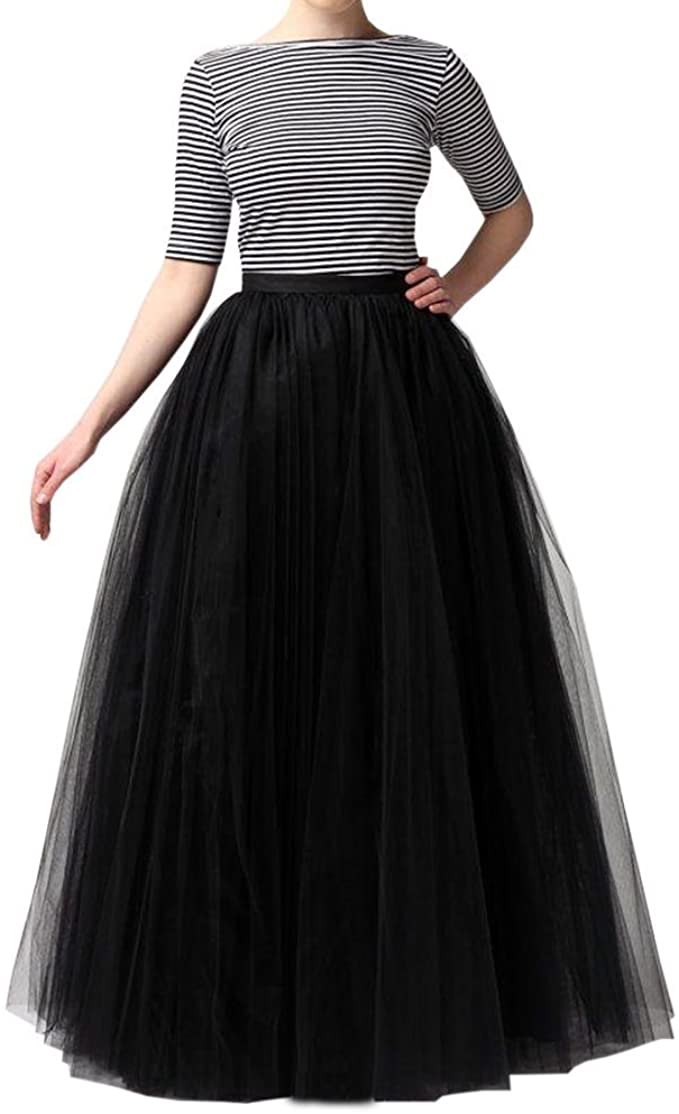 A ball gown skirt fit below your waist and goes down to your feet. Currently, however, the trend is ankle length and asymmetrical ball gowns.
7. Ballerina Skirt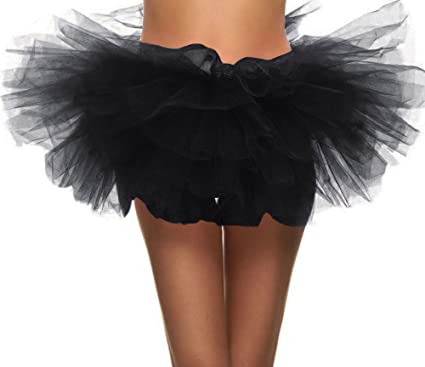 The skirt that ends at mid-calf is called a ballerina. A ballerina's skirt is a full skirt, reaching the middle of the calf or just above the ankles, which is worn as a costume in a ballet performance. It often consists of several layers of fabric. It was a popular casual skirt style in the 50s.
8. Ballet Skirt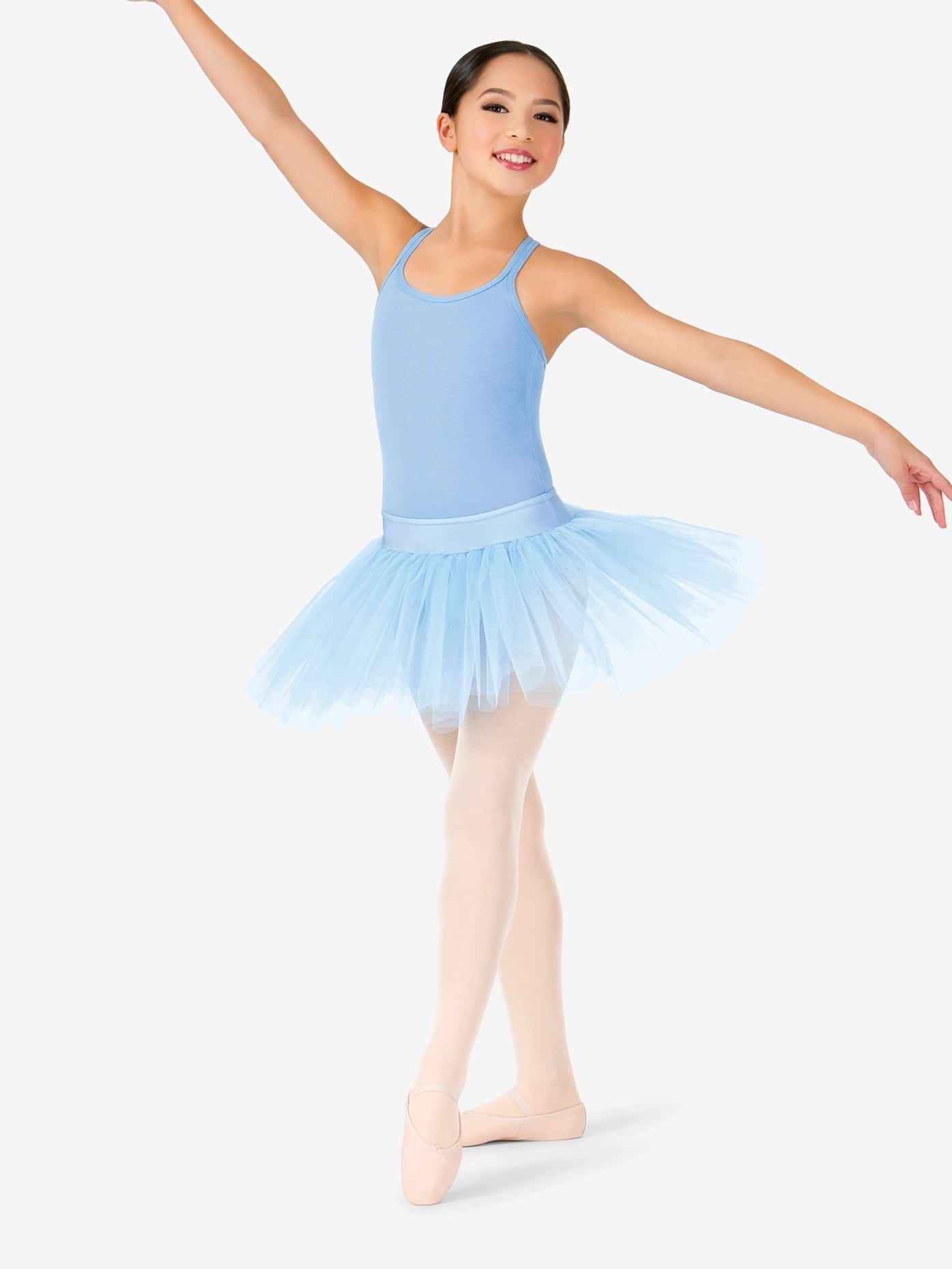 The ballet skirt is not much different from the tutu skirt. It is just shorter and more rounder. Ballet skirts are usually available in pastel and muted colors. However, you can find them in all kinds of colors on the market, if you just look around.
9. Basic Skirt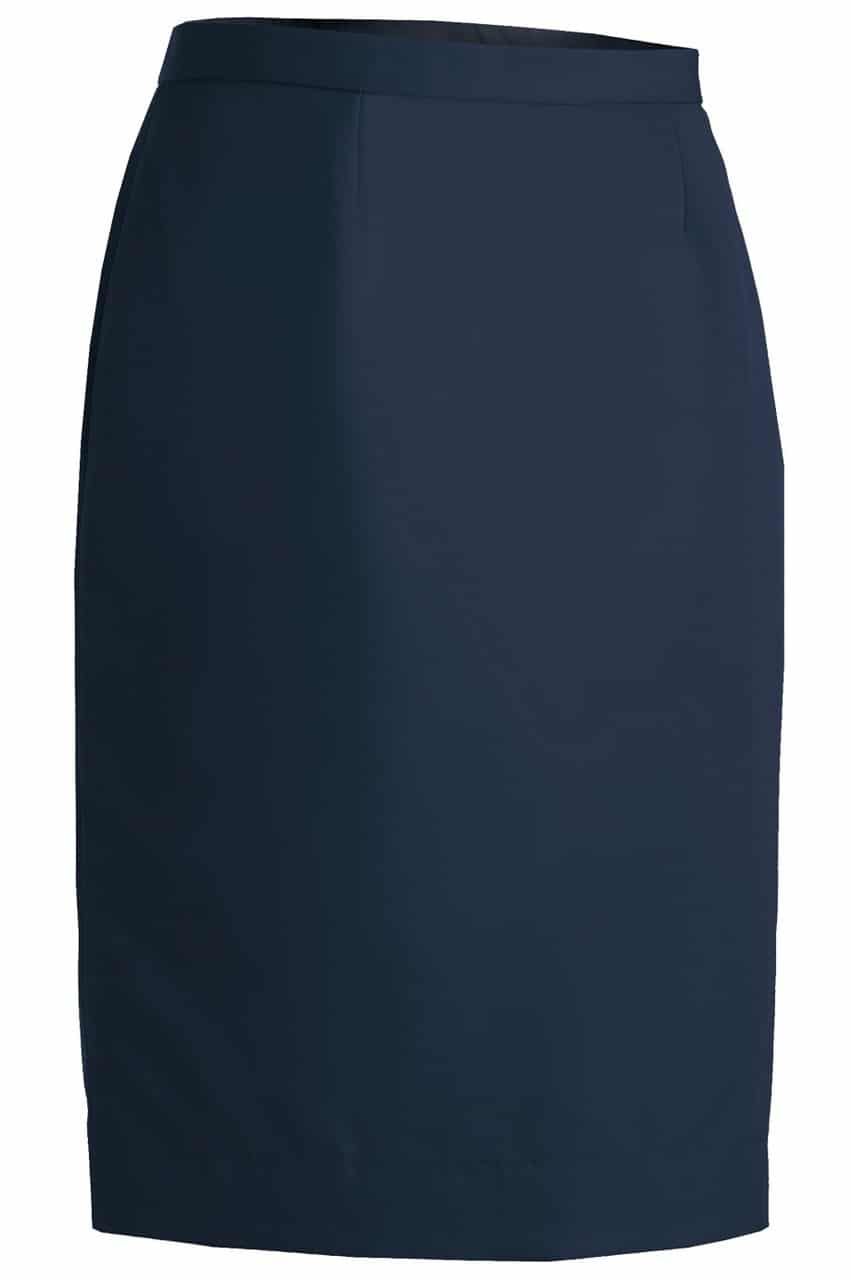 The basic skirt will have the darts of the same length in the form of fullness along the waist line in front and back. The pattern obtained can be used as the basis for any other skirt with a folding hemline equal to the front and back.
10. Bell Shaped Skirt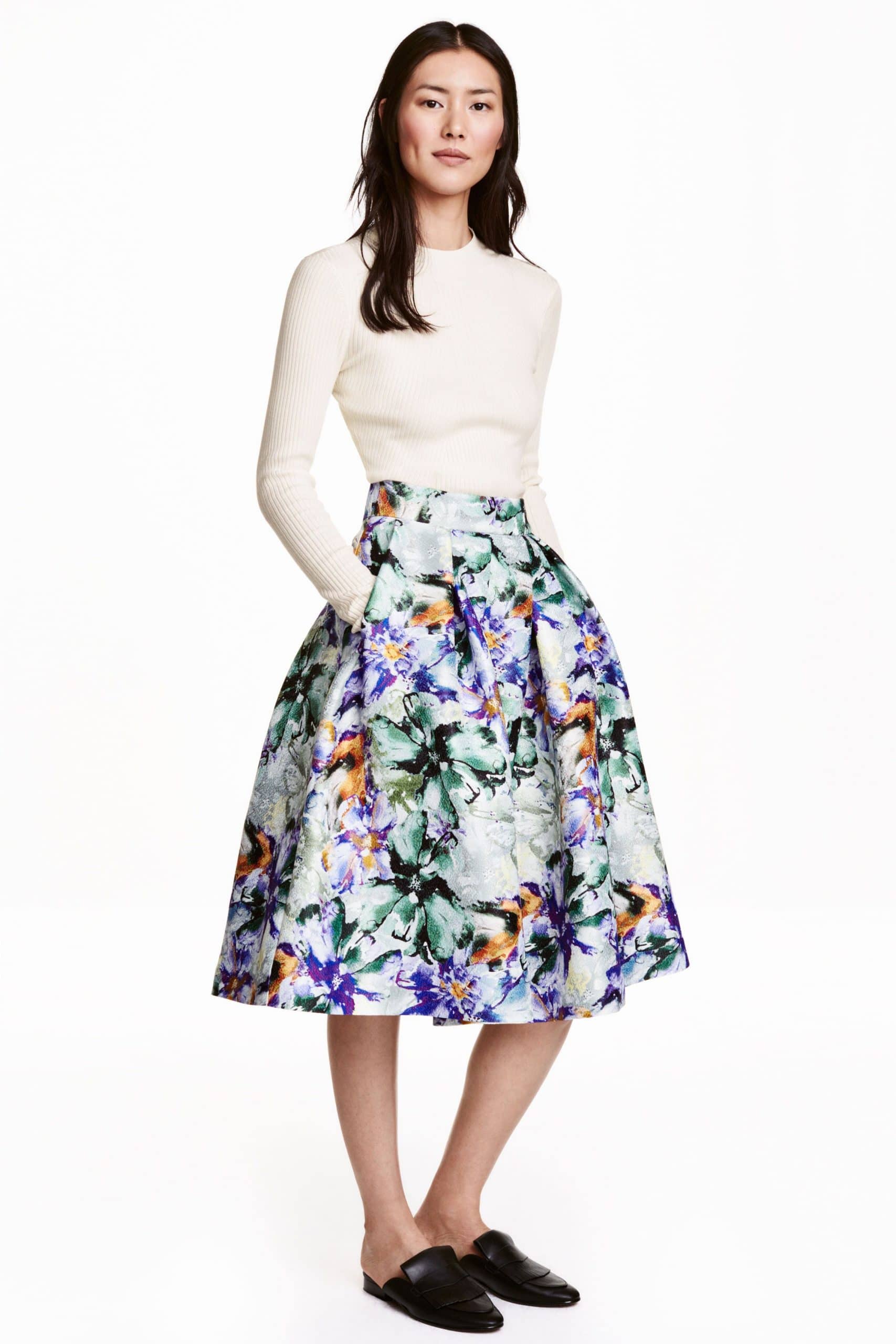 As the name resembles, this skirt sits tight at the waist, protrudes from the waistline and then falls straight on your knees like a bell. It is made of heavier fabrics so that it stays in place and does not lose shape.
11. Box Pleat Skirt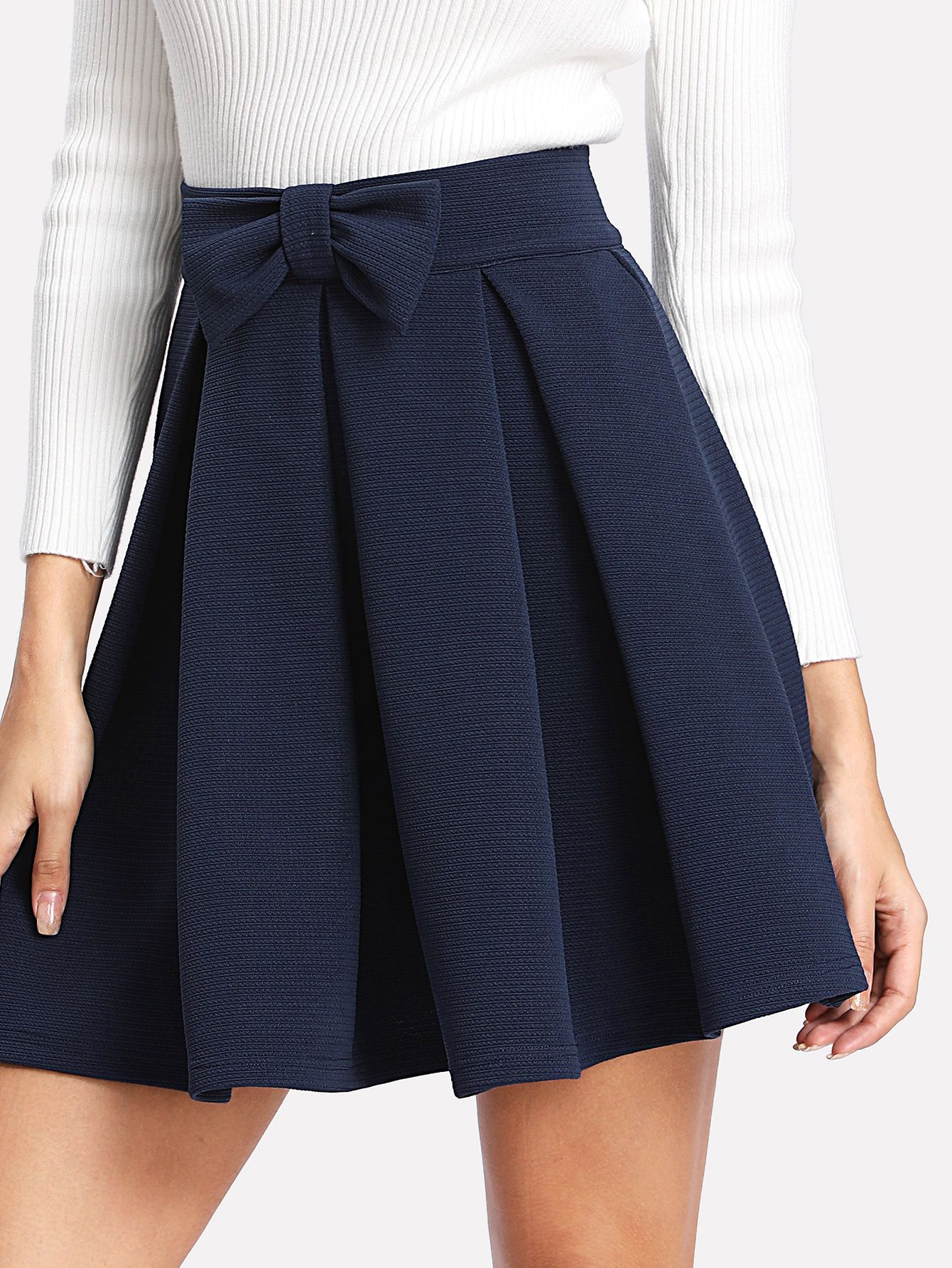 The box pleat is a variation of pleated types of skirts. A box pleat is made by allowing two folds of the pleat to meet each other and form the box part of the pleat. The same pleated pattern continues around the skirt. Box pleat skirts are often made from thicker fabrics to give the skirt volume and shape.
12. Broomstick Skirt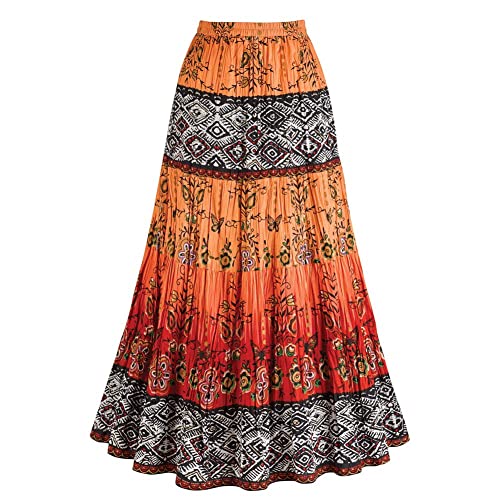 Broomstick skirts were a big hit in the 70s and 80s. But, like everything else from that era, they are back, especially for people who love all hippies or boho. So if you're in the mood for a bohemian adventure, go ahead and pick up this shattered beauty. Easy to style and set the right mood.
13. Bubble Skirt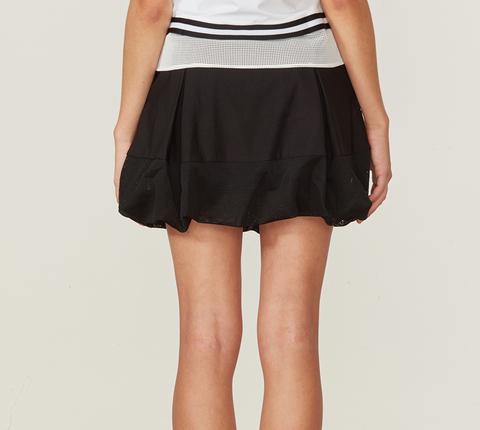 Popular since the 1950s, a bubble skirt, as the name implies, when tucked back under, it gives a bubble effect. This gives a much more curved look and, therefore, is not a good option for those who do not want to look bulky.
14. Bustle Skirt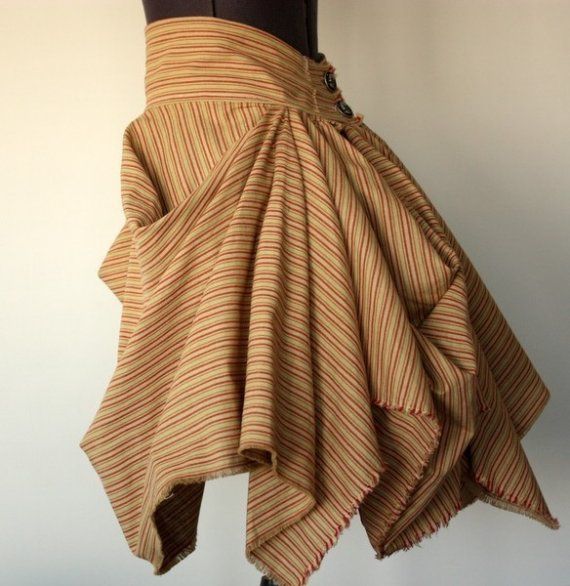 These skirts are a modern adaptation of the crinolines worn by women under their dresses. Earlier, they were worn with socks and garters to shape their dresses. Later they began to be worn with tops and corsets in order to replicate the same.
15. Button-Up Skirt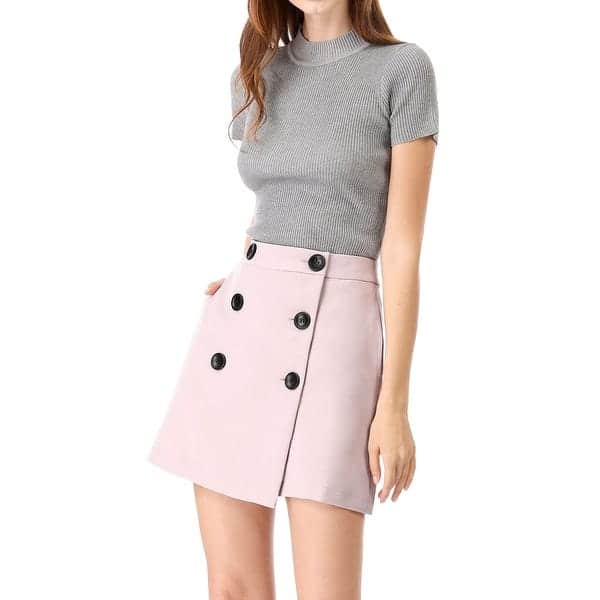 As the name implies, a button-up skirt is a skirt that sports buttons (usually running down the front of the skirt), but sometimes the skirt may have button up on the side. These skirts are usually knee-deep, but may be longer or shorter. They are available in various fabrics, but mainly in denim. A button skirt is best suited as casual, festive and business, casual wear, depending on the design.
16. Circle Skirt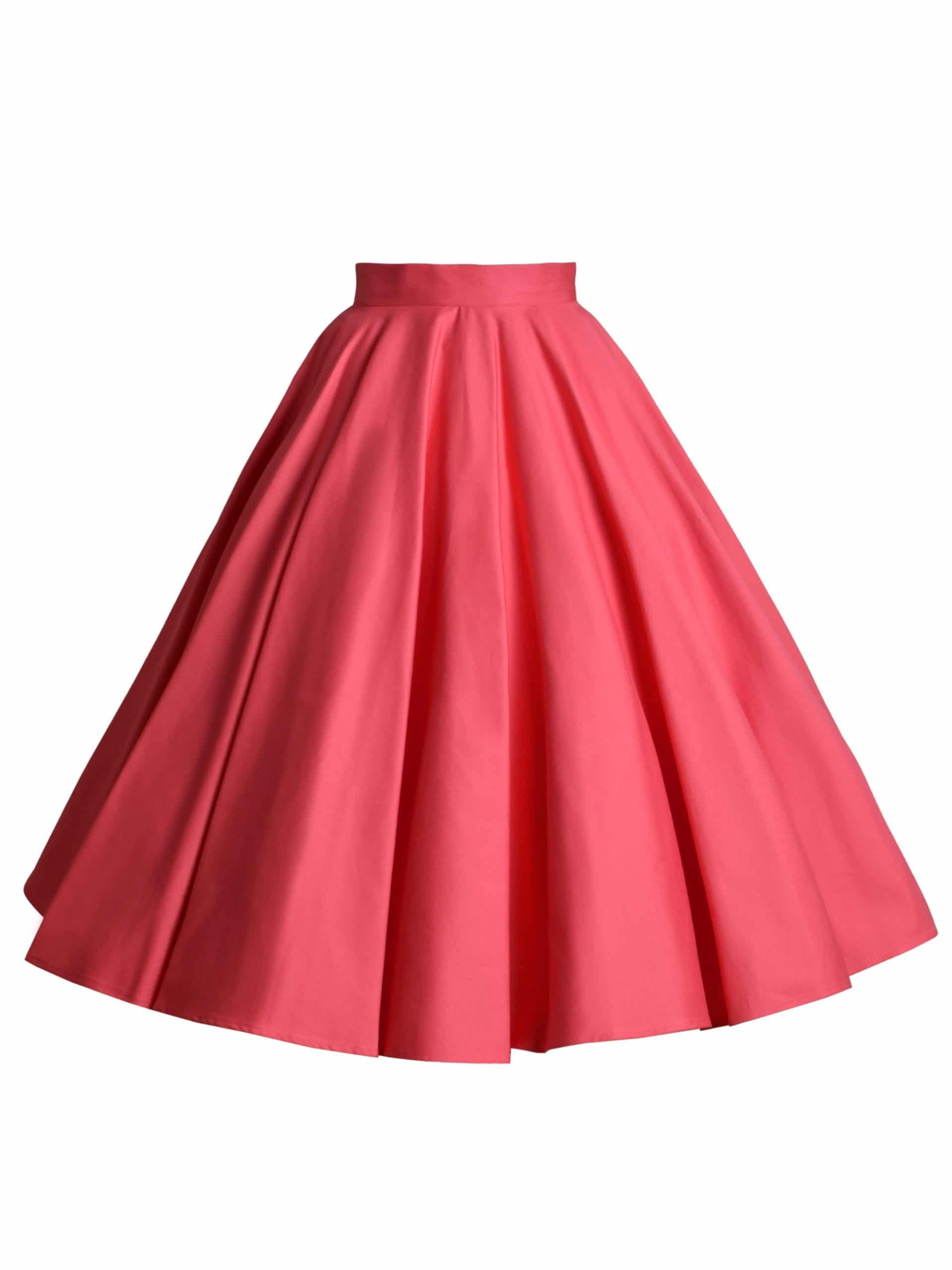 This is a very full skirt, which is somewhat placed on the waist. A piece of fabric on a skirt will resemble a circle with a hole, which is why it's called with the name of skirt with a circle.
17. Cowl Skirt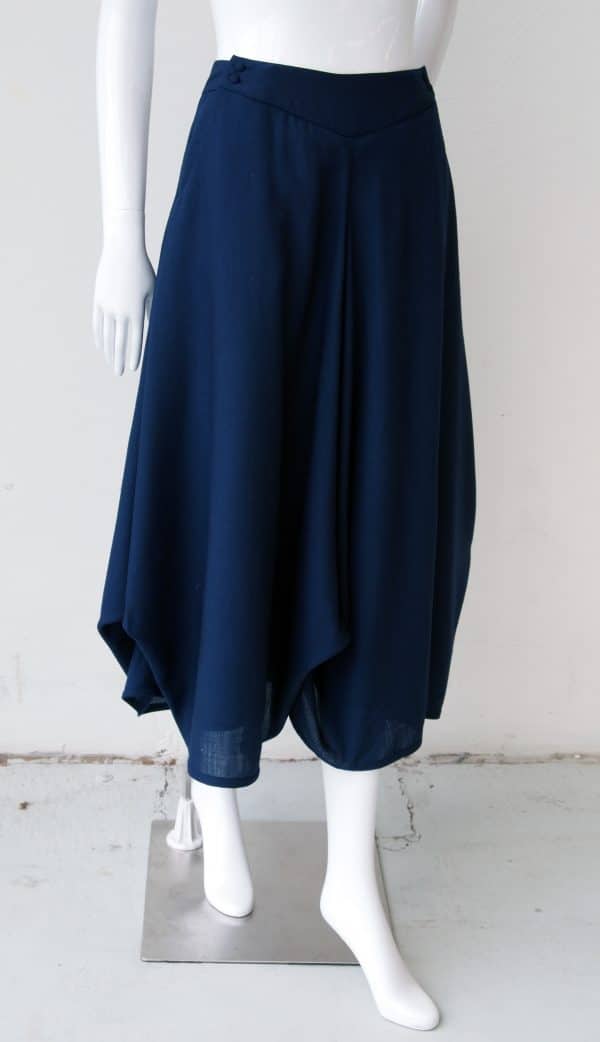 A cowl skirt gives an extra fullness to the area just below the waistband. Fullness is created by cutting curved lines from three points marked on the skirt pattern. Mark the designated points and the curve, and then cut and alter accordingly.
The curve, when it is open, adds fullness to the pattern and creates pleats that drape the sides of the skirt. The cowl skirt is suitable for soft flowing fabrics.
18. Culottes Skirt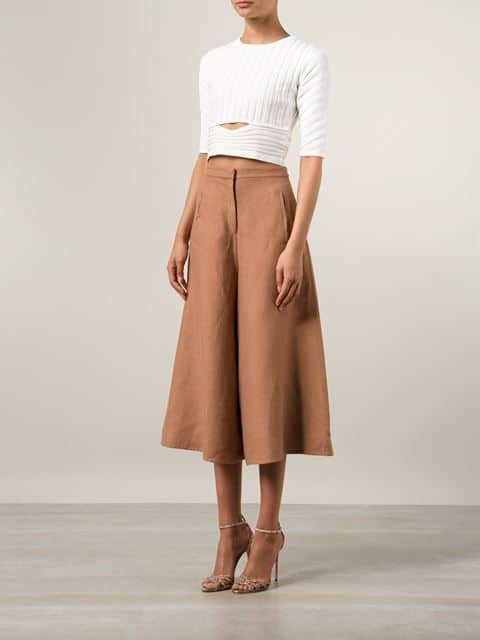 Culottes is a piece of clothing worn on the lower half of the body. The term may refer to split skirts, historic men's breeches or women's under-pants; this is an example of words from the fashion industry, taken from the designs of history, languages and cultures, and then used to describe various items of clothing, often creating confusion among historians and readers.
The French word culotte is a (pair) of panties, trousers, sneakers, pants, shorts or (historical) breeches; comes from the French word culot, which means the lower part of something, in this case.
19. Denim Skirt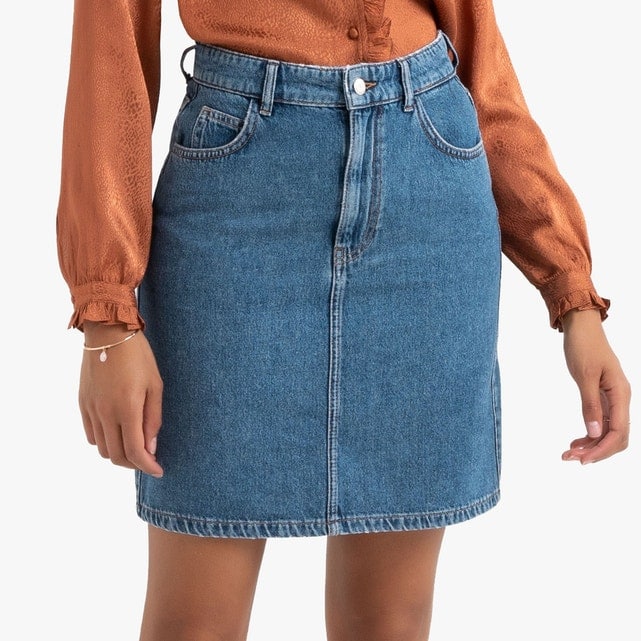 Denim skirts were first worn by hippies who tried to recycle denim jeans by stitching them together. It further invaded the fashion world with tailors and designers, adding lace and fabric to the regular design. They are very popular in cowboy styles.
20. Dirndl Skirt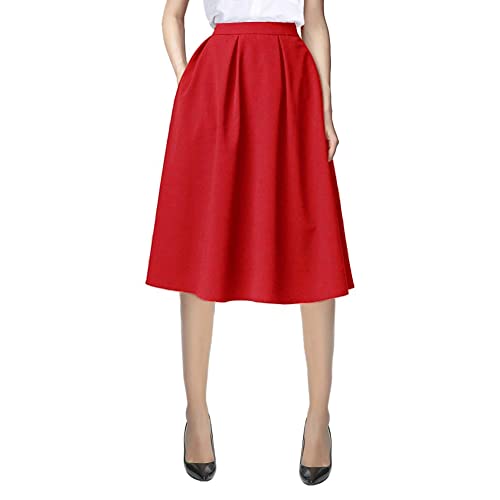 They are very similar to bubble skirts, except that they are not scratched on the hem. They usually flare up from the hem. The completeness of the gathers is fitted by a waistband.
21. Divided Skirt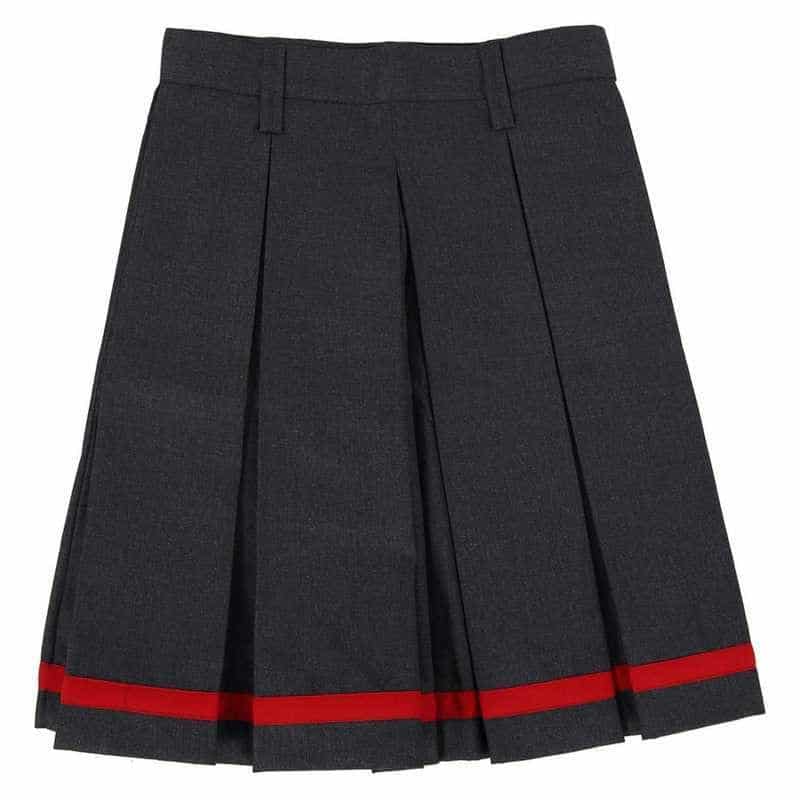 The divided skirt – the name itself does not raise doubts that it is a flared skirt, which is divided, making it consist of one part and one part of trousers.
It was the preferred clothing for those equestrian Englishwomen of old times who wanted to ride on the road without looking mannish in men's trousers. Culottes are known to be the perfect combination of trousers and skirts.
This is a very comfortable clothing to wear, allowing you to keep your legs in a skirt without losing modesty – bliss. Make it long enough and you will have many loose baggy pants.
22. Draped Skirt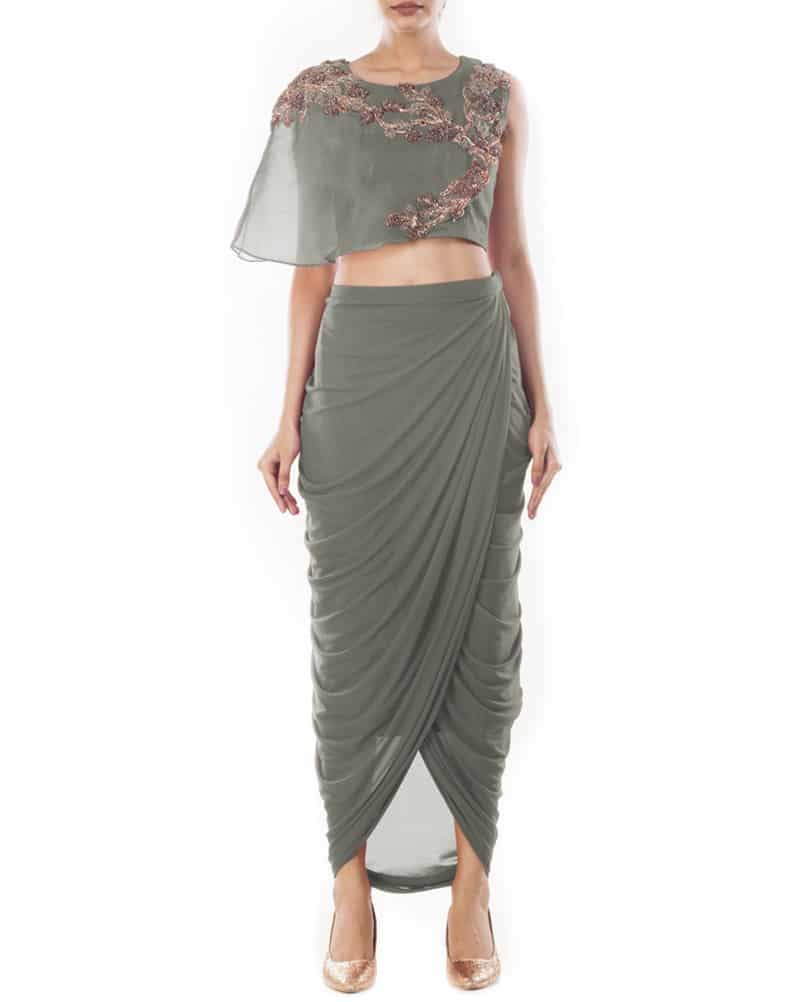 Draped skirt has fullness, gathered or draped on one side.
Also called draped sarong skirt. A sarong is a square piece of fabric that you can wrap around your body to make a skirt. Sarong draped skirt is a sarong wrapped around the body and worn like a skirt.
23. Fall/Winter Skirt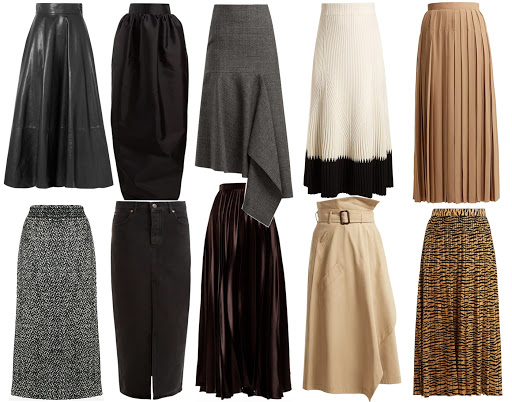 Skirts that fall into the fall or winter category are made of thick, warm fabrics such as leather, wool or polyester. They tend to fold and hang most often at the ankle level. Fall and winter skirts are suitable for casual, semi-formal, formal and festive clothing. Fall and winter skirt can really be a skirt of any style if it is made of warm fabric.
24. Fitted Skirt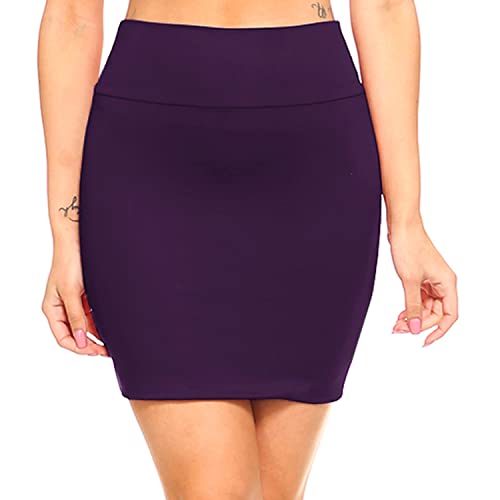 As the name implies, this is a skirt suitable for a figure from the waist to the hip, usually with the help of darts.
Pencil skirt fall into this category. The skirt-tube is a tight-fitting skirt made of elastic fabric. This is a very flattering curly skirt.
25. Fix Box Skirt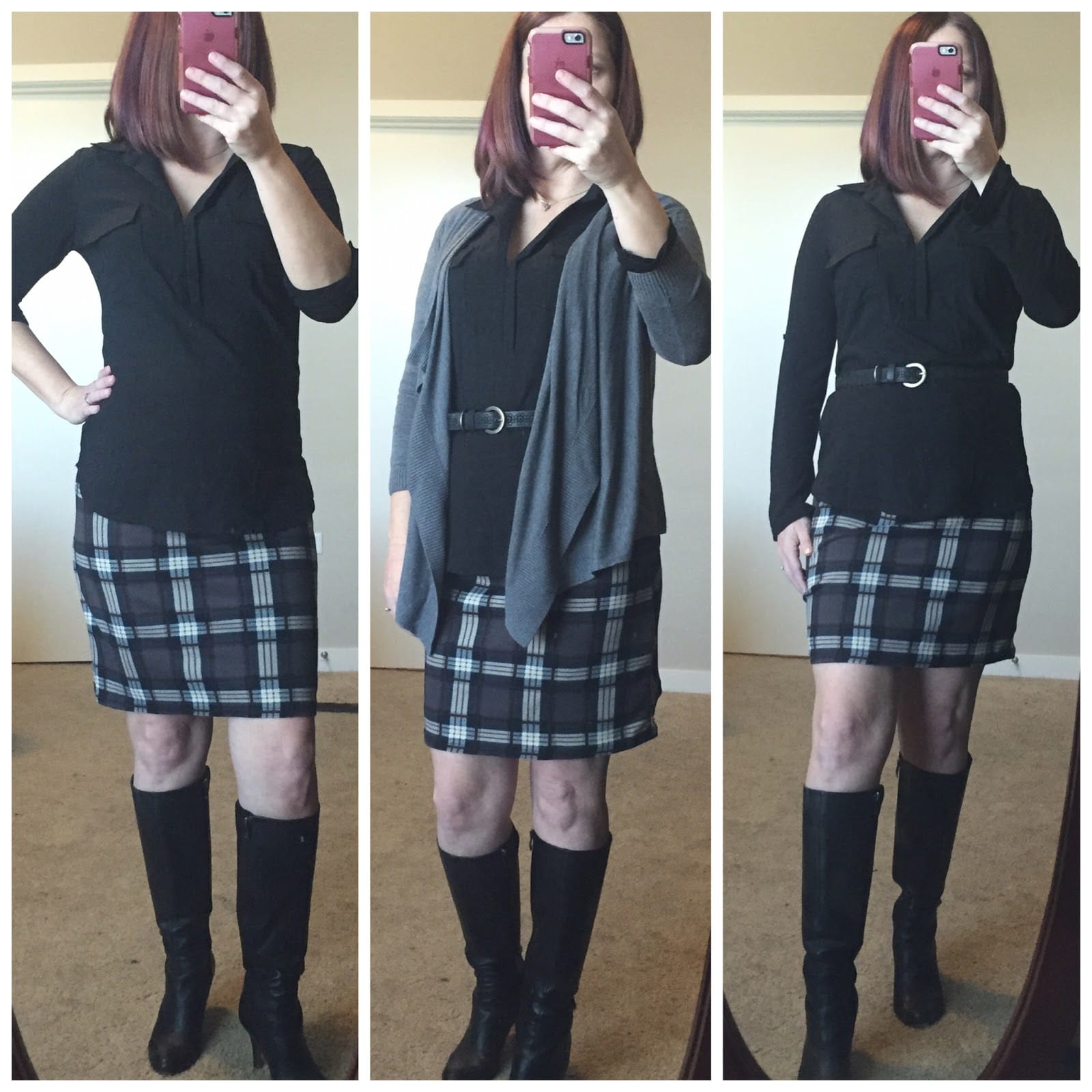 Fix box skirts are also known as pleated skirts or skirts. The two upper folds of the pleat face are turned in opposite directions, the two under the folds are located towards each other. The seam is located on the inside. These skirts usually lay from hip to knee length.
26. Flared Skirt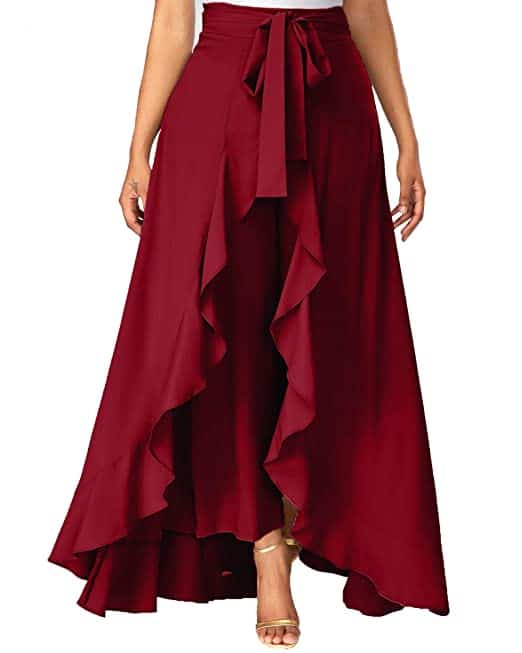 Flared skirts jut out a littleand usually have folds that allow them to slightly stick out when walking. When the user is standing still, the folds are a little more obvious, but they are necessary for the effect every time you walk or turn around wearing a skirt. Flared skirts have a simple but elegant look that looks especially good in formal conditions such as a work environment.
27. Flounce Skirt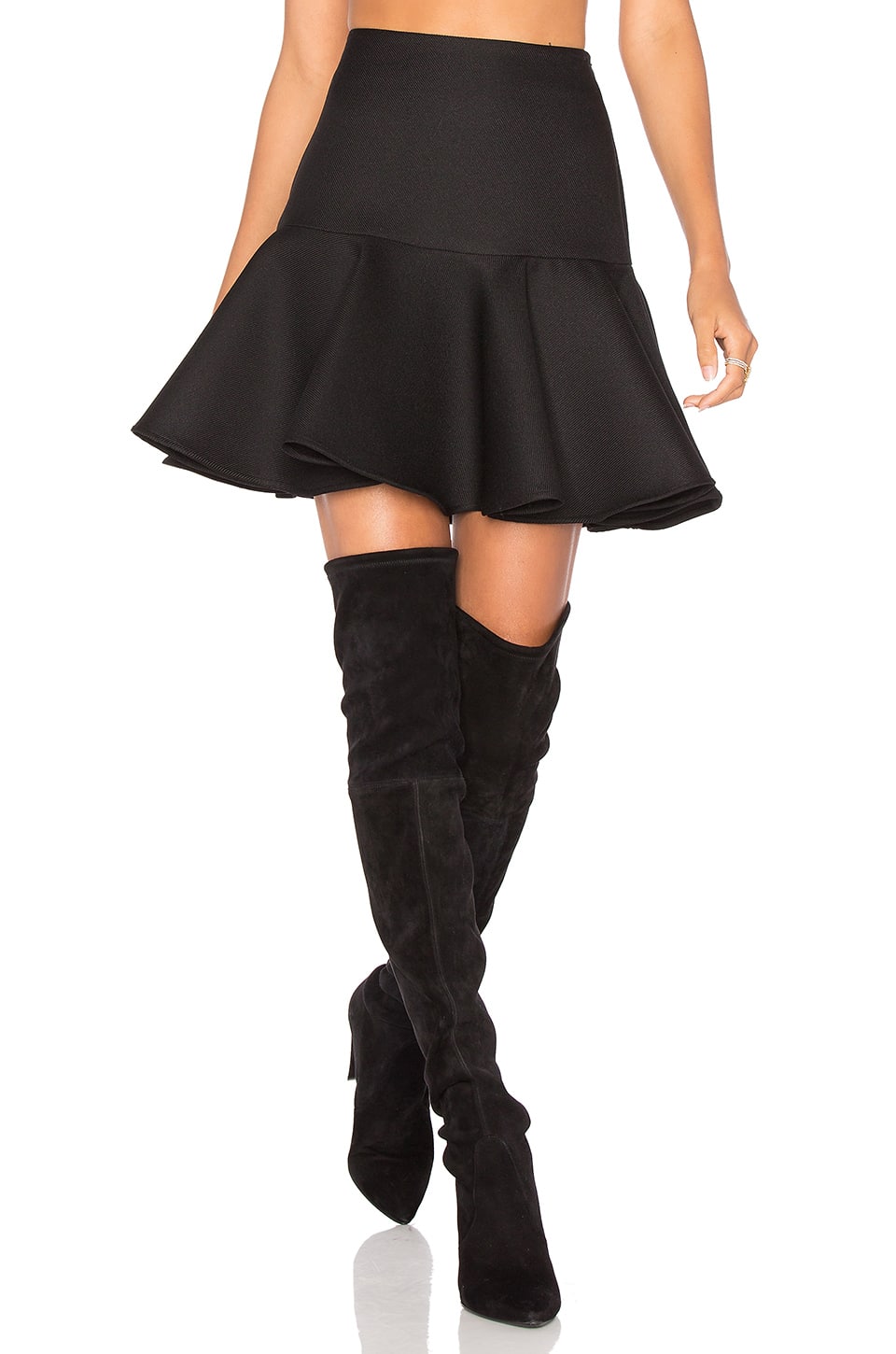 A fluorinated skirt that fits the body can be worn as a casual skirt with a bright shade. For the perfect complement to your wardrobe, you can choose this skirt with a bright shade to look great.
28. Fly Skirt

A fly skirt or a flared skirt with a neckline is designed to ignite most of the hem. They tend to be on the shorter side, knee length, ankle or calf length. Their fabric is usually made of cotton, linen, silk, satin, lace or mesh. Depending on the specific fabric and design of the skirt, they are best worn as casual, formal or festive clothing.
29. Gathered Skirt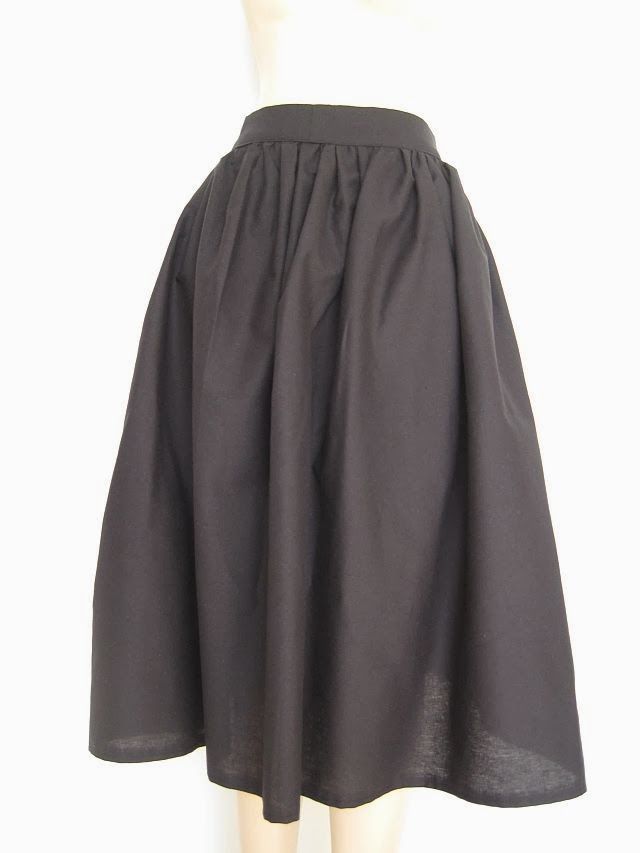 The gathered skirt is a very simple style that you must follow. These types of skirts are gathered on the waistband. The fullness of the skirt is determined by the amount of fabric in the part of the skirt of the pattern and knots tucked up to fit onto the waistband. The assembled skirt can be any length from short to full length. It is best in fine to medium weight fabrics.
30. Godet/Gored Skirt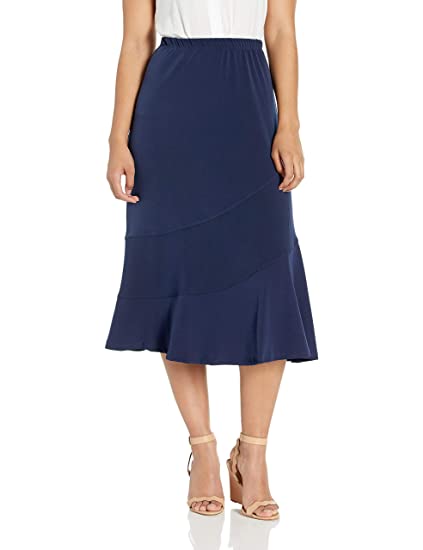 Godet and gored skirts are full of bright light and movement. Godet is a triangular shape of fabric inserted into a panel in a skirt.
Gores are skirt panels that are cut with extra flare. The flare may start from the length of the thigh-length or to the knee-length to give the skirt extra completeness.
31. Gypsy/Tiered Skirt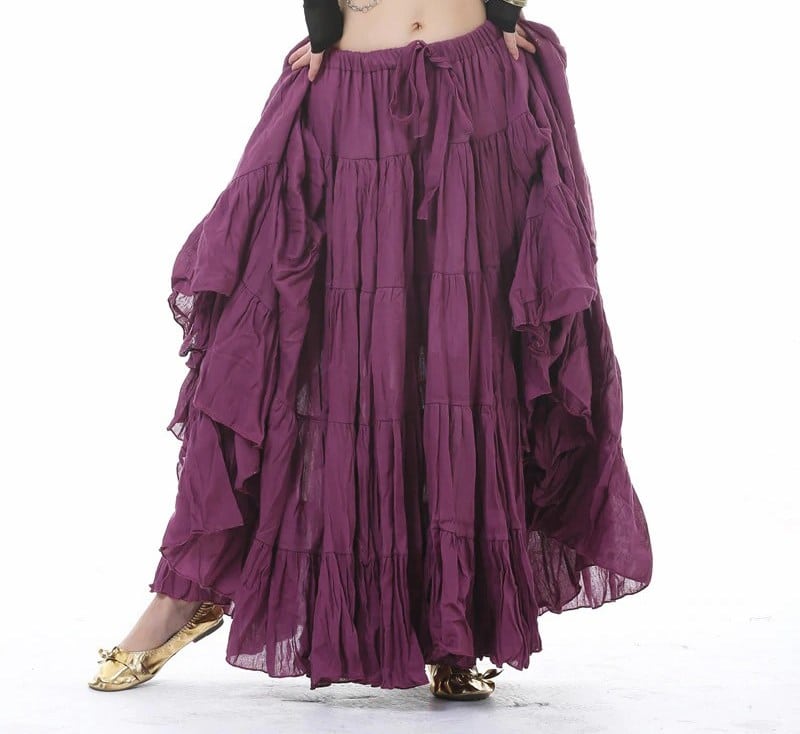 Evolved from the cult of gypsum, gypsy skirts are usually long. They usually consist of wrinkled and disheveled horizontal layers of fabric attached to the hem.
Gypsy skirts, or tiered skirts were originally created for dancing and always consist of a universal design and multi-colored fabrics. They are very comfortable, but it's nice to look at them and, as a rule, have flare to them that make the skirt swing back and forth in any movement. It is almost always a midi or maxi skirt.
32. Handkerchief Skirt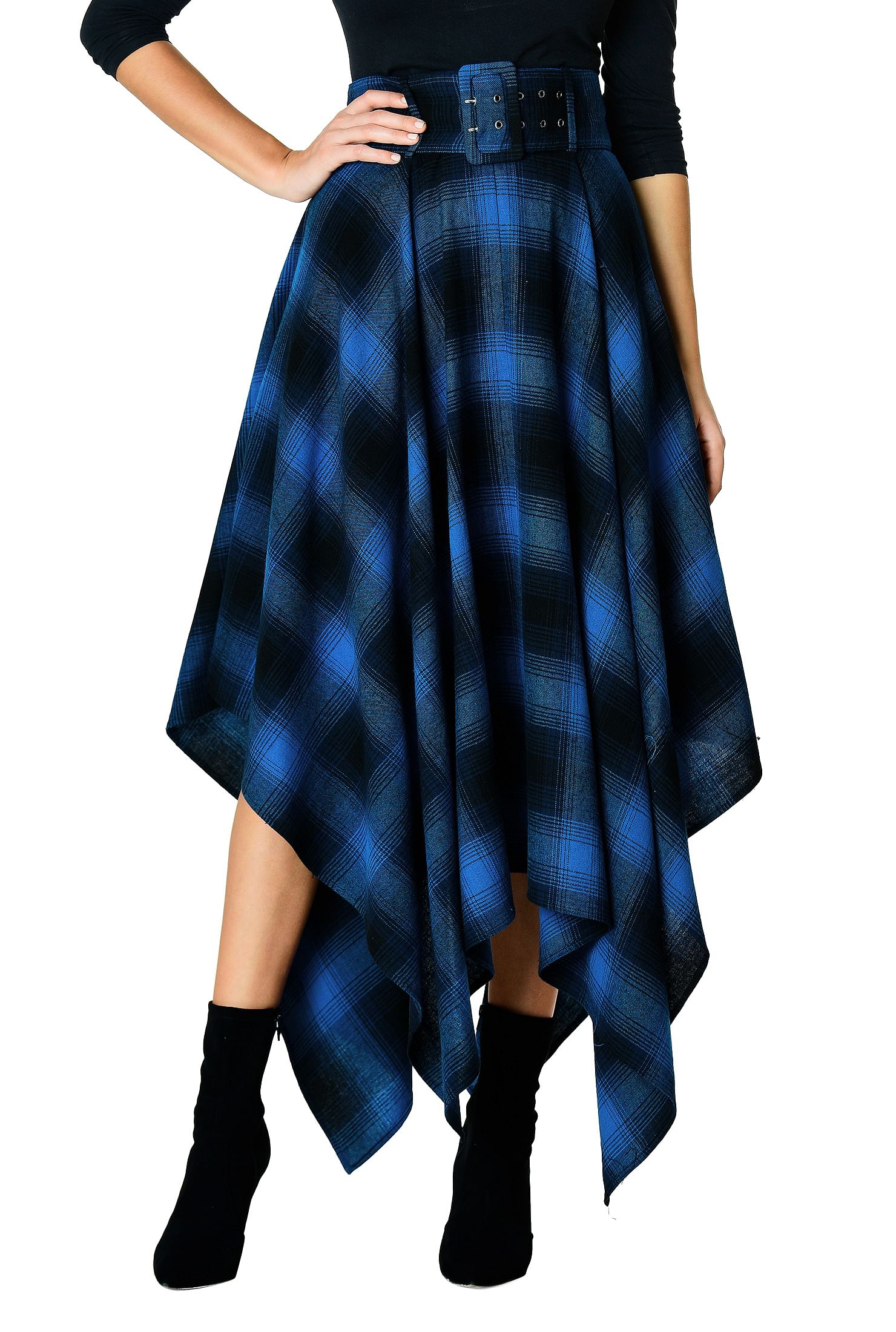 The handkerchief skirt is a fun to wear skirt with hanging points, as the shapes of the handkerchief are attached and lowered from the waist. It is cut into a rectangular or square shape to achieve this look. Soft fabrics that drape should be used, otherwise the points will stand out, adding unnecessary volume to your skirt.
33. High Waisted Skirt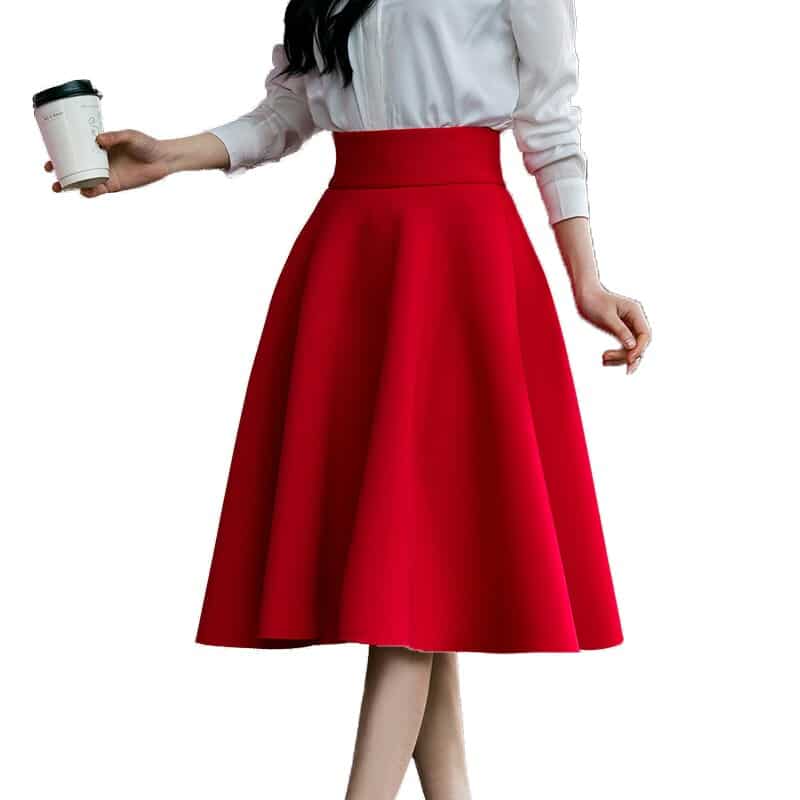 The main feature of this skirt is the high waistband. The fullness of the skirt is attached to this band and is usually a decorative part of this style. Skirts with a high waistband can be created with elastic or flat stripes. They can also be combined with a thick pencil skirt. High-waisted skirts look best when worn tucked into a classic shirt to create a flattering silhouette.
34. High/Low Skirt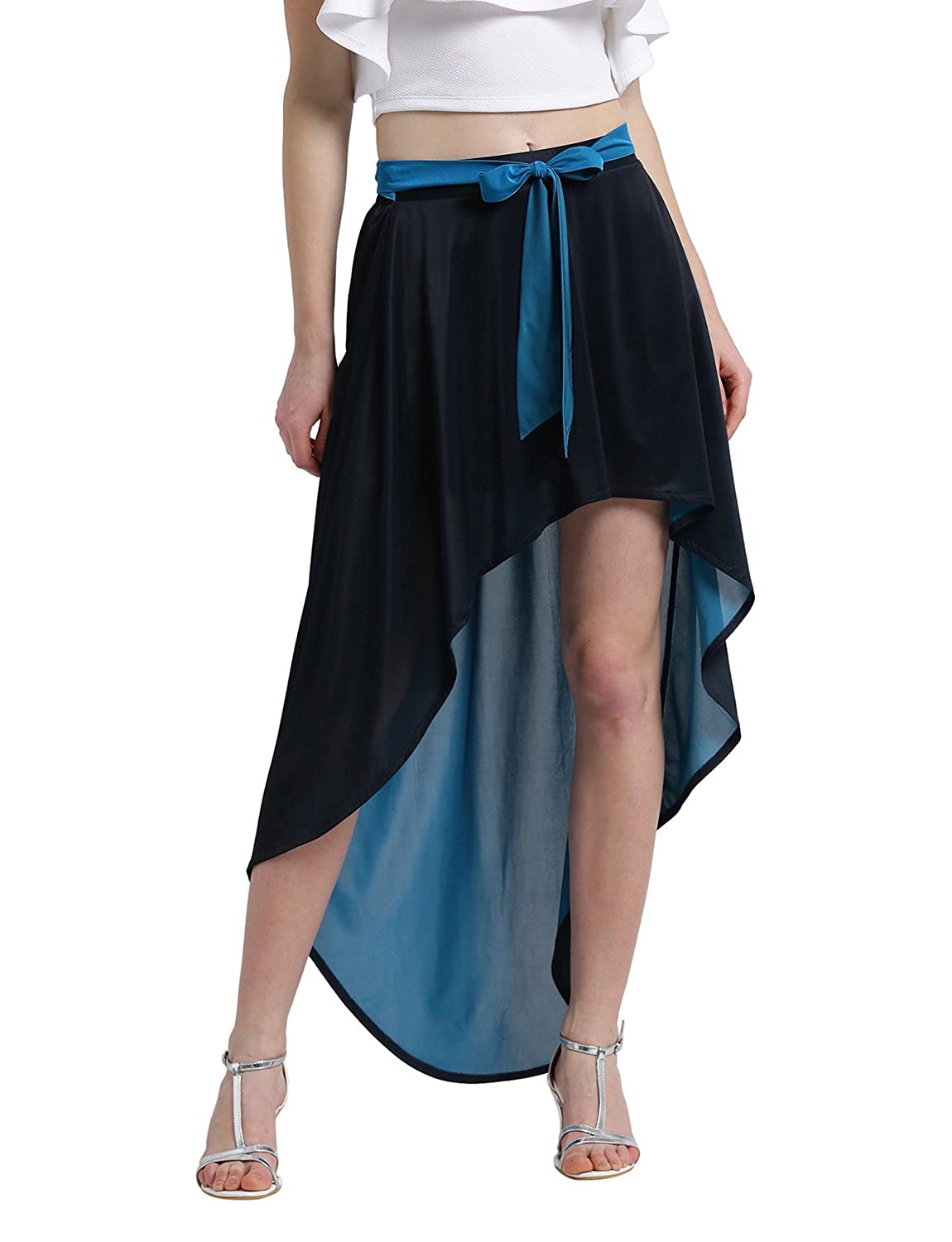 A high/low skirt is exactly how its name describes it. The front of the skirt is higher than the back, which creates a high and low effect. This skirt is best sewn from soft flowing fabrics. A high/low skirt were made in a rayon voile giving the skirt movement and elegance as you walk. The difference between the front and back can be subtle or quite substantial. Some high-low skirts are so low on the back that they become a train draping out from behind the body.
35. Hoop Skirt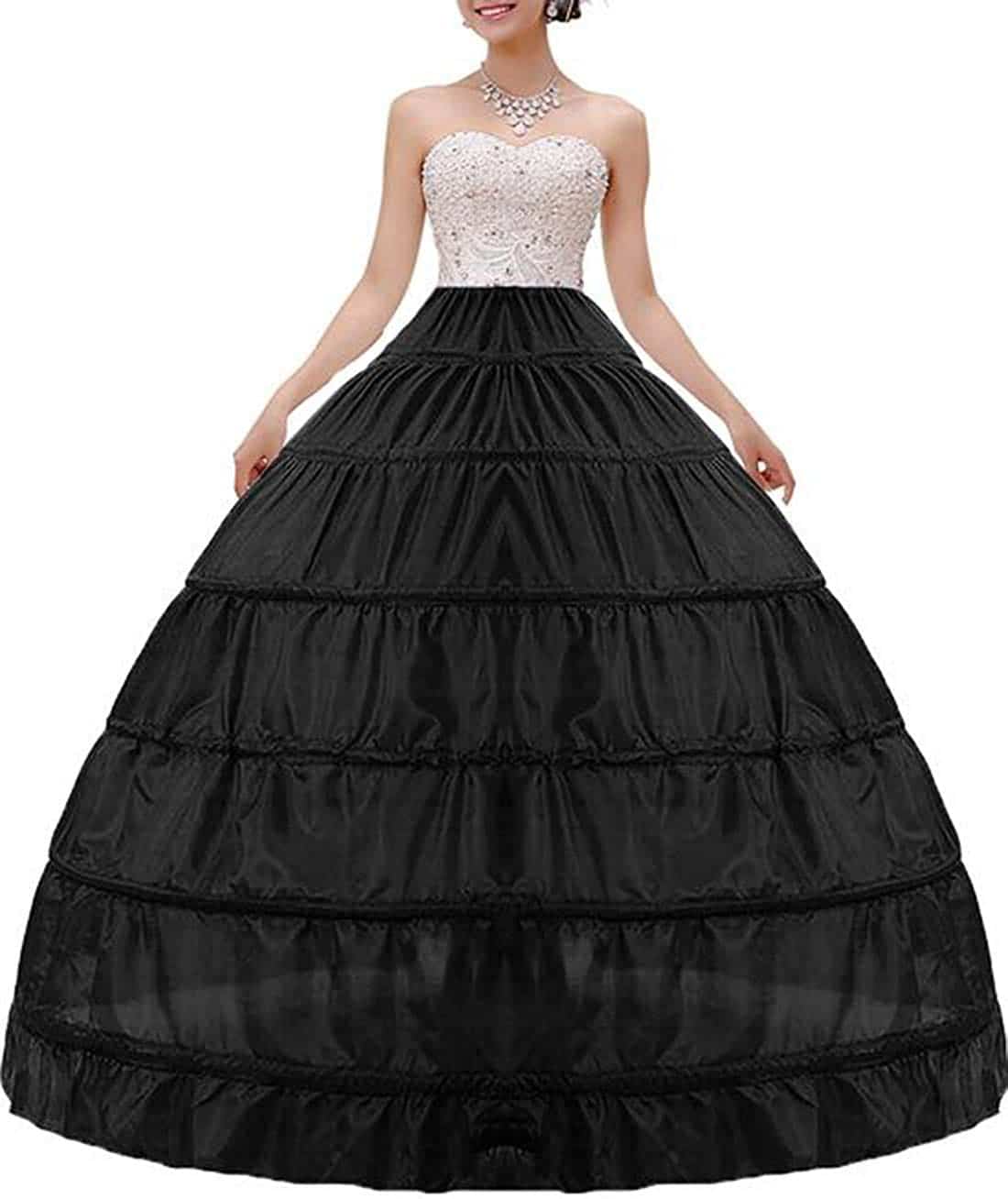 Hoop skirts originated in Victorian times and literally have a hoop sewn around the hem below. They were traditional clothing for women in ancient times and were sewn in two or three layers, finished off with a lace overlay.
36. Inverted Pleat Skirt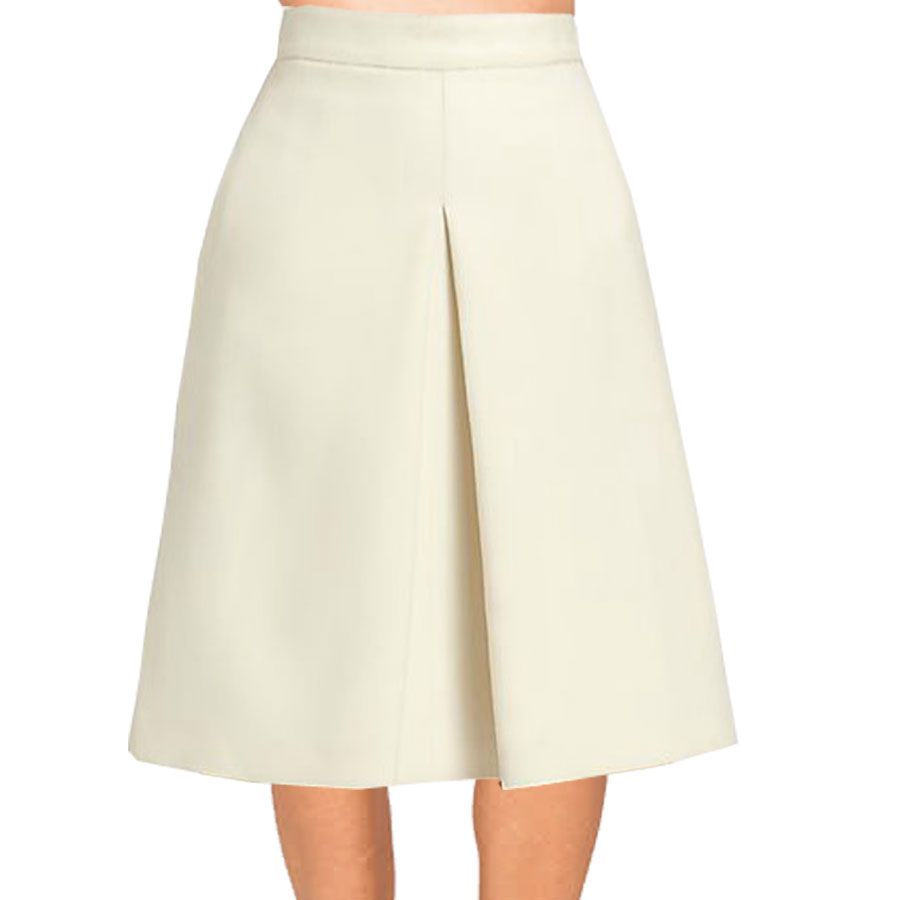 The inverted pleat skirt is the same as the skirt with box pleat, the only difference is whether the pleat is on the right side of the skirt or not. It is sewn with two identical folds of fabric, folded so that they meet at the center of the pleat in front. Simply put, an inverted box pleat is what a pleated boxing skirt looks like at the back.
37. Knife Pleated Skirt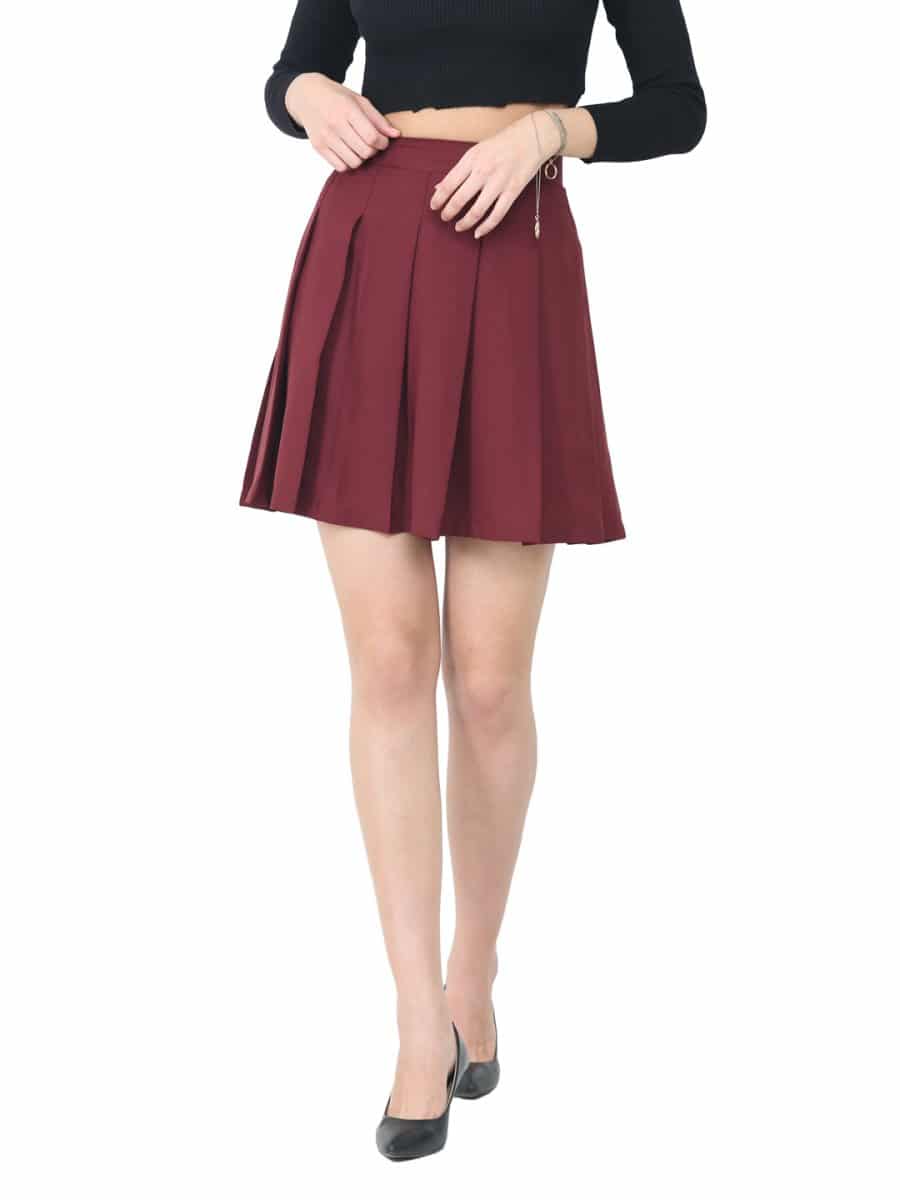 When the skirt is "Knife pleated", it means that it is sharply folded and has a narrow pleat, with one outer fold and one inner fold, usually made by folding a number of pleats in one direction. They are layered on top of each other with all the pleats pressed in the same direction. A knife pleated skirt is the most commonly worn type of pleat, and can be worn both during the day and as nightwear, depending on the length and type of fabric.
38. Layered Skirt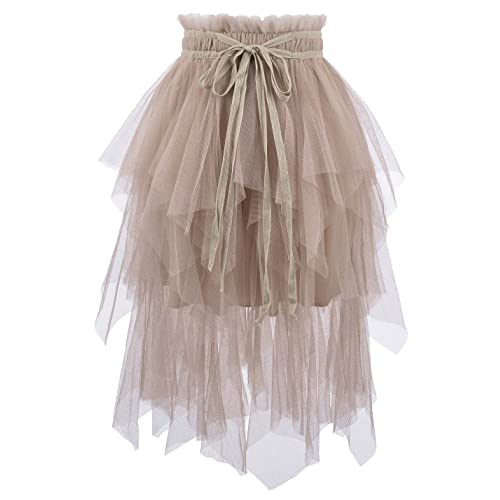 A layered skirt consists of several layers or sections of material from top to bottom. It can be long or short, but there are always several layers of material throughout the skirt. Most layered skirts contain the same material and color throughout the skirt, although some have layers of different colors and even materials to make them a little more interesting.
39. Long Skirt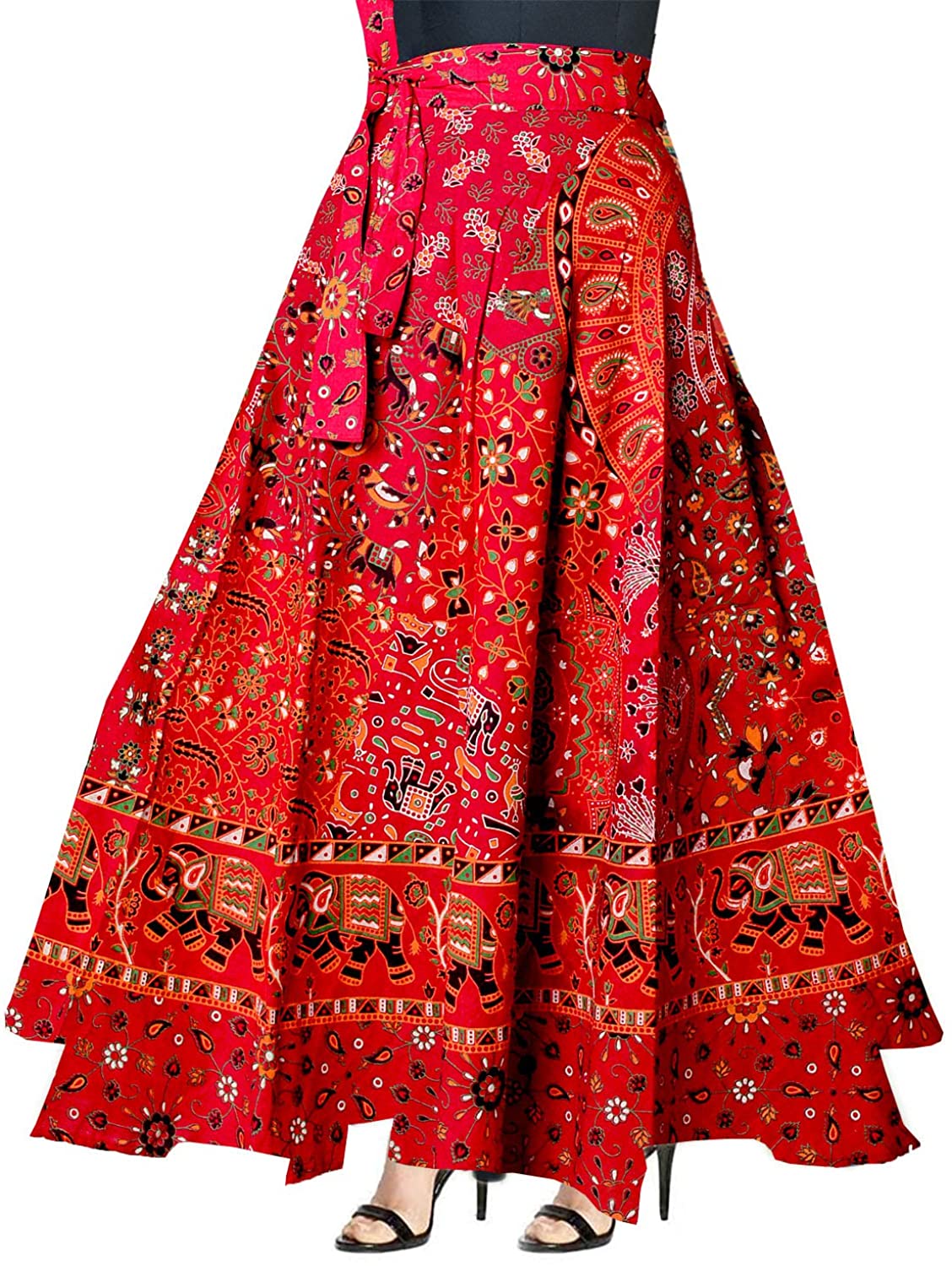 Long skirts, like maxi skirts, go to the ankles. However, they are not narrow or straight, like maxi. They are simply long and come in all patterns and fabrics.
40. Maxi Skirt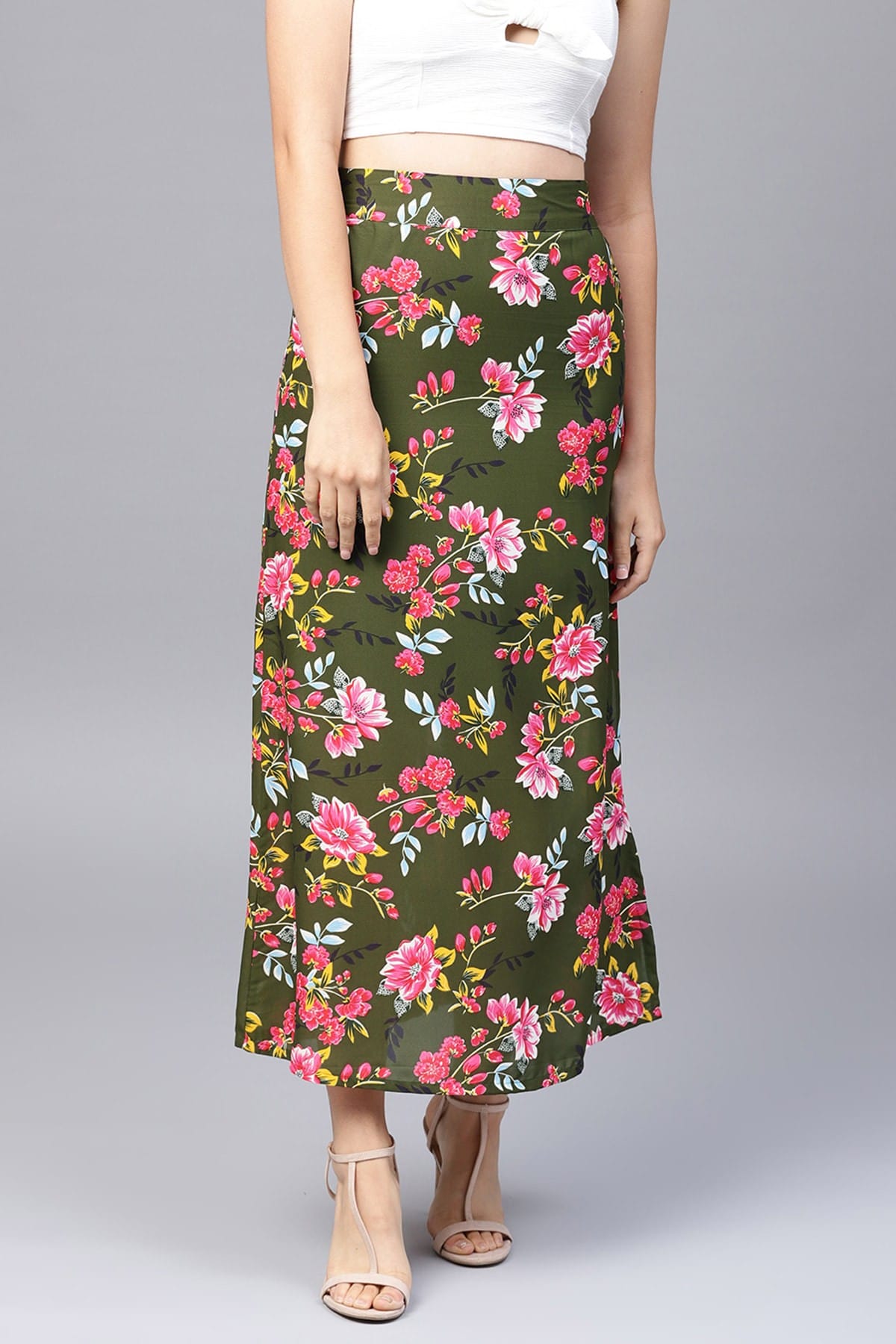 Maxi skirts are long and usually low-waisted. They are elegant, worn below your belly button and go down past your shins. They are slightly different from your long skirts and look great on tall women. They are, of course, is the main product of the summer.
41. Mermaid (Fishtail) Skirt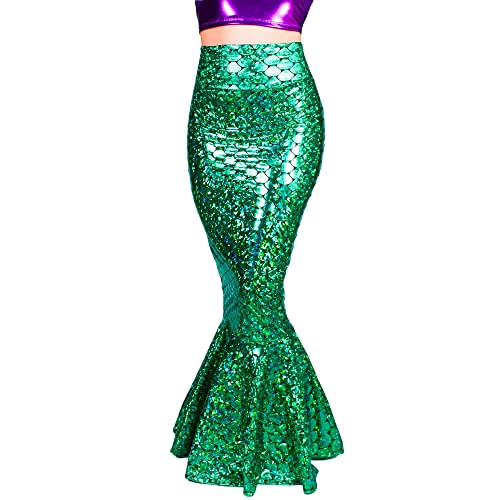 A mermaid skirt or fishtail gives the wearer hourglass shape while the tailpiece flares stands out at the bottom of the skirt. These types of skirts are often used for wedding dresses, as the back turns into a train, which can be short or very long. Mermaid skirts should be combined with an integrated bodice to emphasize this design and is great for creating an hourglass shape.
42. Mini Skirt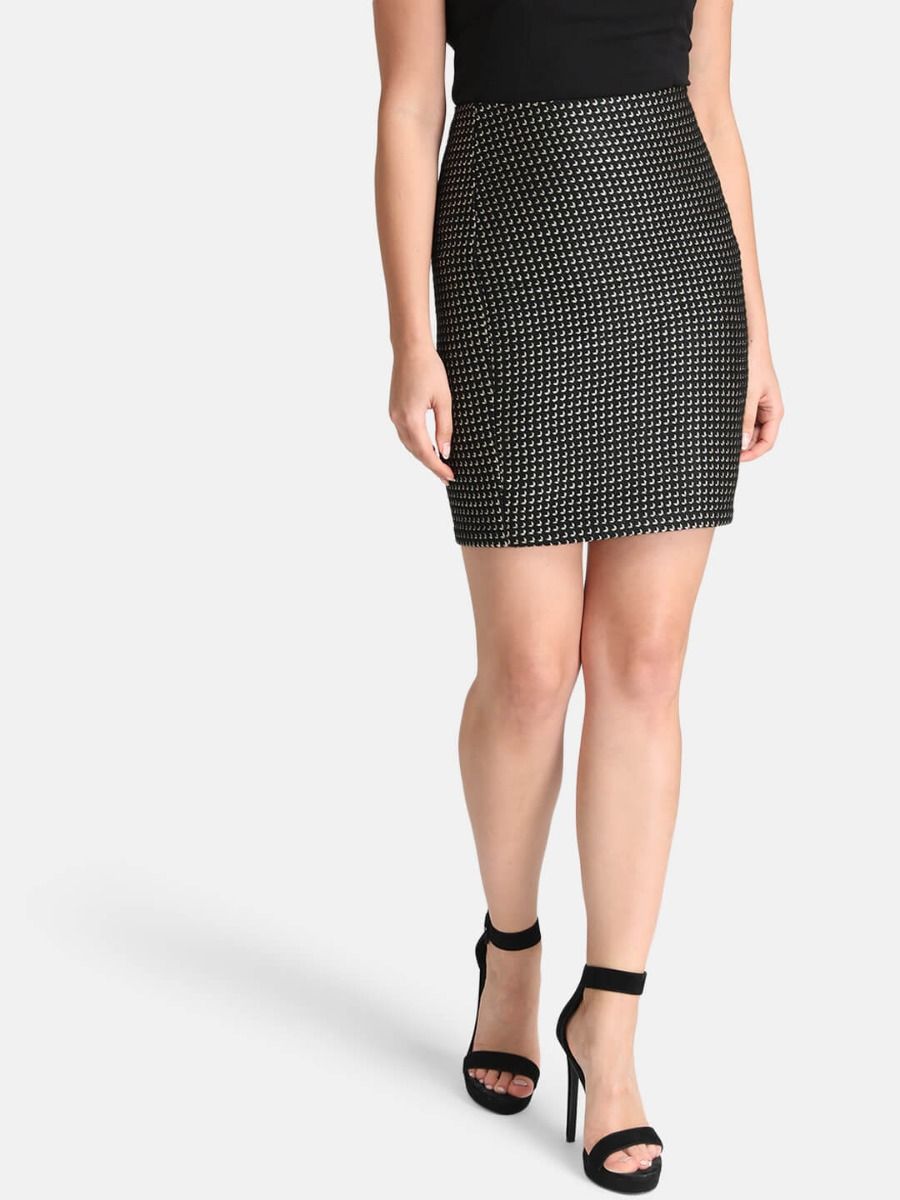 An iconic skirt associated with the 1960s, and as the name suggests, this is a very short skirt. A miniskirt is a short skirt from 10 to 17 inches long. Other names for this shirt are bondage skirt, Pelmet skirt.
Micro Mini is an even shorter dress, usually about 10 inches or less. Mini-skirts are traditionally fitted, but can be flared or even a round shape. Denim mini skirts are easy to put on for a casual look.
43. Paneled Skirt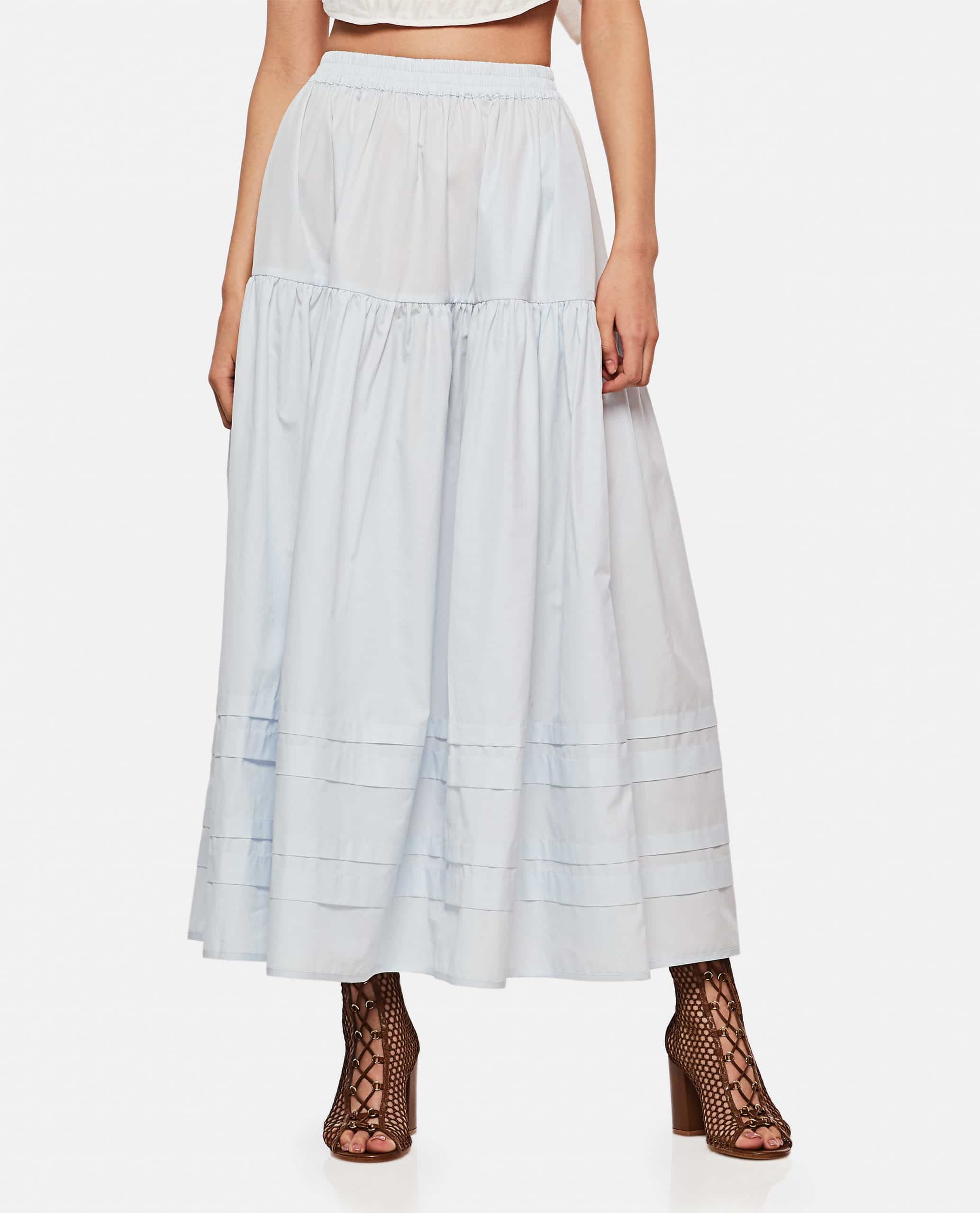 Panel skirts are usually long, colored or straight skirts that go down to the ankles. This length may vary slightly depending on the specific panel skirt. Ballroom skirts, for example, are almost always skirts. They are great for formal wear, dance (ballroom) attire or casual wear.
44. Peasant Skirt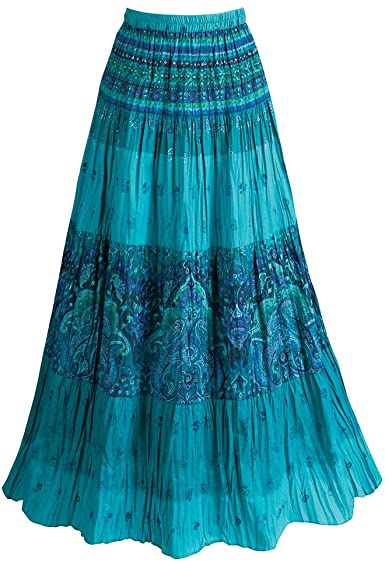 They date back to the culture of peasants and workers before entering the fashion industry. These were long skirts made of durable fabric so that they could be worn at work. Since these were ordinary outfits for the poor, they were wrinkled and consisted of a series of contrasting fabrics. Now they were good casual wear outfit.
45. Pegged Skirt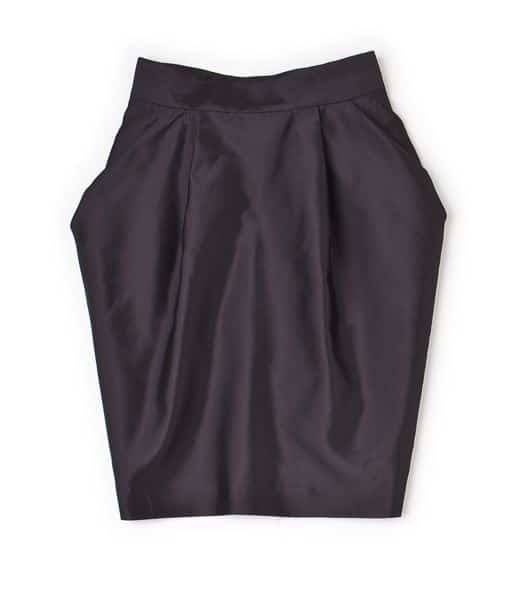 A pegged skirt can also be classified as a pencil skirt. It is narrow, tapering downward and usually cut through at the knee. They are great for semi-formal and formal wear and, depending on the cut, can sometimes be worn occasionally. You will find that pegged skirts are most often made of cotton, wool, linen or silk material.
46. Pencil/Tube Skirt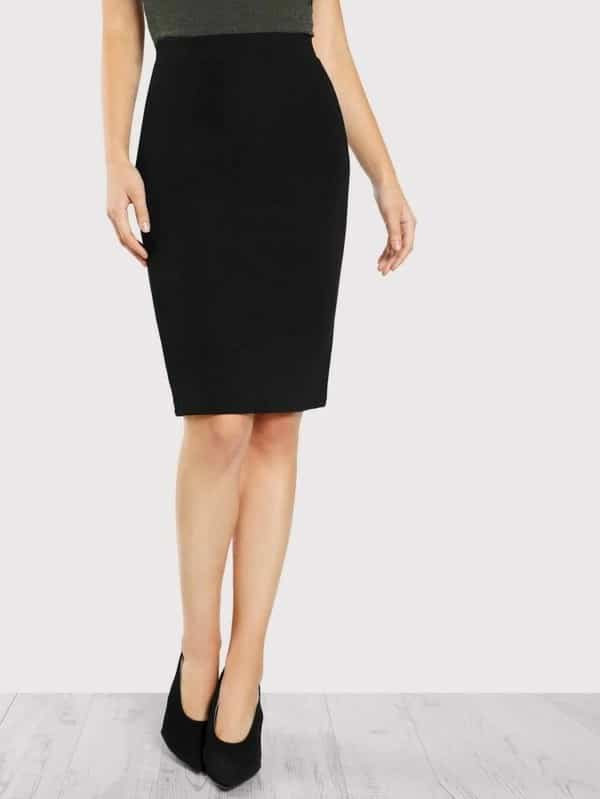 They are straight and very tight at the knees. Again, you need to have a perfectly toned body to flaunt curves. If not worn by the proper body type, this could be the perfect disaster!
47. Peplum Skirt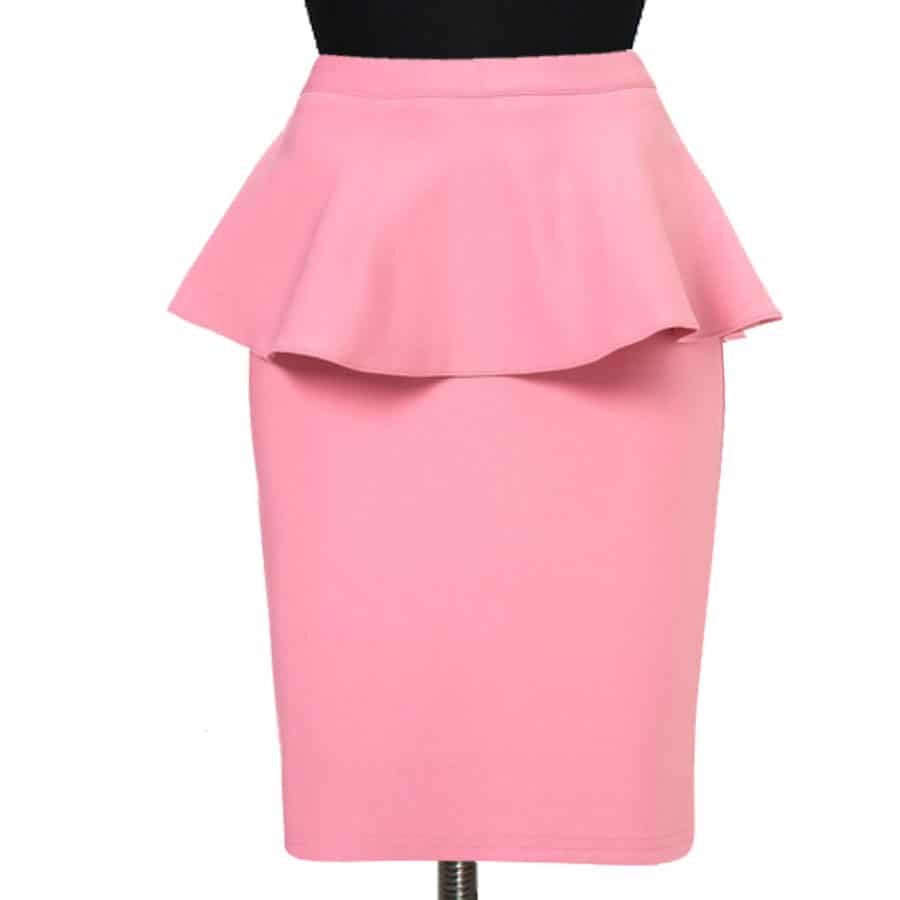 A peplum skirt is the type of design most commonly found in a skirt with a pencil or tube skirt. They showcase the waist, as an extra piece of fabric tightens the waistline. They are most often worn just above the knees. Their sophisticated and stylish appeal looks great as a semi-formal and formal outfit.
48. Pleated Skirt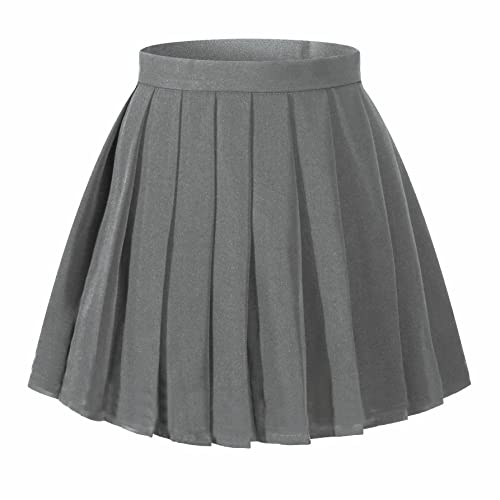 Pleated fold in fabric that releases fullness. These types have many folds of a similar size around the waist. This helps give the skirt an extra fullness. Pleated skirts have vertical pleats that go up and down the skirt all the way around. When there is movement, the skirt seems to open up.
Pleats can be of different types and therefore have specific names for a particular fold, for example, based on their design. box pleated skirt, inverted pleated skirt, sunburst pleated skirt. Knife pleated skirts and accordion pleated skirts. They reach the knee or above the knee and require ironing. Pleated skirts are casual or semi-dressy.
49. Poodle Skirt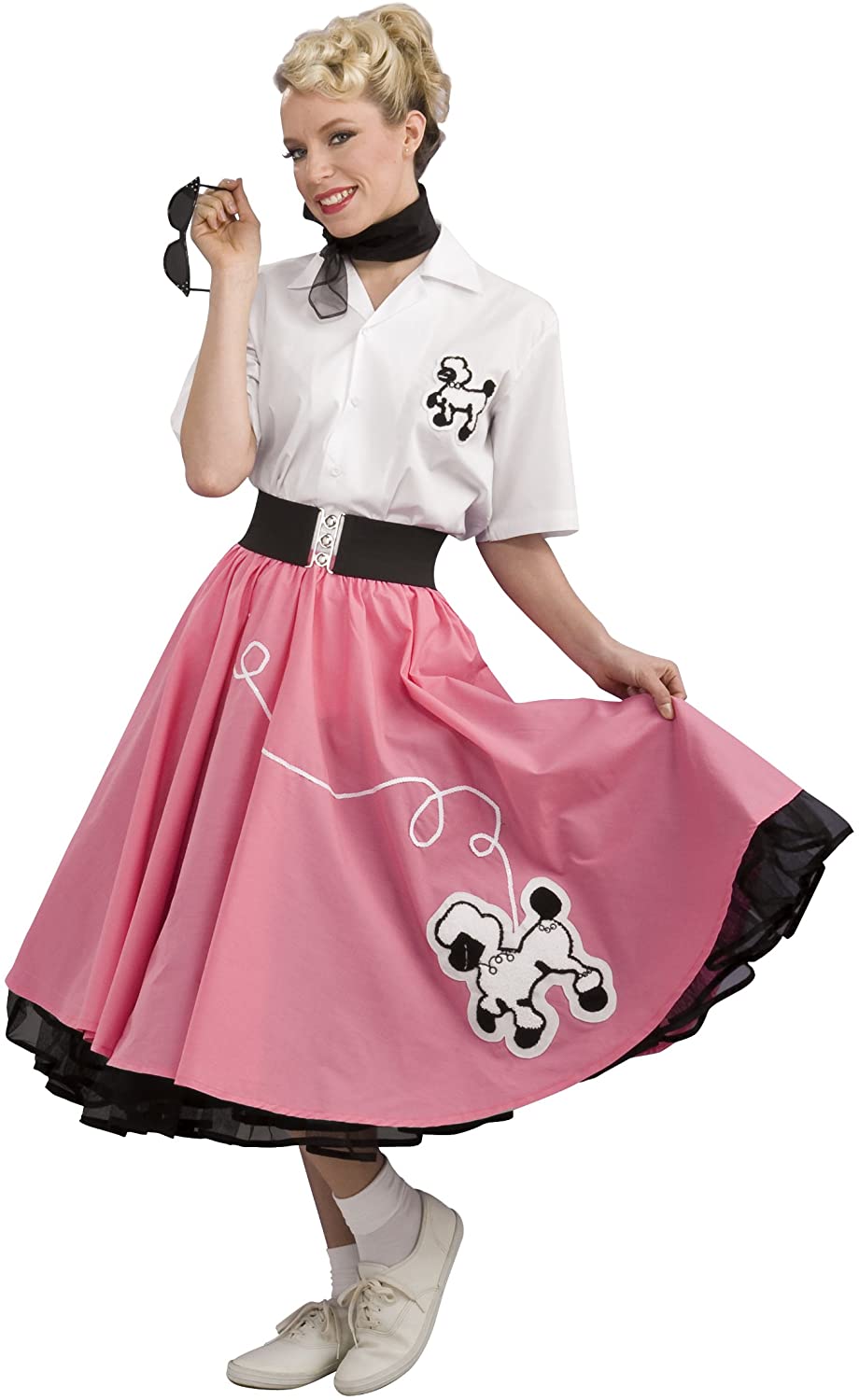 Poodle skirts were very popular in the 1950s, but they can still be seen today. They describe the design on the skirt itself – the poodle, which usually has the contrasting color of the skirt itself. The color of the skirt can vary from pink to black and even red and blue, and the poodle is usually sewn onto the skirt separately. It is also sometimes made from fabrics other than the rest of the skirt, including chenille.
50. Ruffled Skirt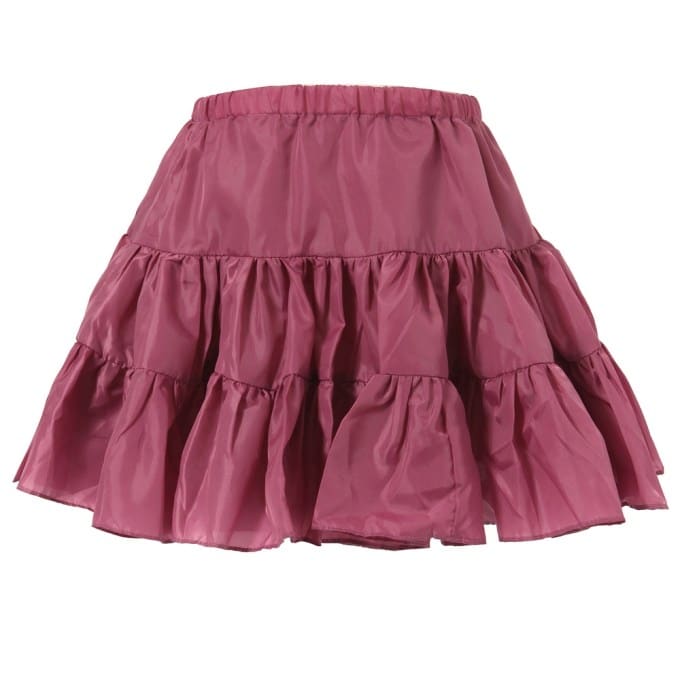 A skirt that is ruffled will have the same ruffled throughout the skirt or will be directed towards the bottom of the skirt. This creates a fun, smooth and daring appeal. Ruffled skirts are available in all shapes and sizes and can be worn casually, semi-formal, like party outfits, and less often – formally. Ruffled skirts are often worn as a dance outfit. The most common are long ones, up to the ankles, but can be much shorter, also on the upper thighs.
51. Sarong Skirt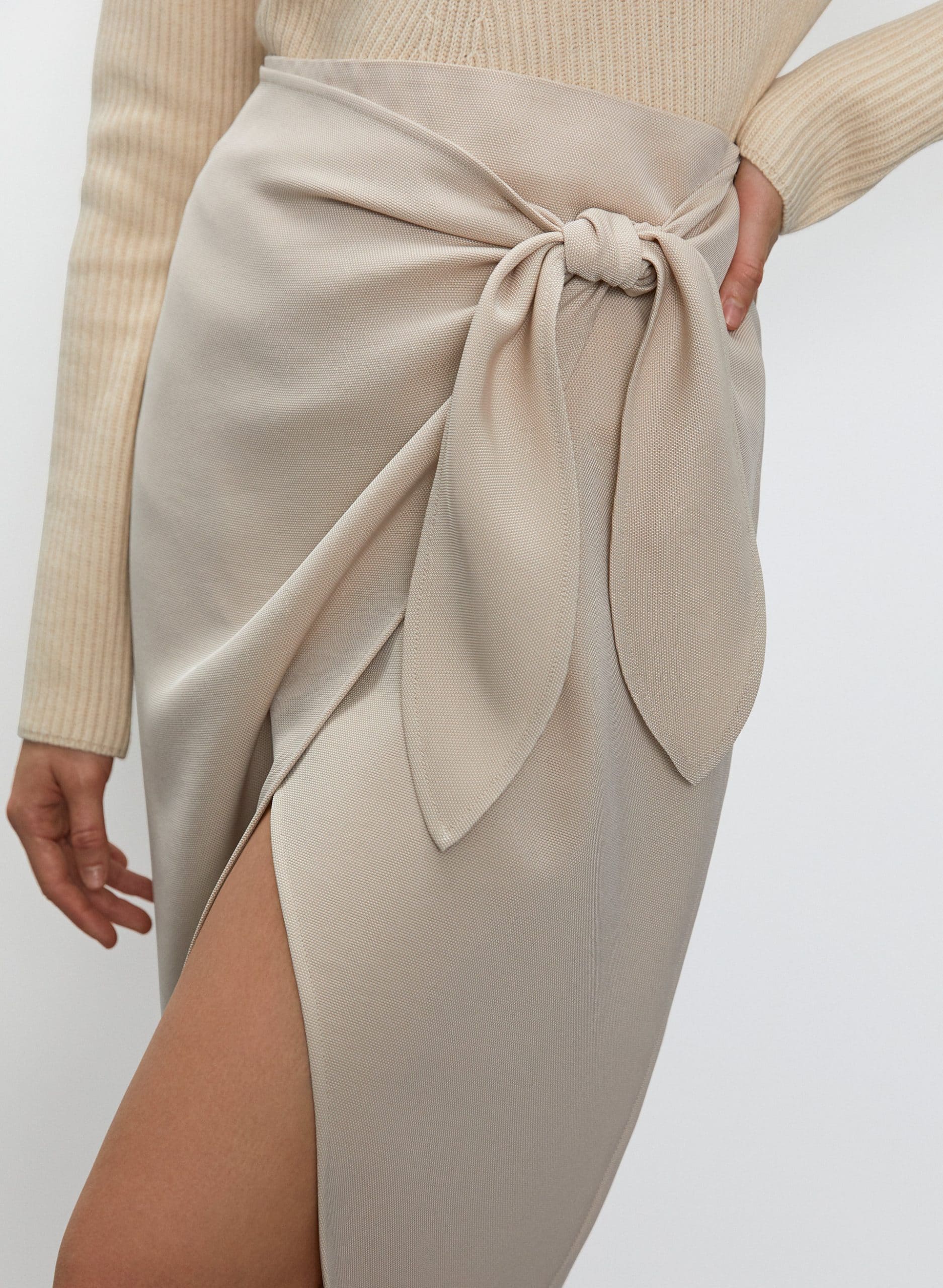 Sarong skirts are made from a long scarf-like material that you can easily wrap around yourself to make a skirt or scarf, as well as other clothes. In addition, sarong skirts are extremely popular on the beach and can be used to cover up your swimsuit. Therefore, sarong skirts are usually made from thin, lightweight materials and available in a variety of colors and designs.
52. Sheath Skirt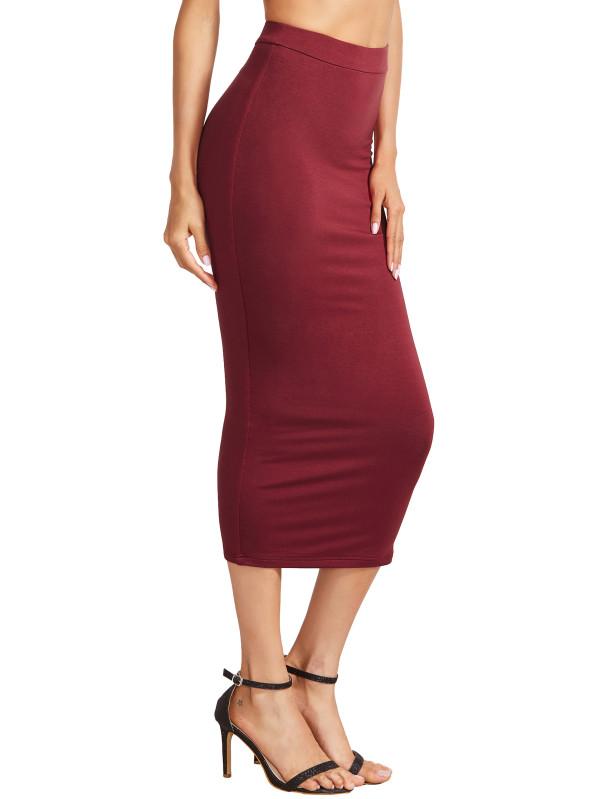 A sheath skirt has a silhouette that fits tightly to the body. Its hemline can be from mid-thigh to mid-calf. Their focus should be the waistline. The shorter the skirt with the cover, the more suitable it is for clothing or a cocktail party. The longer, the more attention is paid to office clothes.
53. Skater Skirt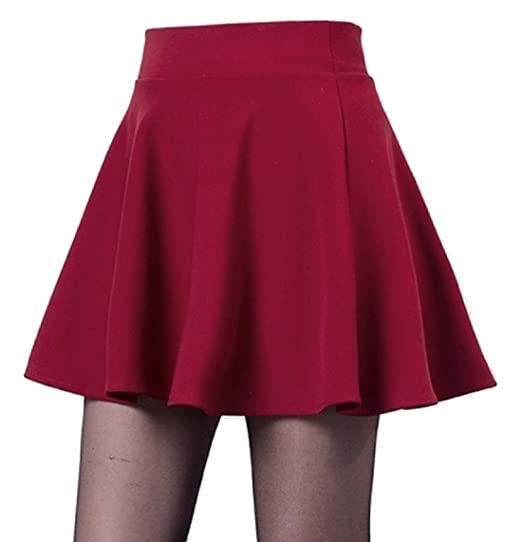 Skater skirts are short, sweet and chic. They are a fun combination of A-line and round skirts, except they are shorter. The skater skirt is not heavy and has a very informal vibration due to the light fabrics used to make them. They are perfect for traveling with friends, meeting or partying.
54. Slip Skirt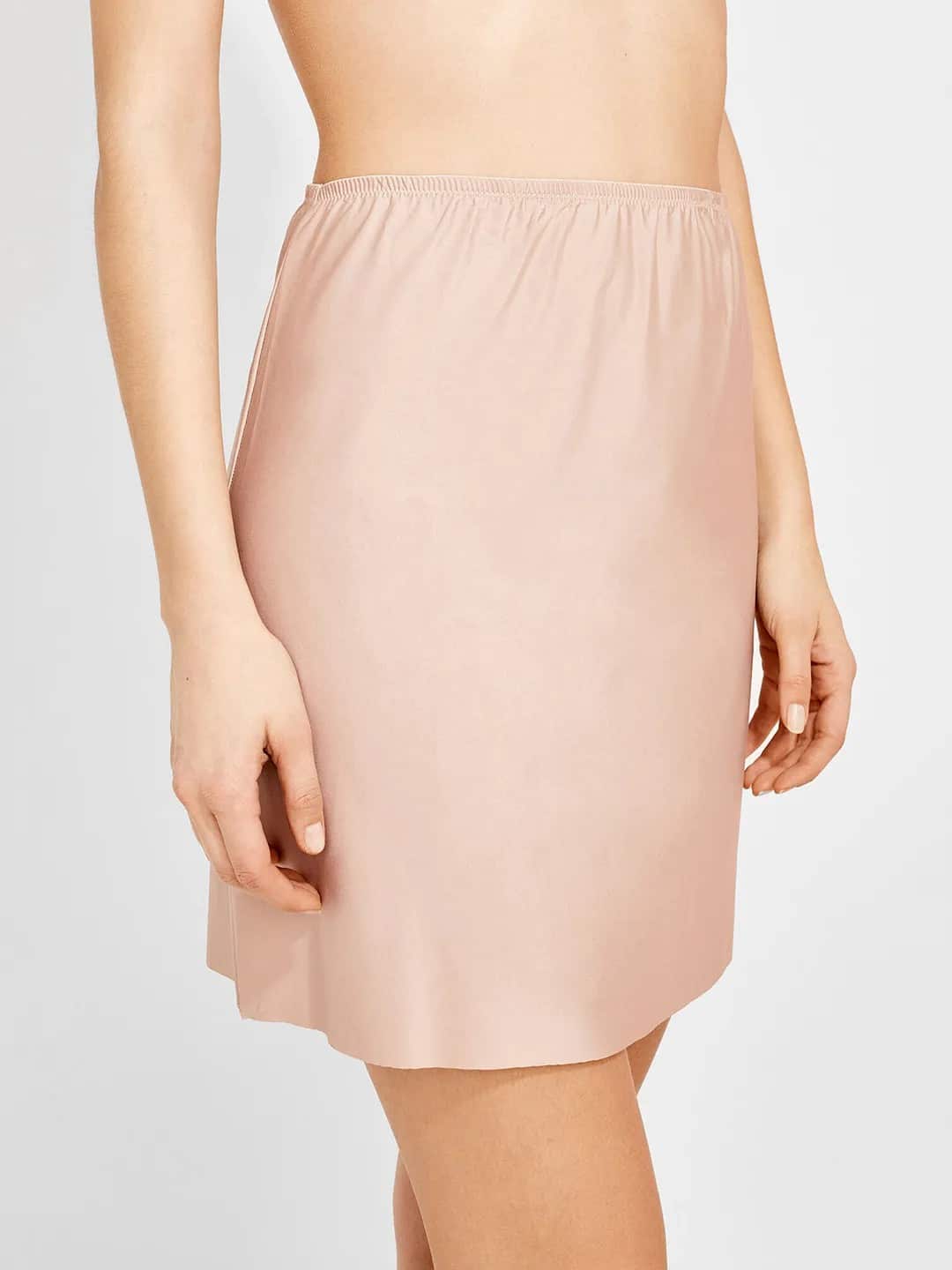 Is anything not suitable for a silk slip skirt? The answer is probably no. Whether you wear it with a cool bodysuit or a graphic tee with a pattern, slip skirts can be worn or down and dressed up for almost any occasion.
55. Slit Skirt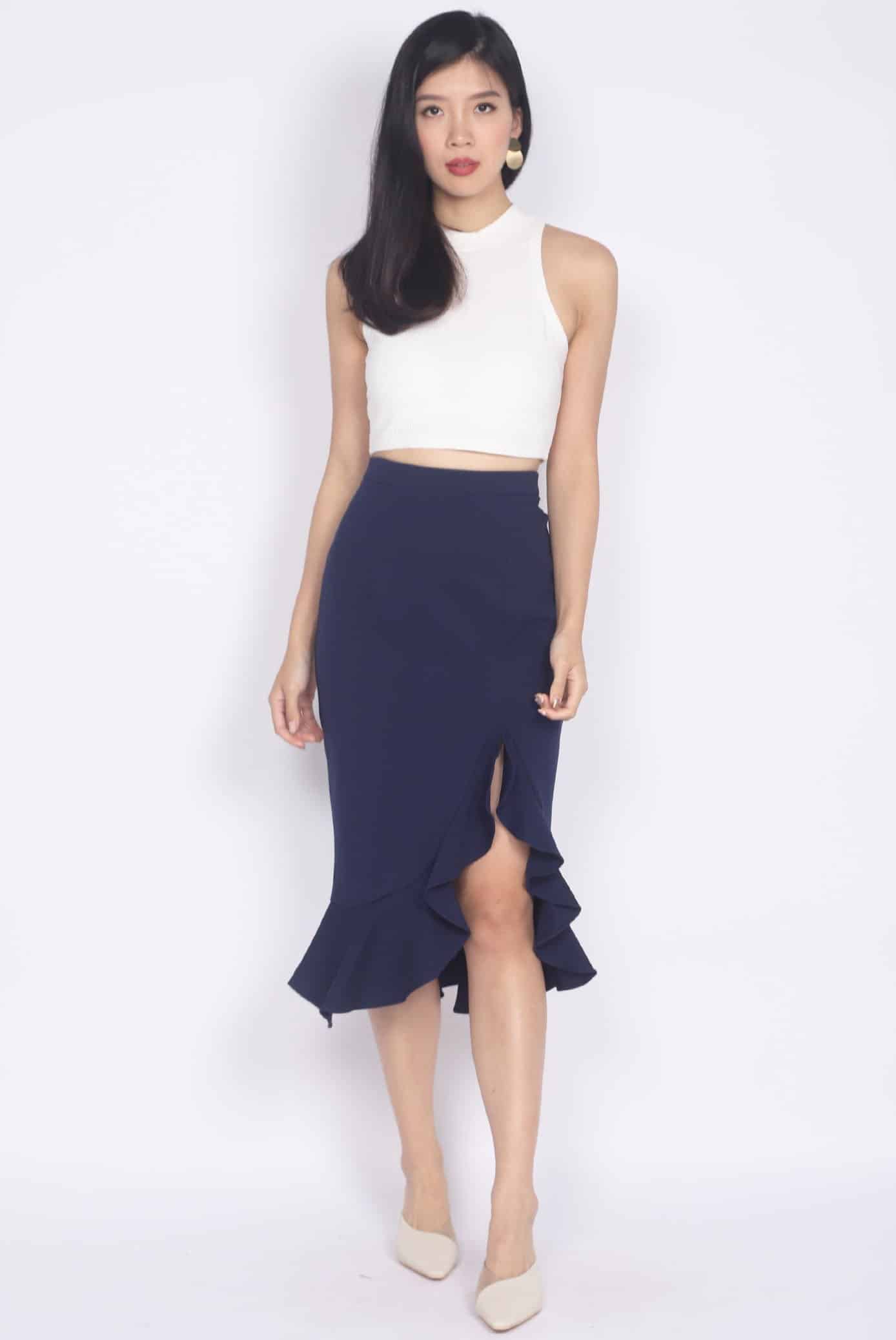 A straight slit skirt is similar to a pencil skirt in appearance. The straight skirt has a side slit and is relaxed from the knee area. You can also wear it as a formal skirt as well.
56. Straight Skirt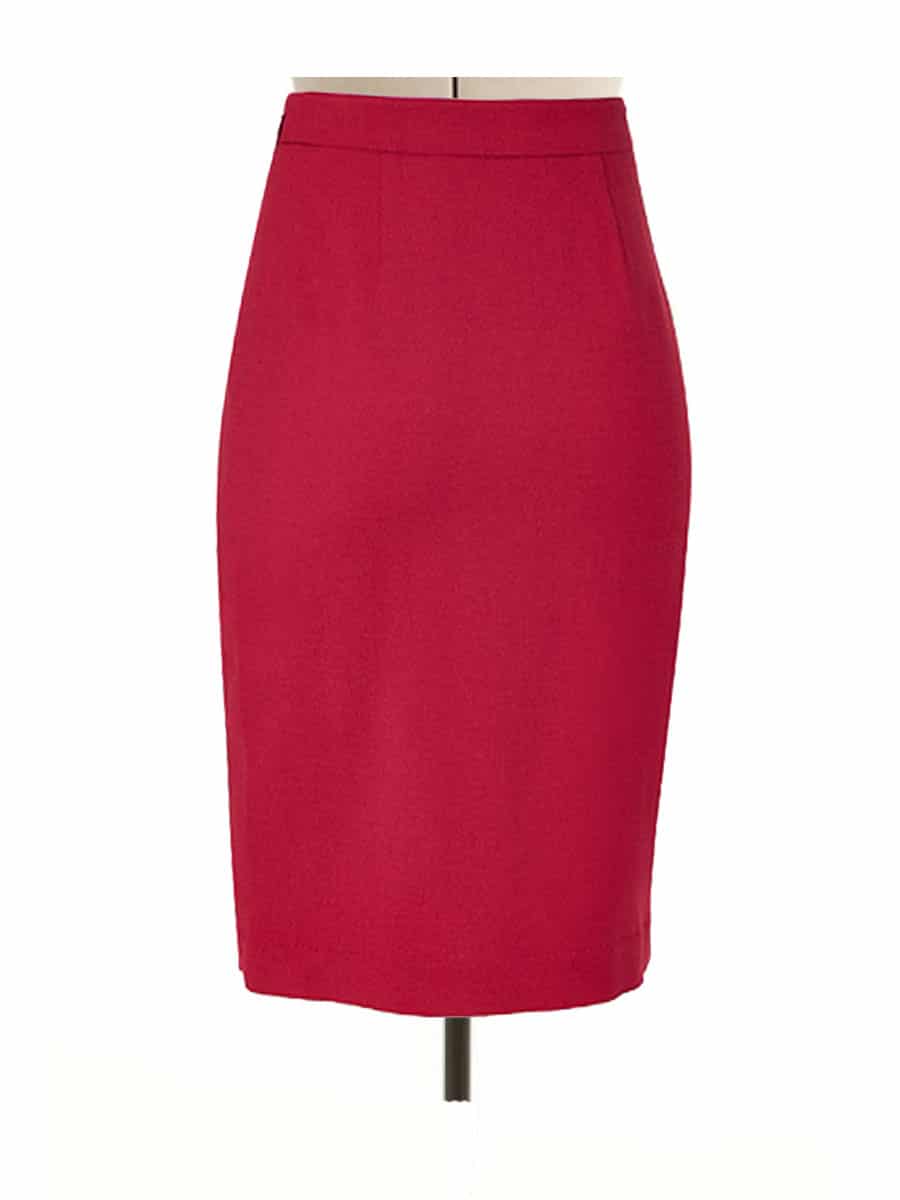 These skirts fit tightly at the waist and hips and go straight to the legs. They are very similar to a pencil skirt, they are a little less tight on the knees. You need to be very careful when putting them on, sticking to your figure. You should wear the right outerwear so that it does not appear awkward through the fabric.
57. Tiered Skirt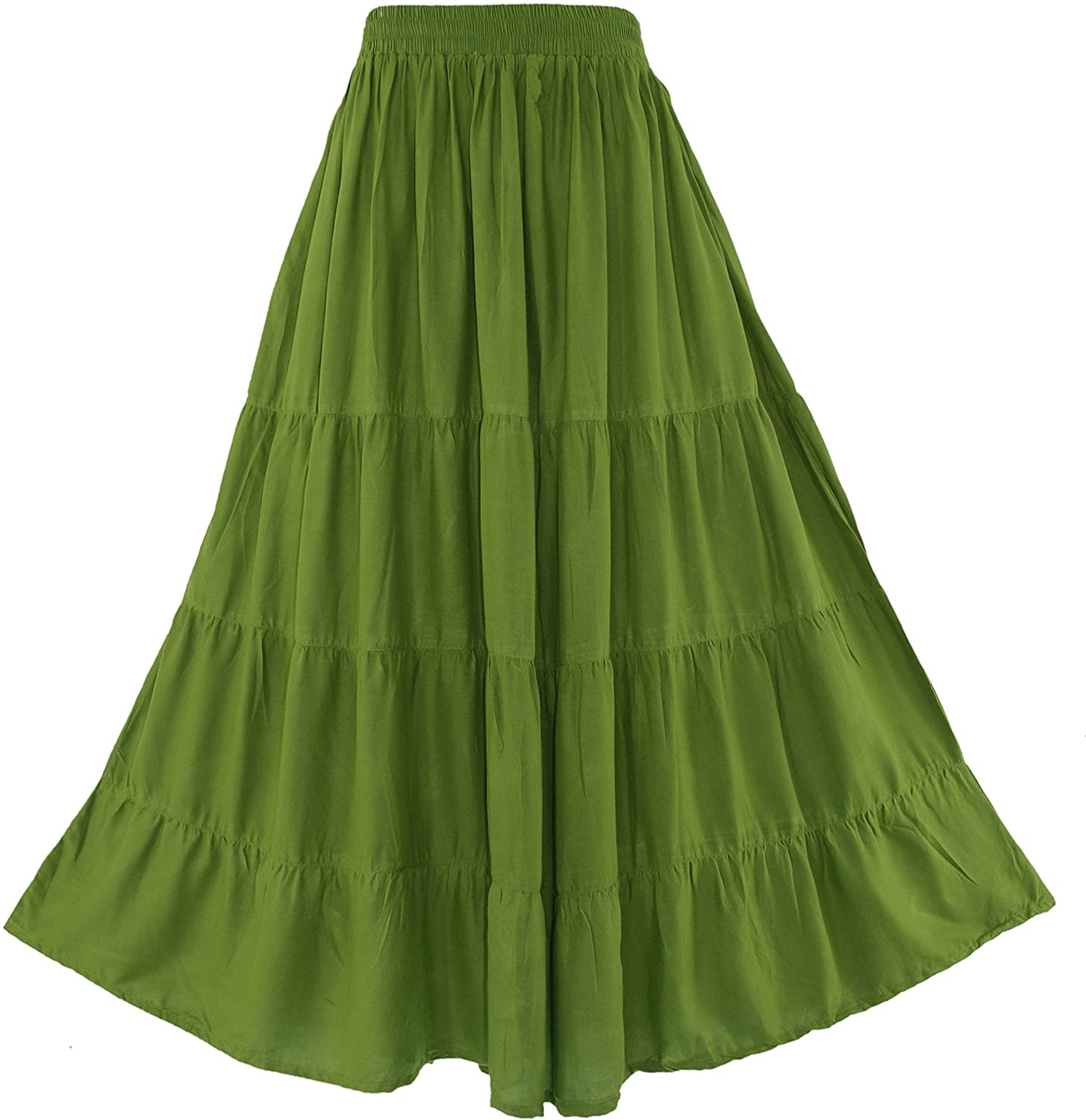 Evolved from the gyspsy cult, gypsy skirts are usually long. They usually consist of wrinkled and disheveled horizontal layers of fabric attached to the hem.
Tiered skirts are layers joined together, while layered skirts can have loose layers to give a ruffled and sophisticated look. Layered skirts are often in the design of women's clothing and for women can give a free, floating and bohemian look. They are flattering for many body shapes, especially if the skirt is made of soft floating fabric with a drapery similar to a rayon.
58. Trouser Skirt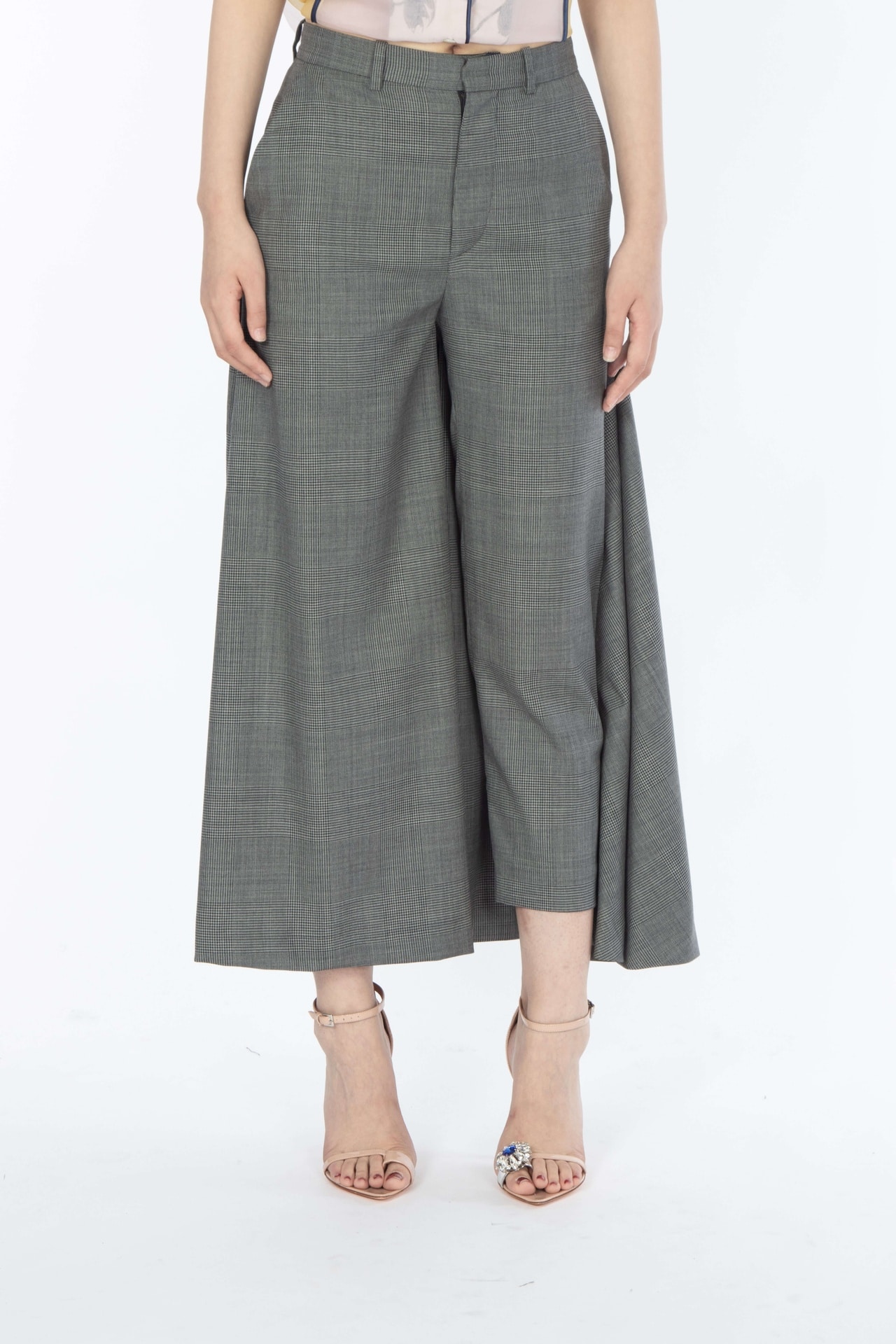 Trouser skirts are actually trousers, but they are made of material that is very flared, so if you stand with your legs close together, they look like skirts. Some trousers have a panel with a skirt on the back of the item, but no matter how they are made, they always look like ordinary skirts from most distances.
59. Trumpet Skirt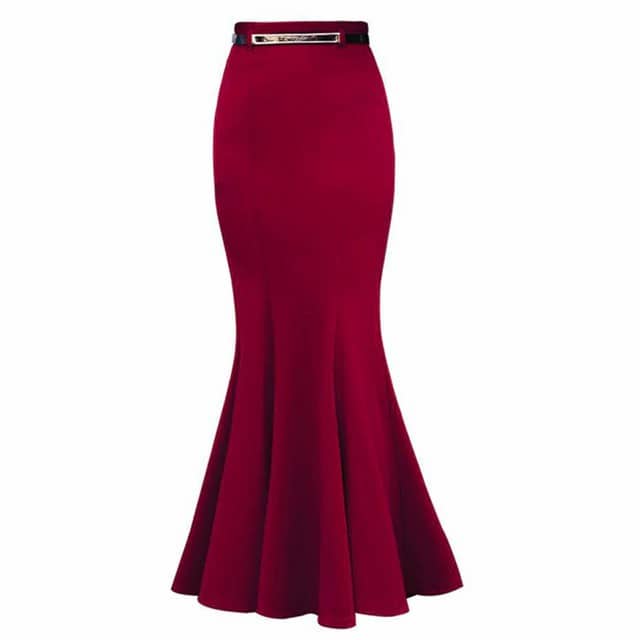 Trumpet skirts, also known as mermaid skirts, have a slimming effect, hugging your hips tightly. The faded bottom of the skirt resembles a fish tail, and in combination with the waist enveloping the figure, emphasizes the bends. They are most often to the calves or to the ankle and are best suited for evening wear or formal wear.
60. Tulip Skirt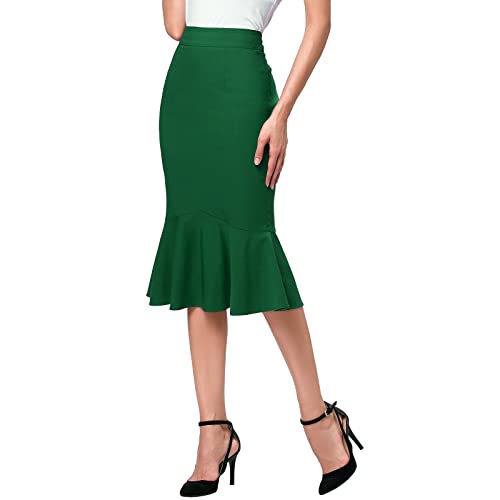 These skirts, also called balloon or bubble skirts, have a lot of fullness and a hem that is hidden under the skirt, creating the effect of balloon. Tulip skirts were very popular in the 1950s, but now they are returning to many parts of the United States. They may have irregular hems and overlapping panels and look like an inverted tulip, hence their name.
61. Tulle Skirt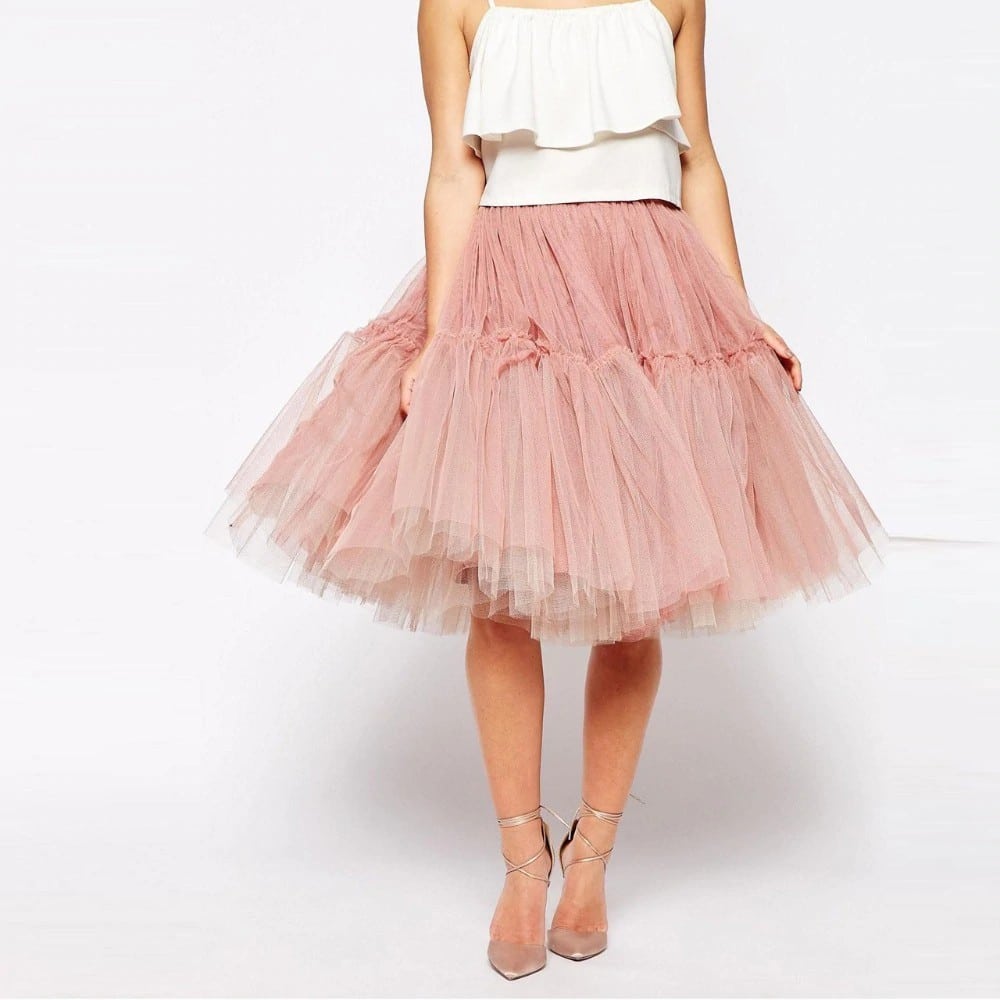 Tulle is a fine mesh net fabric. Tulle style can come in the form of a bubble, ruffled or a straight skirt. The best example is the cut that you see at the bottom of many wedding dresses. This fluffy and elegant look created by tulle is what you see in a tulle skirt. It can be made from a variety of fabrics, including nylon, silk and cotton.
62. Tutu Skirt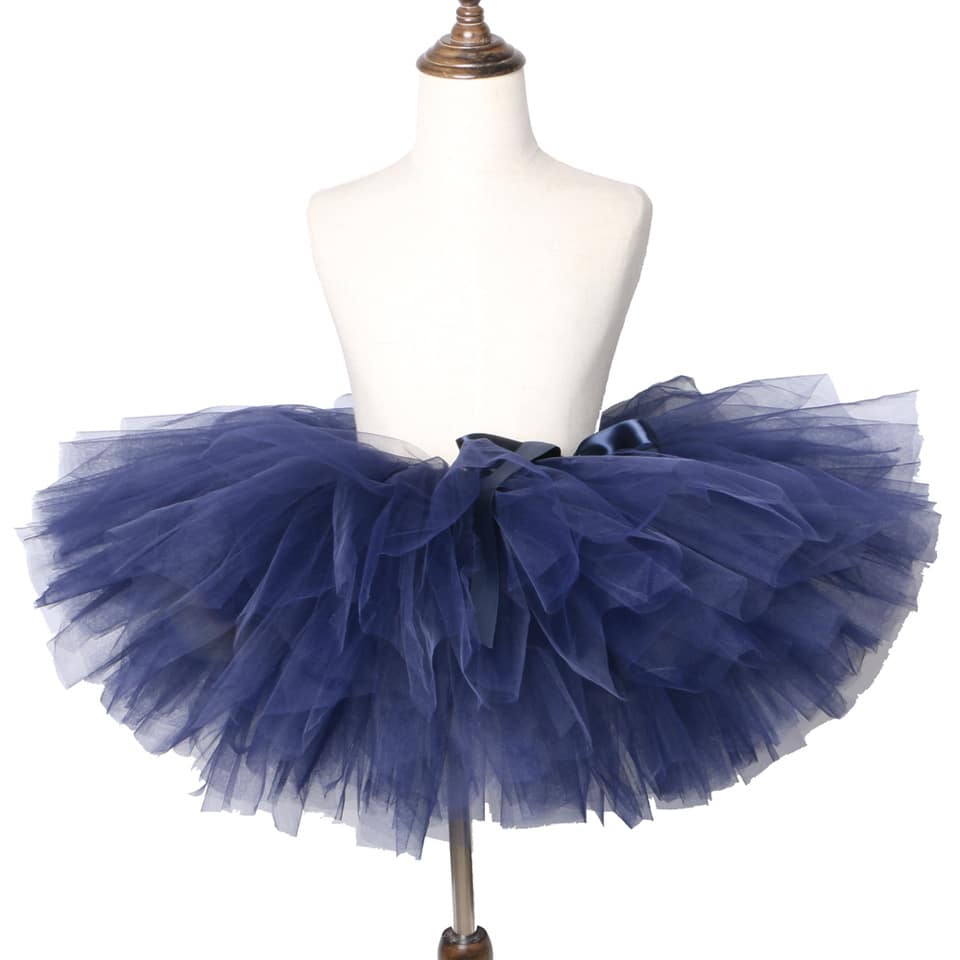 Tutu skirts were originally a ballet costume and a children's birthday dress for most of us. Although they are still worn in those settings, designers also found ways to wear them, like all other skirts. They may not be an everyday product, but they will undoubtedly be a great idea for an evening outfit.
63. Underskirt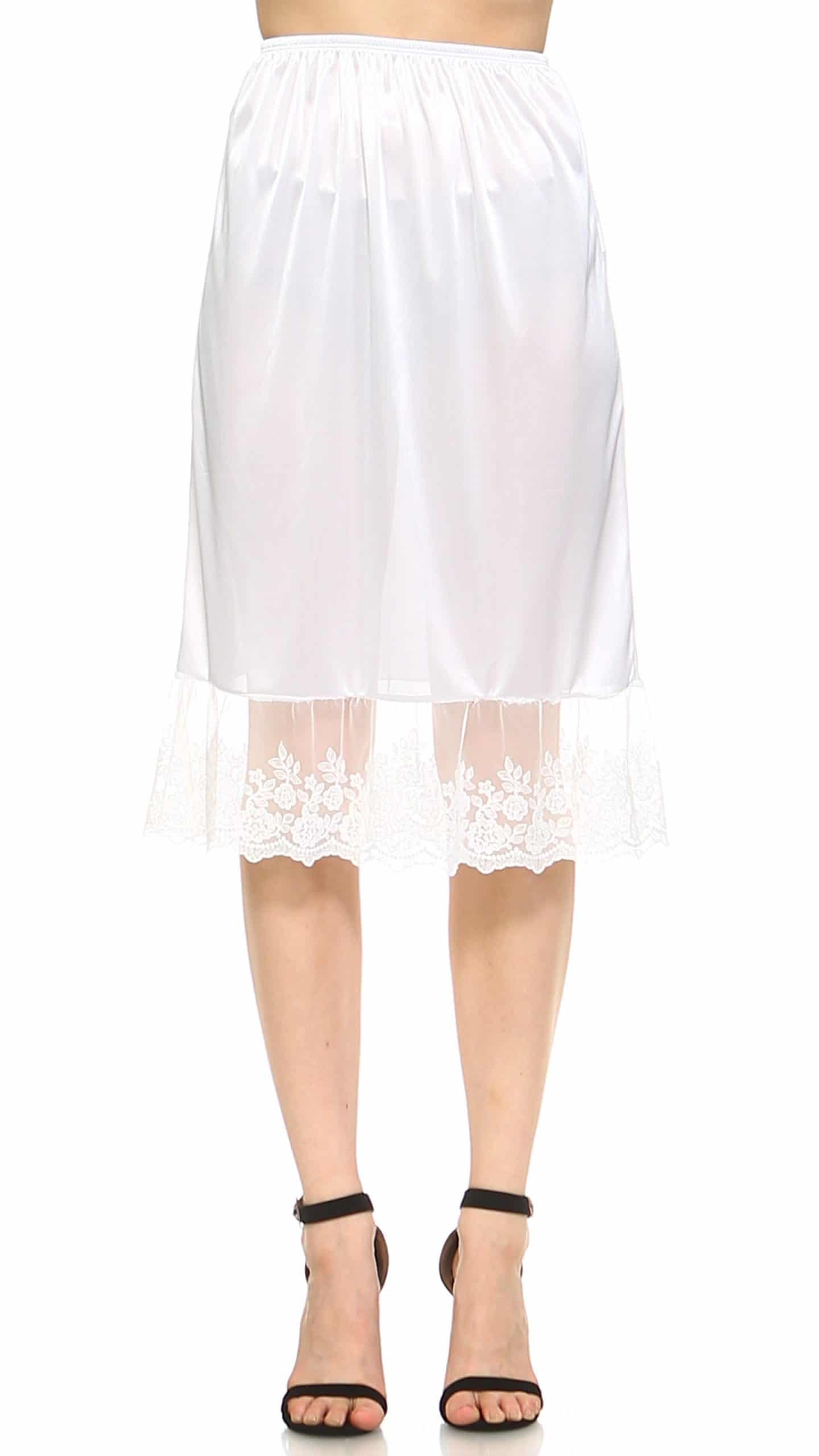 An underskirt, also known as a petticoat or a slip, is designed to be worn under a dress or another skirt. It is worn to help clothes or a skirt smoothly fit to the body, prevent any skin burns, to protect against perspiration, and to add extra warmth.
64. Wrap Skirt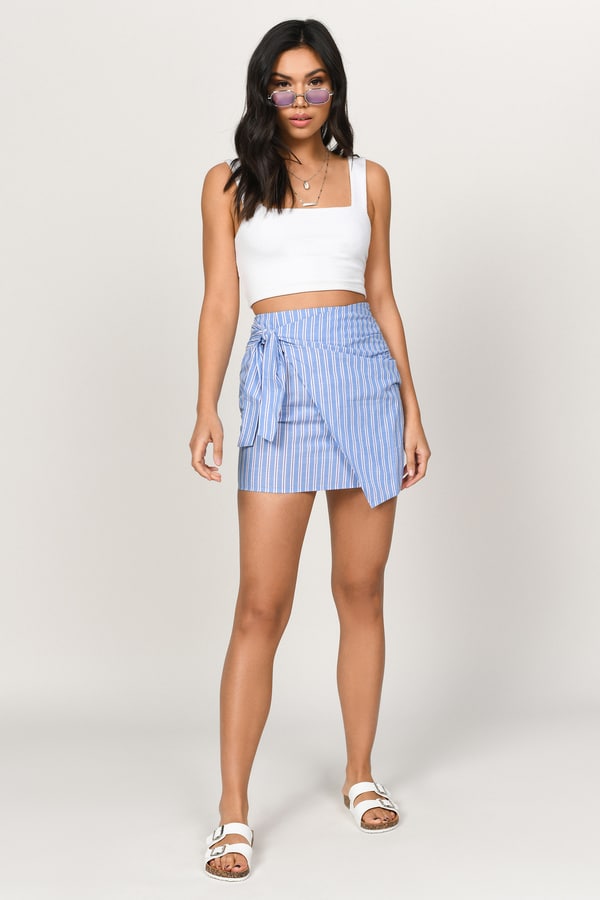 A wrapped skirt is one in which the wearer must wrap the skirt around the body once or twice so that it can be closed properly. Usually it fastens with a tie and not with a zipper or buttons, and you can tell the skirt to wrap just by looking at it. It is often worn by people who want to look more relaxed and comfortable. Wrap skirts are available in many different lengths and materials, and they are one of the simplest types of skirts to make themselves because of their simplicity.
65. Yoke Skirt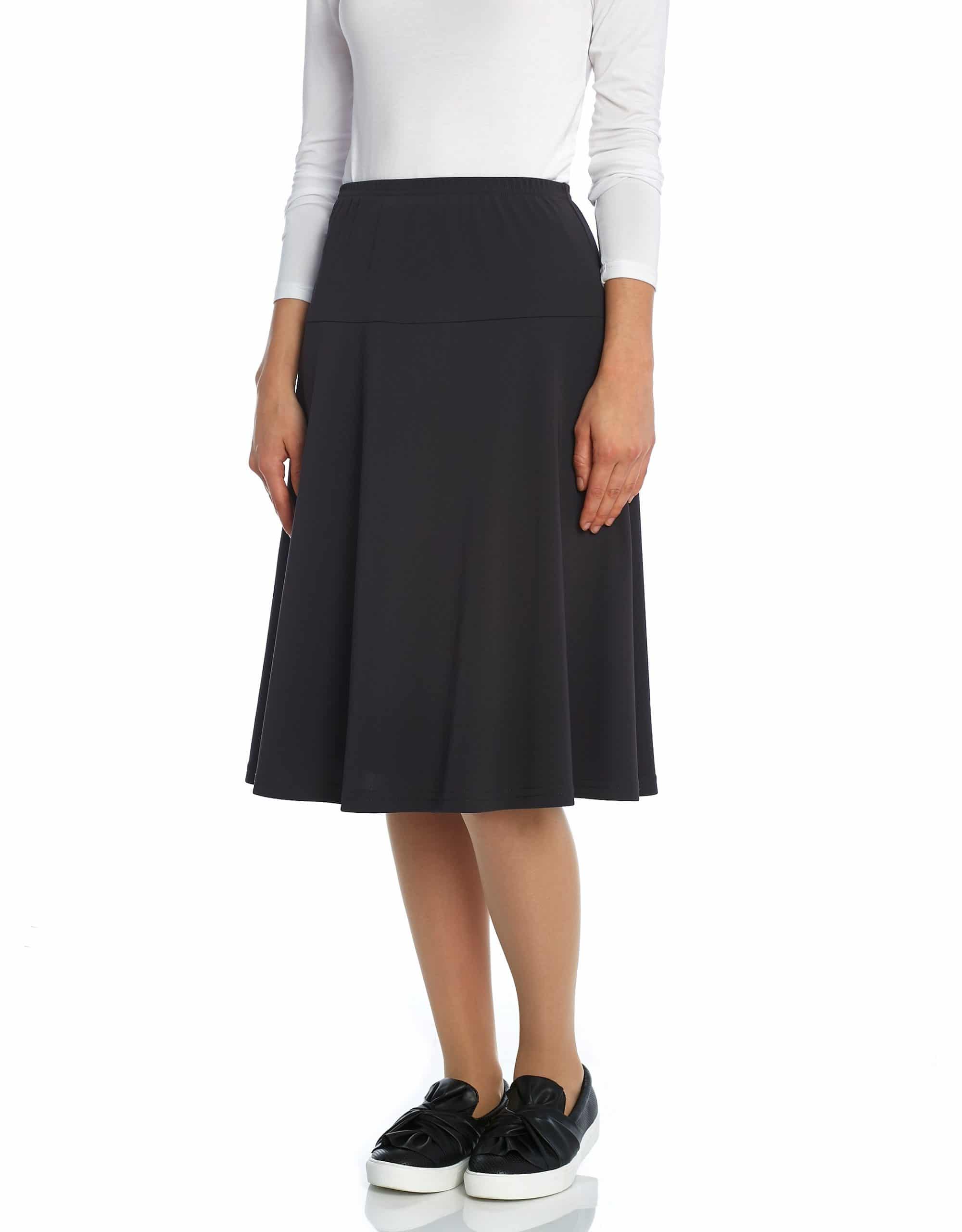 Using the yoke effect on the top and on the waistband creates a subtle look for the yolk skirt. The yolk hugs the figure, and the skirt gathers or brightens on the yolk to complete the design. The yoke may be narrow or much wider and cut along the curve, so that there is no need for the darts to shape at the back.