Ancient Egyptian women had to adjust to the hot environment by wearing shoulder-strapped garments composed of light fabrics like linen and cotton. The peplos was a rectangular piece of fabric folded and fastened together worn by women in Ancient Greece. They wore a long tunic called a chiton at a later date. Greek ladies styled their long hair in a variety of ways.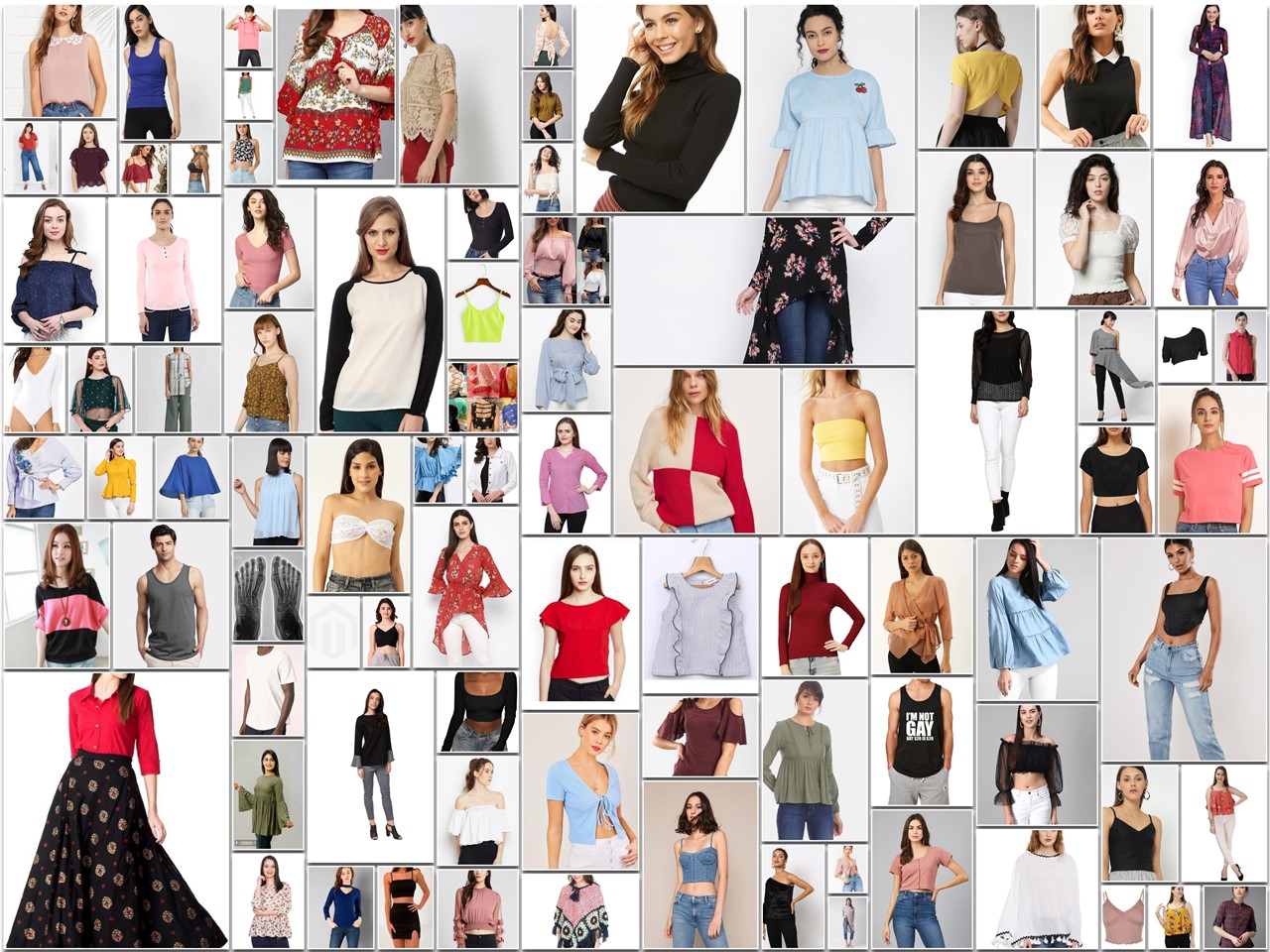 Women in Ancient Rome were already stylish, as they wore a palla, or long shawl, with their colourful stolas, or long skirts. Pins and brooches were used to keep their clothing together. Wigs and even artificial teeth were worn by some.
Different Types of Tops Names With Pictures
Types of tops include t-shirts, tank tops, blouses, polo shirts, button down shirts, tunics, and dresses. Here is the latest list of all types of tops names with pictures and images that you should know about.
1. Basic T-Shirt Top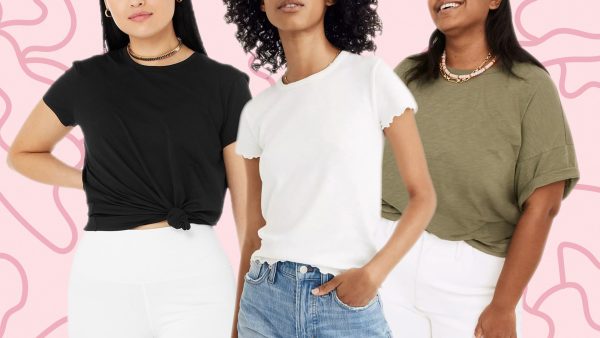 This top does not require any special introduction. From band tees to sports teams to simple tees, every woman needs a few basic T-shirts in her closet.
2. Fitted Cami Top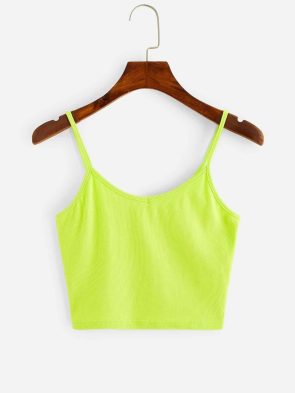 A spaghetti-strap camisole is a must-have piece of clothing. A silk cami is a simple way to dress up your favourite pair of jeans and heels for a hot summer's night out, and it's perfect for layering beneath cardigans and jackets.
3. Blouse Top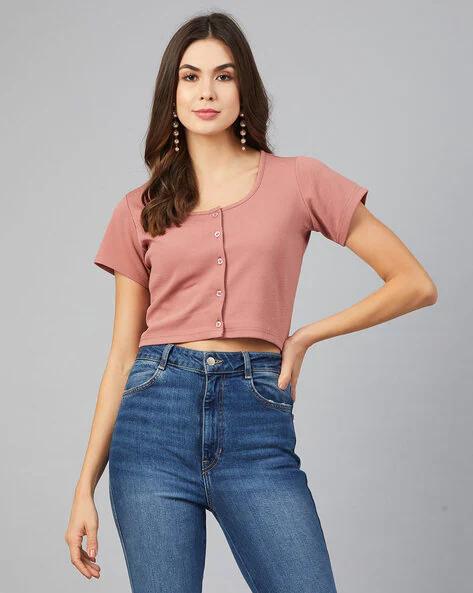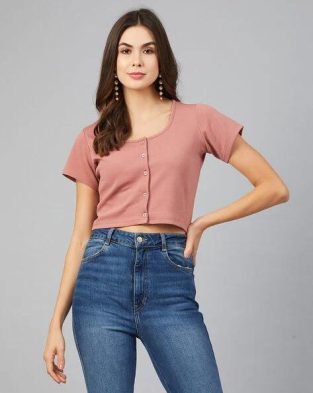 Do you intend to go on a casual outing? Then a blouse top will be ideal for your escape. It includes 3/4th, full, or half sleeves, as well as back gathers for a comfortable fit!
4. Crop Top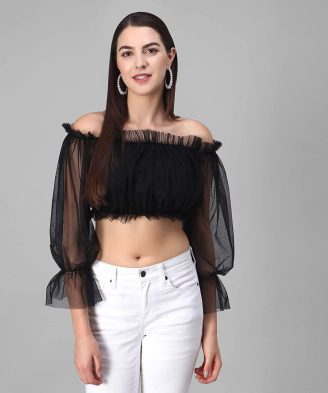 Do you intend to flaunt your lovely tummy, ladies? The crop top should, without a question, be your first choice. The front portion is over the tummy and has fashionable neck patterns!
5. Tank Top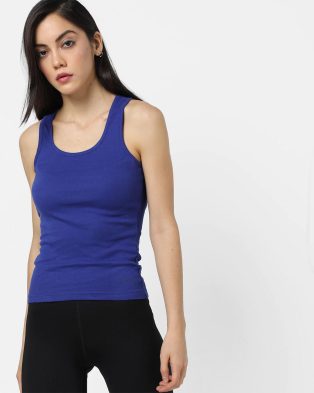 With this lovely tank top, you can beat the heat. Show off your clean arms with a sleeveless shirt with a stylish neck, whether it's round, squared, scooped, or racerback!
6. Bandeau Top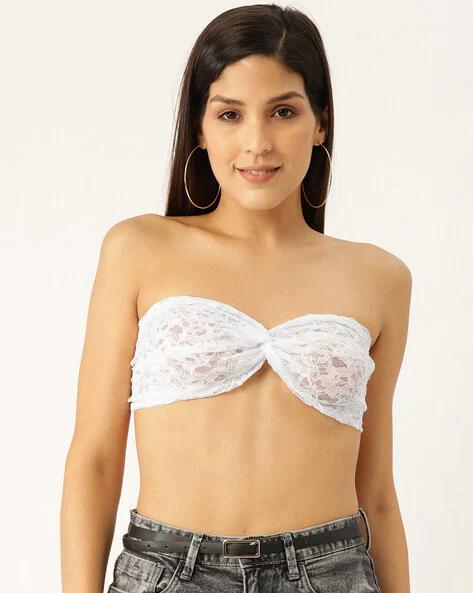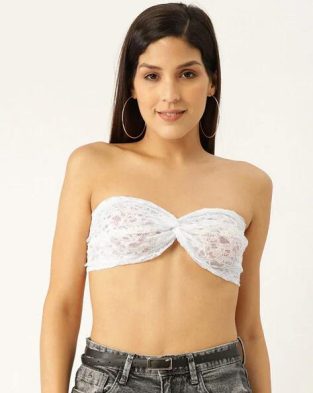 The bandeau top, also known as a tube top, is a sure-fire method to look sultry without being scandalous. A tube top is a top with no sleeves that is well-fitted and cropped, or at most, waist-length. This design will work well with your high-waisted jeans and skirts. They're also useful as a piece of supporting apparel. You may, for example, wear your denim dungarees with a beautiful bandeau top beneath and avoid wearing your bra. This sultry shirt for women should be in your closet.
7. Cami Top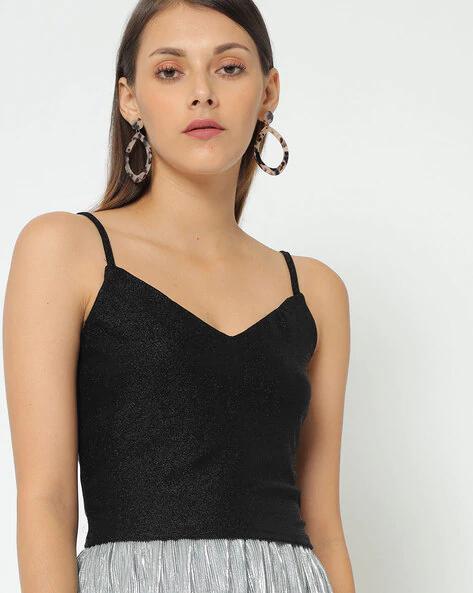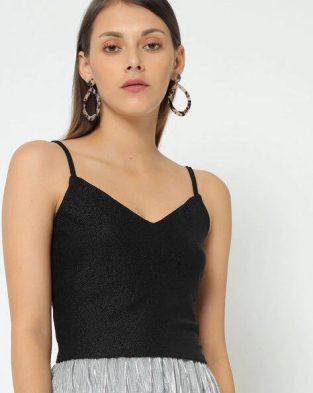 Do you want to be the centre of attention? Then a cami top is a must-have item in your closet. With a square or round neck and strap shoulders, this shirt absolutely slays it. It generally reaches the pelvic area or shows off your stomach. It's time you wore a cami top to look your best!
8. Tube Top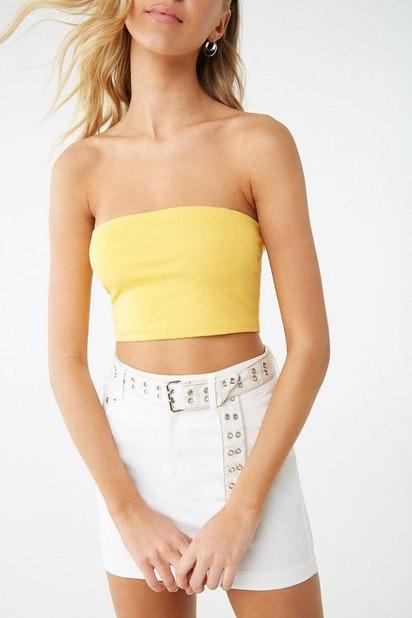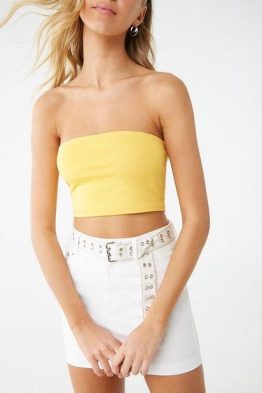 Ladies! In a tube top, show off your beautiful shoulders. It has an elasticated neckline that wraps over your upper body right above the bust. This season, try the sparkling off-shoulder style!
9. Tunic Top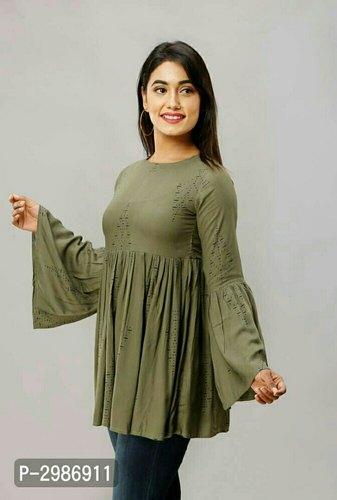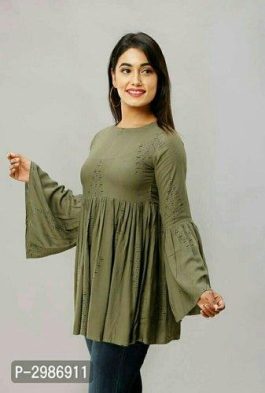 This top has an overlapping v-neck and a high-low hem. A tunic top is the perfect choice if you have a big stomach and still want to appear attractive!
10. Maxi/Longline Top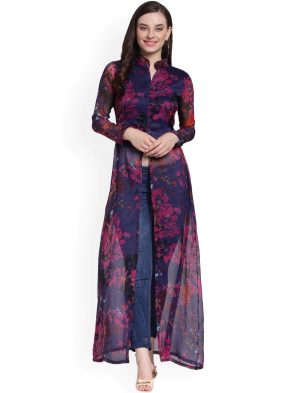 Wow! The maxi top has a stunning appearance. From your waist to your ankles, it features a slit on one side. It can have sleeveless or full sleeves, as well as different neck designs. This flexible and opulent shirt is sure to turn heads!
11. Peplum Top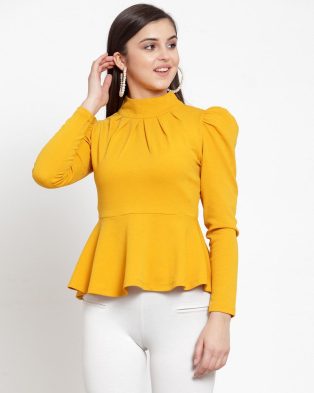 Long sleeves and an elasticated feature below the breast with short gathers make this one adorable outfit. Peplum is the way to go if you want to disguise your tummy fat while still looking fashionable. This can be done with a jacket or a shirt!
Peplum tops have a strip stitched onto the waist that allows the bottom section of the top to flow outward and flare somewhat. The beauty of peplum tops is that they can be worn for both casual and formal events.
It also draws attention to the bosom, which is a feature that many women appreciate in these tops. They come in a variety of fabrics and colours, and they can be short-sleeved or sleeveless. When you pair these tees with formal jeans and flats, you've got the perfect ensemble for a party or other social gathering.
12. V-Neck Top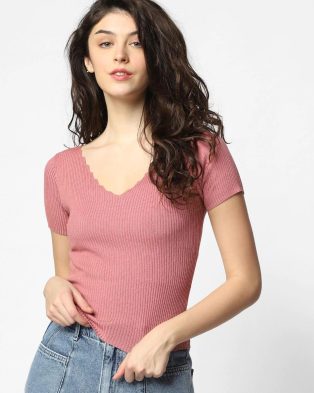 V-neck shirts have a V-shaped collar, as the name indicates. T-shirts, blouses, button-down shirts, sweaters, and tunics are all examples of this style.
13. Asymmetrical Top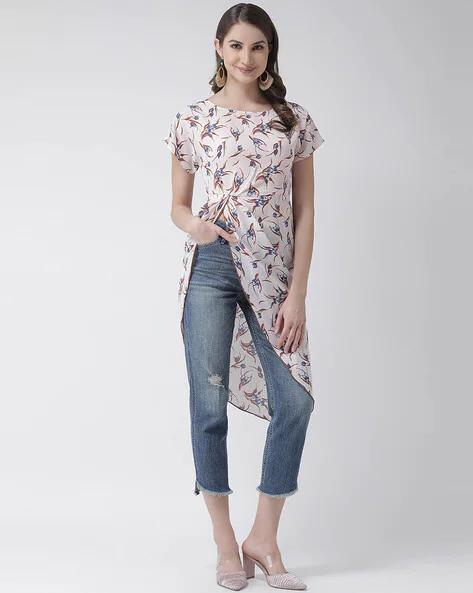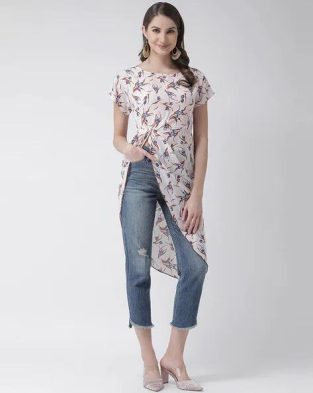 An asymmetrical hemline differs from a standard hemline in that it is asymmetrical. Previously, this was a hemline that was primarily seen on gypsy skirts and occasionally on red carpet dresses worn by celebrities. Many designers are now creating daily clothing with this hemline, such as blouses, jackets, shirts, tunics, and skirts. It's all about making a statement — a declaration of non-compliance with the rules.
The hemline of this shirt is asymmetrical (not straight).
14. Workout Tank Top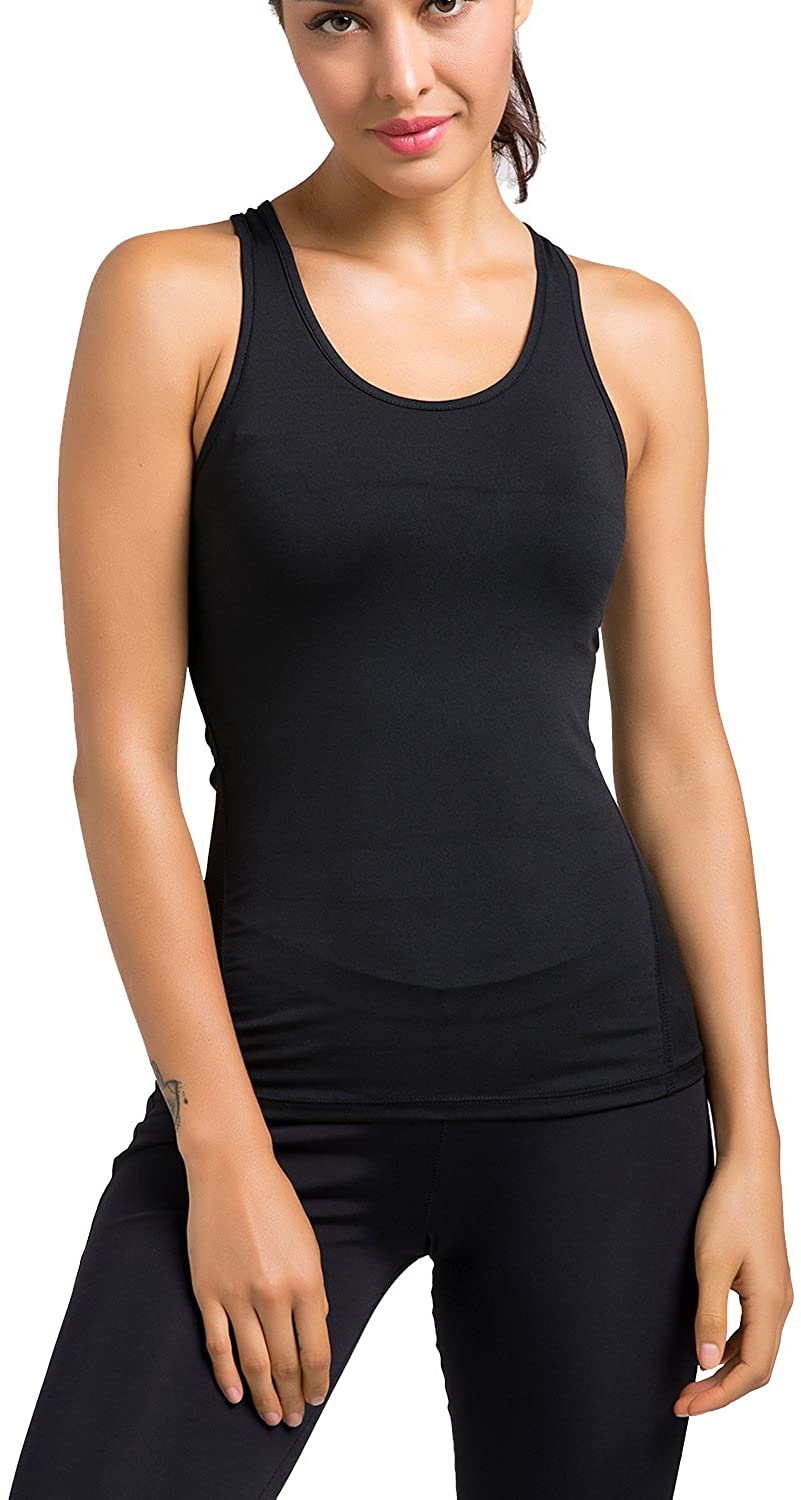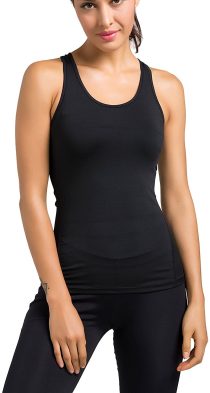 Who says working on your fitness can't make you look and feel good? You can easily find a workout tank that's just as supportive as your high-intensity workout class, with razorback, strappy, and breathable choices in a range of colours and designs.
15. Kimono Top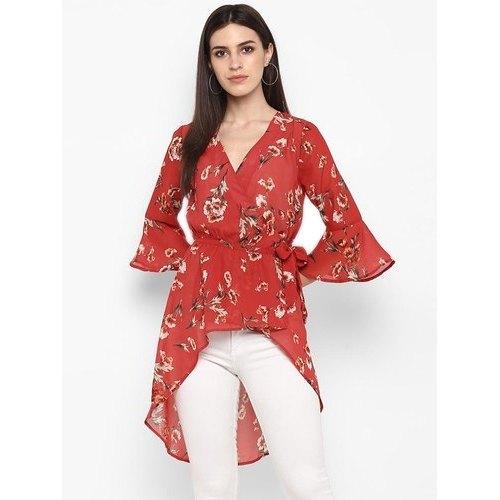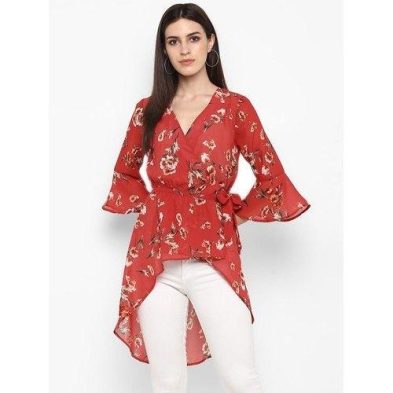 Make place for the kimono sleeves that are up and about. A kimono is a long, loose item of clothing with broad sleeves that is frequently fastened with a sash, making it comfortable but elegant. It is inspired by the traditional Japanese robe. A kimono, unlike a kaftan, has a straight hemline and a cleaner appearance.
16. Bodysuit Top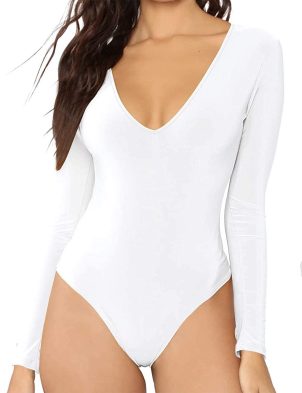 Give your inner garment a twist. Please don't ignore the bodysuit when it has the potential to make you appear gorgeous. This one suits your skin wonderfully and conceals the excess calories!
17. Bardot/Off Shoulder Top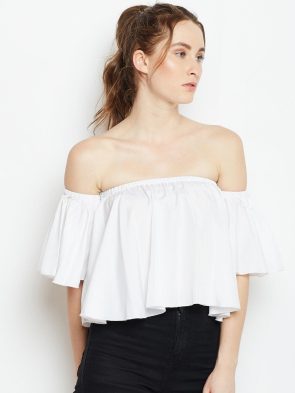 This time, show off your shoulders. It begins with a bit of panache over the breast region. The off-shoulder pattern is a fashionable appearance that you must have in your wardrobe!
18. Kaftan Top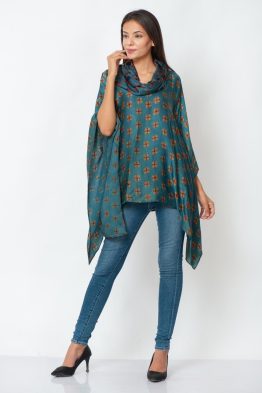 For a change of pace, try a Kaftan, a robe-like top. This shirt is an excellent pick for the summer season. It features a relaxed fit with a round or boat neck with tassels on the side!
19. Wrap Top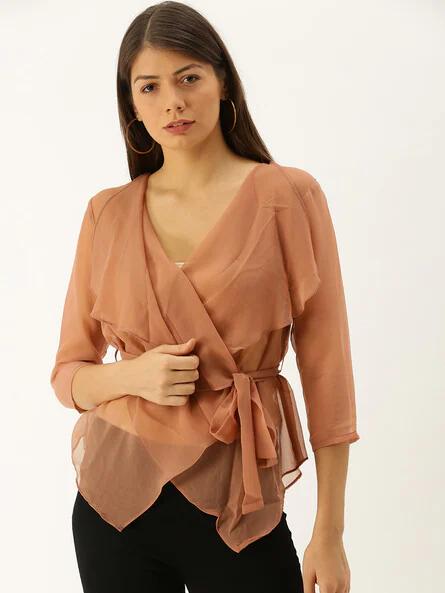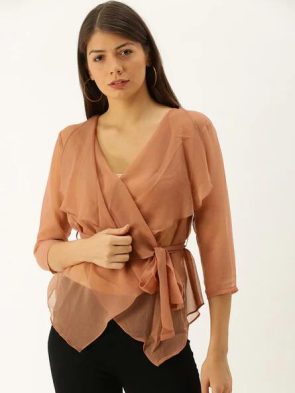 Wrap the ideal fit around your torso. Because of the overlapping design, it creates a v-neck. This particular feature appears to be fashionable. It's a great option for a relaxed outing!
20. Designer Back Pattern Top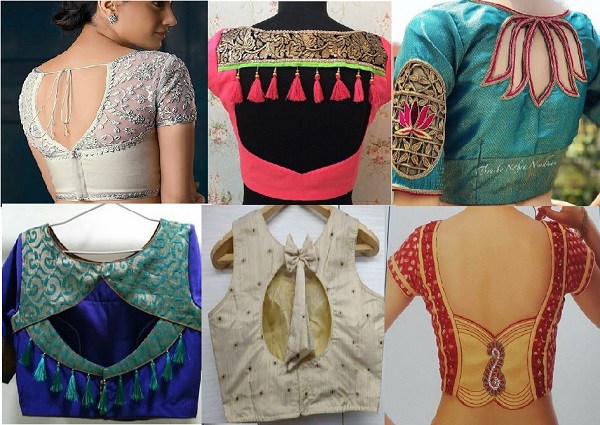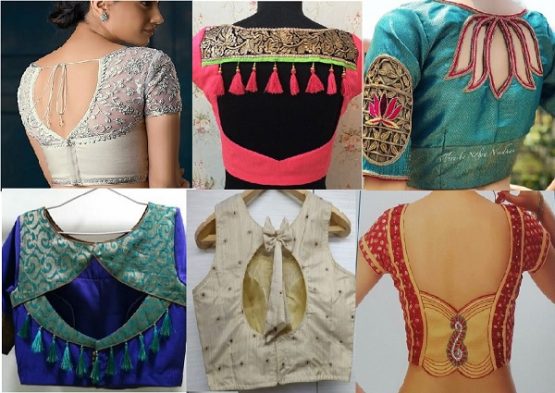 These shirts are popular among teens and young people, and they feature a distinctive rear with a unique and eye-catching design. Tops with ways on the back are ideal for ladies' evenings out, dates, and even parties. They can have zippers, lace, or a variety of other features, and many of them expose a portion of the wearer's back for a sensuous and sexual appeal.
The front and rear of the top are constantly distinct, and the designs on the backside of the top are always appealing.
21. Tulip Top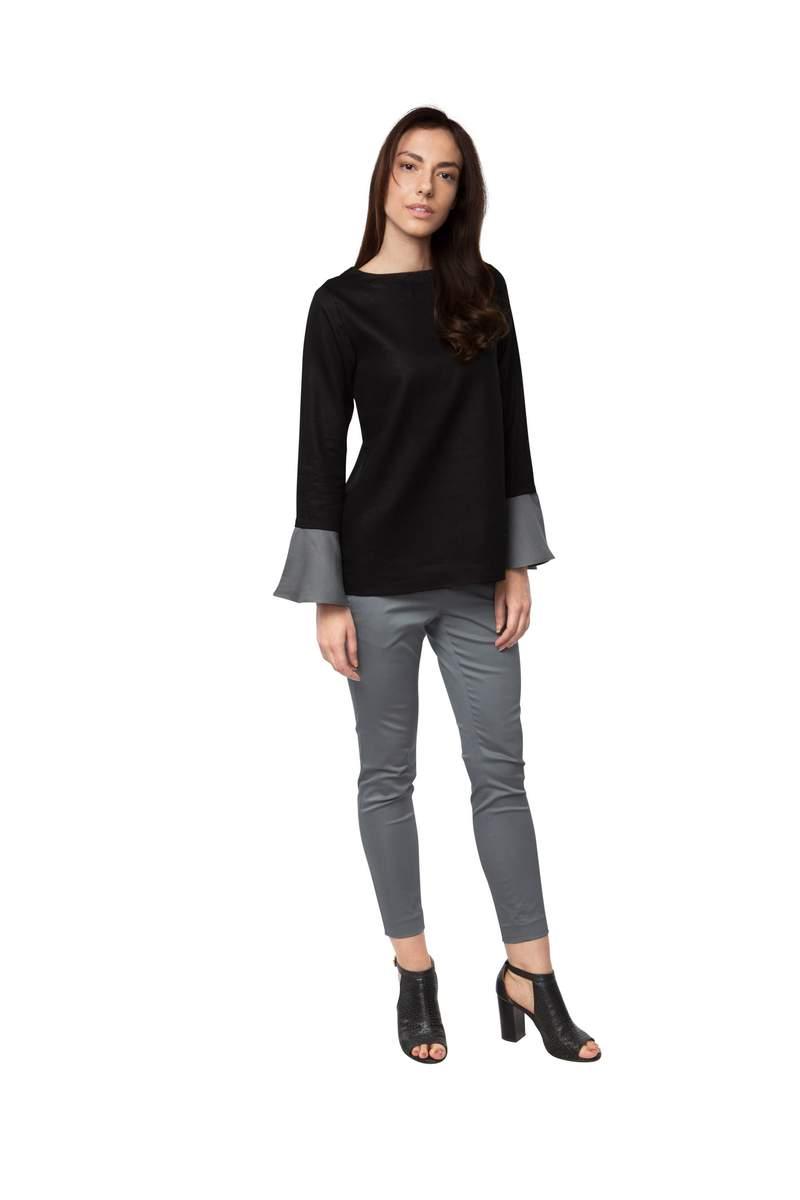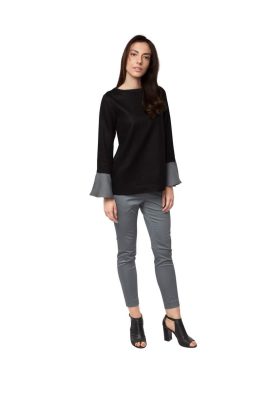 Try this overlapping pattern shirt from the front, as if it were an envelope, for the summer season. On the end side, the sleeves have twisted hems. The relaxed and comfy fit will offer you a stylish appearance!
22. Cold Shoulder Top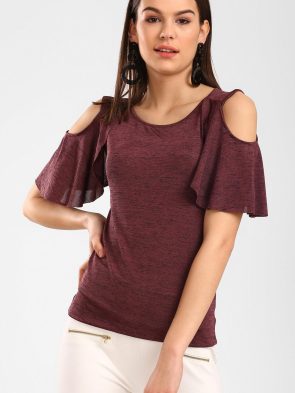 Recently, the cold shoulder shirt has been all the rage. You will not be disappointed if you choose this piece for your wardrobe. The shoulders include a cut-out design that adds a lot of flair. The neck design might vary from one shirt to the next!
23. Asymmetric Top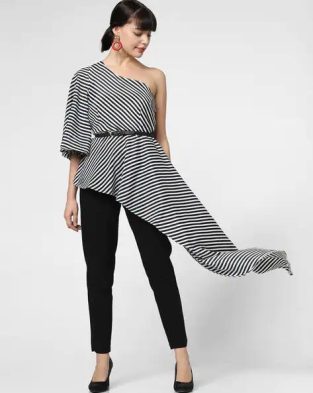 This time, go off the beaten path a little. The bottom hem of the asymmetric top is uneven on both sides. Long or short sleeves are available, as well as sleeveless options. As a result, you have a lot of options in the asymmetric pattern!
24. Off-Shoulder Top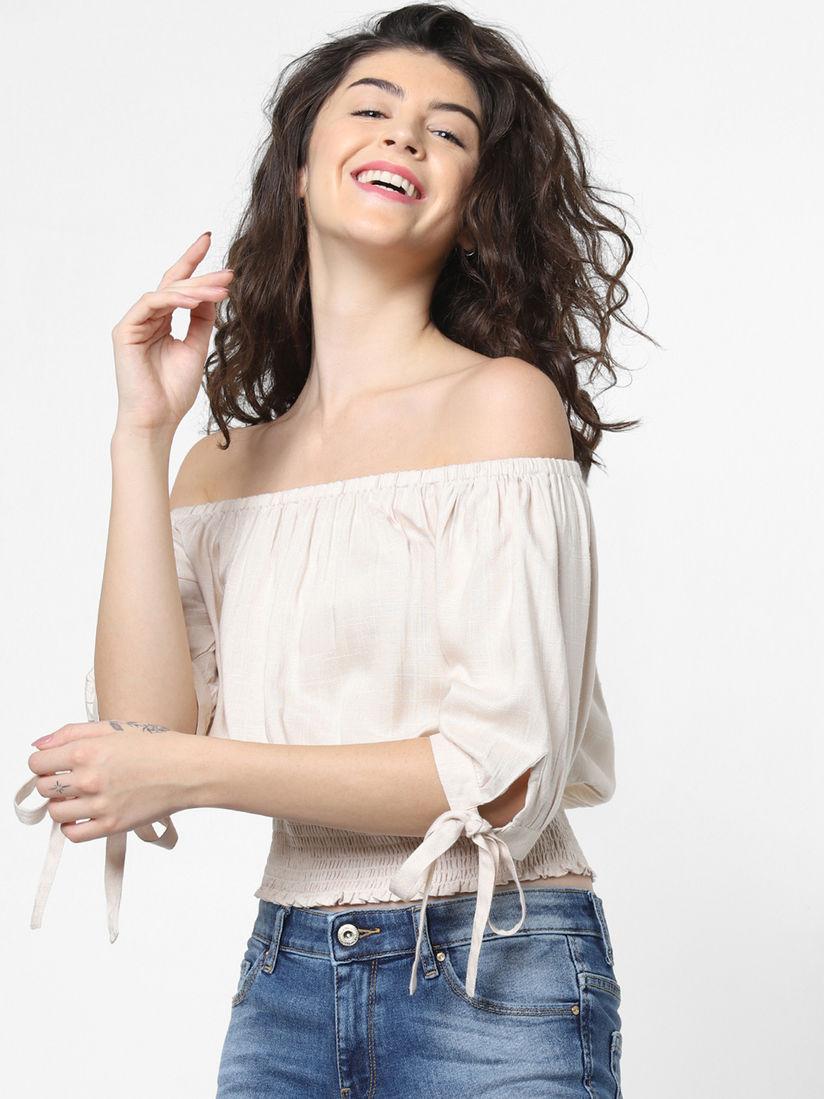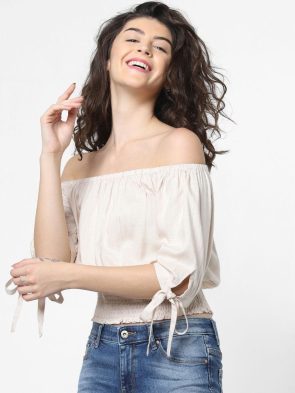 The off-shoulder style has tastefully taken over western dress and even Indian wear thanks to the bold, bare-shoulder look. The neckline begins at the shoulders, leaving your entire neck and shoulders exposed. Consider it a normal top with the sleeves tucked in below the shoulder. This shirt features a flat neckline and is a sophisticated choice for special events. I used to wear it all the time to college and my internships, and when all else failed, an off-shoulder shirt always made me feel beautiful.
25. Cape Top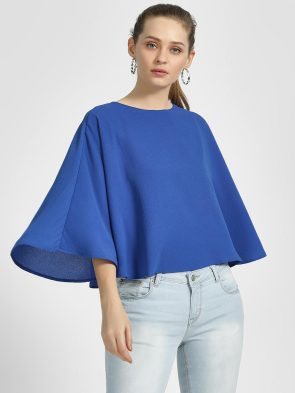 Own a fantastic shirt with a half cape pattern that extends to the elbow or even to your pelvic area. The cape top is a must-try since it is trendy and flattering on all body shapes!
26. Styled Back Top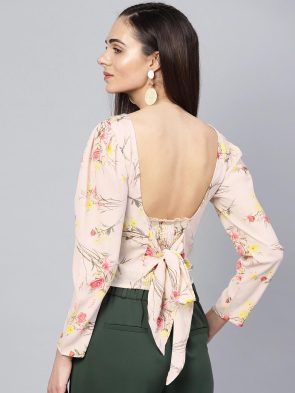 The rear of a stylish back top is stylized, but the front might be as plain as a T-shirt. It comes in a variety of back styles, from criss-cross to keyhole to tie-up fastening, so you can show off your gorgeous back in style, yay!
27. Cinched-Waist Top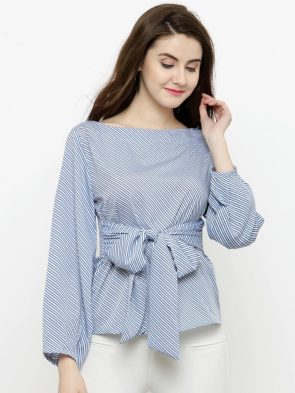 Wear a stylish item to show off your shoulders this summer. The off-shoulder cinched waist top has an elastic waist and an off-shoulder pattern. This top is ideal for the summer months!
28. Shirt Style Top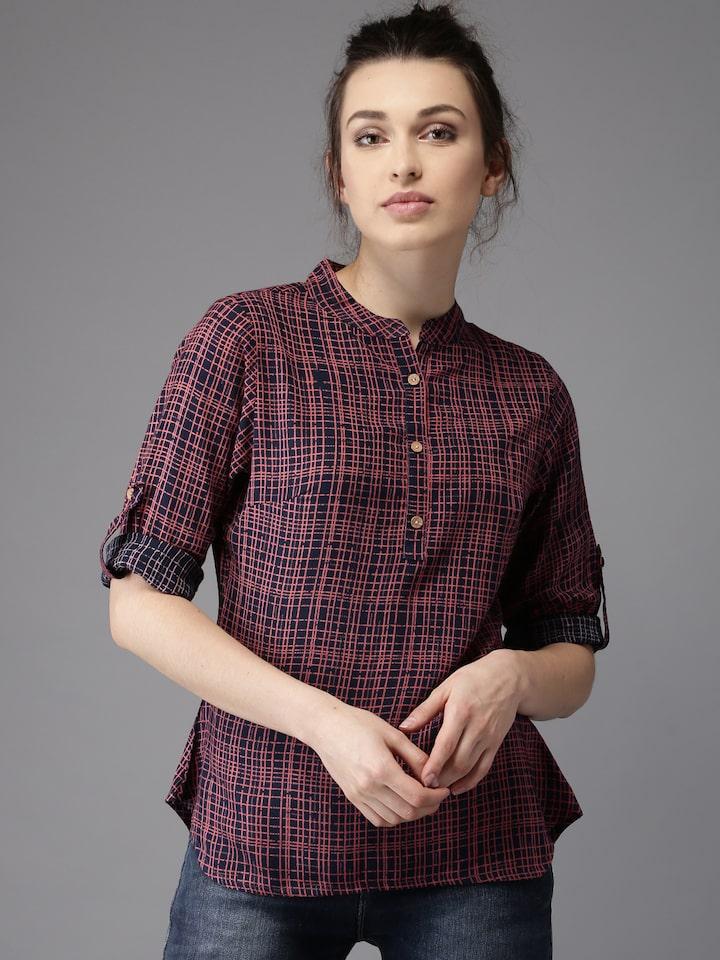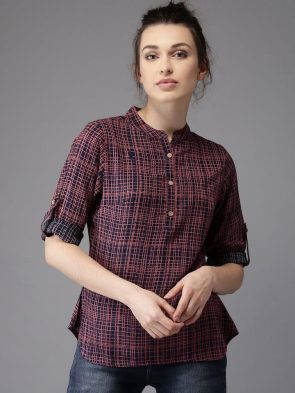 Shirts have never been out of style. The shirt pattern top has always been a fan favourite and flatters all body types. A shirt style top will never let you down, whether it has full sleeves, sleeveless, a full buttoned placket, or a half buttoned placket.
29. Curvy Jeans Top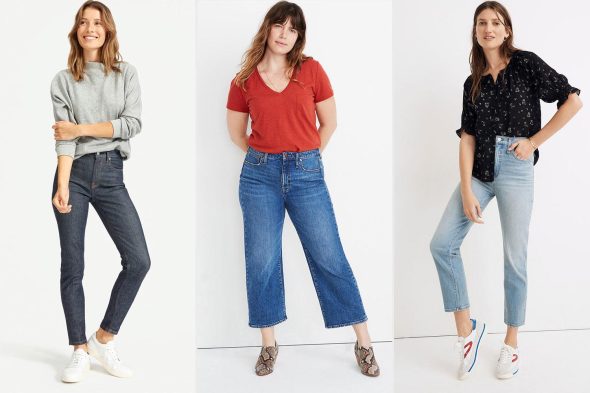 They are often found in soft materials that "gather" quickly, such as a silk-polyester blend. They are named so because they are usually worn with jeans. They have a layered look throughout the entire top, and they are often found in soft materials that "gather" quickly.
Because the tops have a dressier look, they can also be worn with skirts, and they are always made of a stretchable material that allows for a layered look as well as superior comfort and fit. They're a little tighter around the waist, which gives them a very fashionable look, and they're also a great match for a pair of shorts.
30. Cropped Mini Top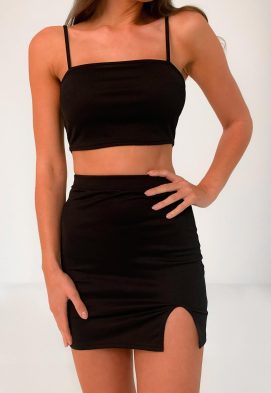 Because they expose a lot of the midriff, cropped mini tops are almost always worn by young people. Some of these tops are also off-the-shoulder, making them extremely sensual and revealing.
They're great with miniskirts and shorts, and they're perfect for the beach, your next get-together with friends, or any other event that requires you to be out in the sun for a while. Cropped mini tops are also available in a variety of prints, sleeve lengths, and colors, so you're sure to find something you like.
31. Layered Top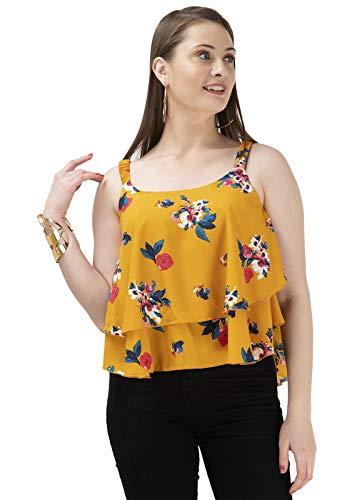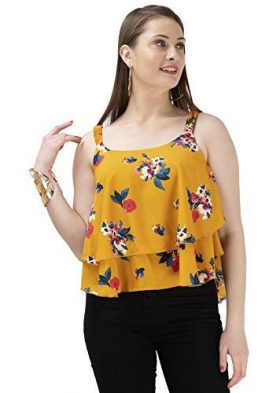 The layered top is required for a cute chic look. It has a woven flare in the middle for added style. Try it with light colours and don't worry about the heat!
32. Back Styled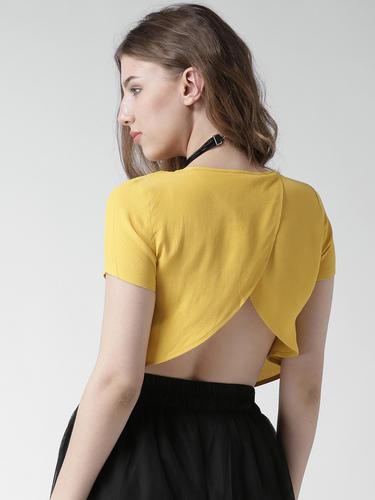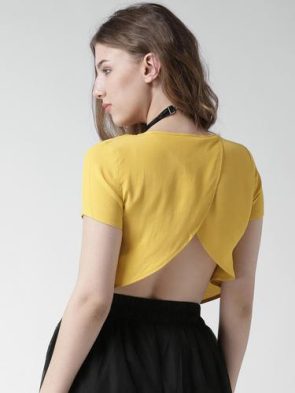 Do you intend to attend a party? Why stay out of style if you don't have to? Wear a halter neck shirt with a rear cut-out feature. This adds a lot of energy to the equation. Girlies, if you've got it, flaunt it!
33. Ruffled Top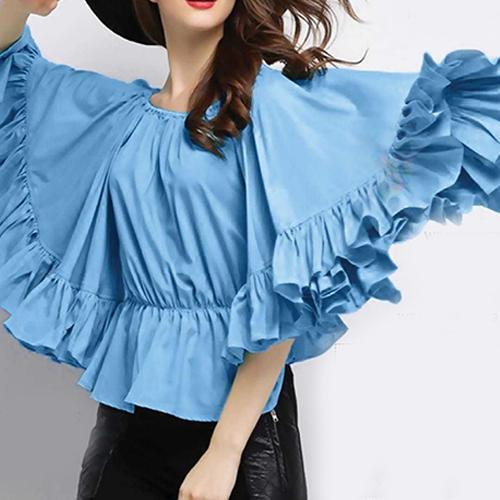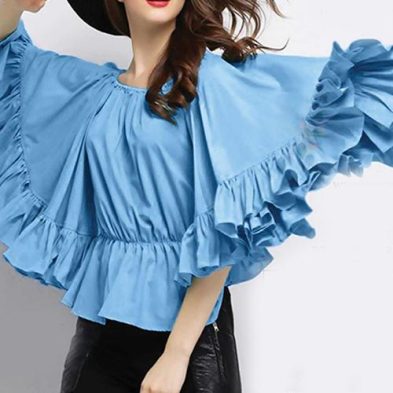 Ruffles, especially on tops, lend an out-of-this-world, decorative appeal to clothing with its goffered froth and flair. The ruffle can be seen on the top's hem, neckline, cuffs of the sleeves, or all over in layers. They give your outfit a boost of volume and are ideal for tiny women. These women's trendy shirts are really comfy to wear.
34. Top With One Shoulder Top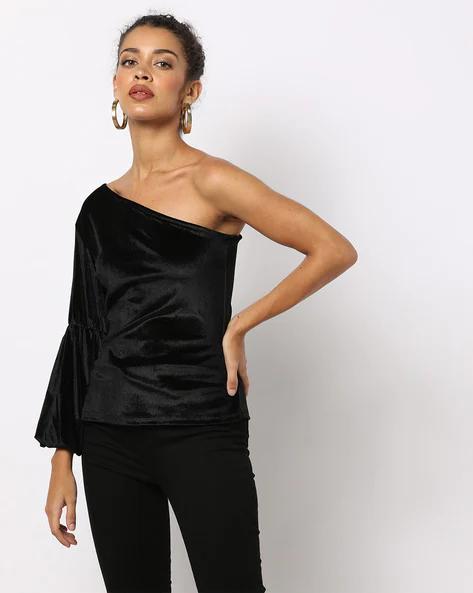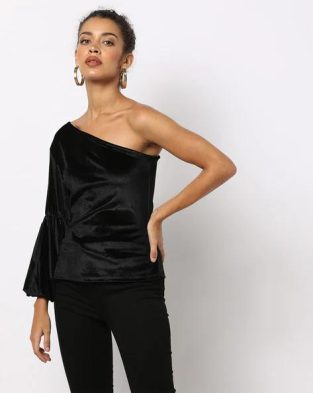 Do you want to acquire a piece of art? Then there's the one-shoulder top to consider. It can have a wide range of sleeves, including full, ruffled, sleeveless, and other styles that show off one side of your shoulder. Dress up your appearance and give off a whole diva vibe!
35. High Low Top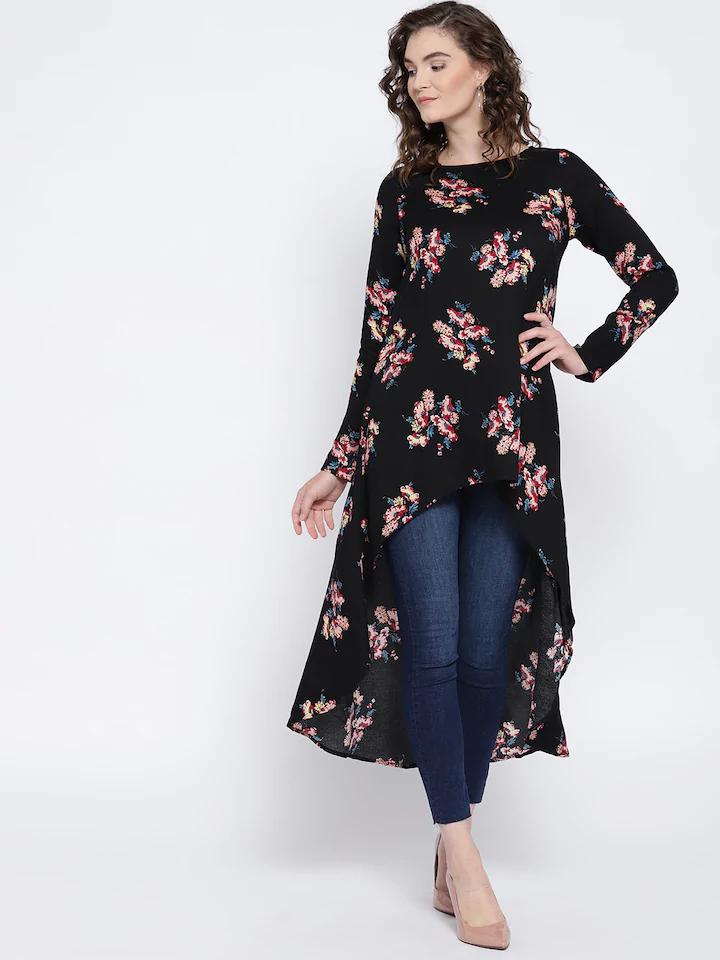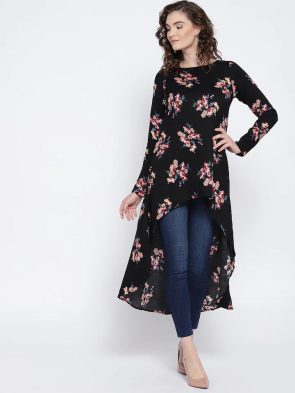 Maintain an attractive appearance in your workplace. Wear a shirt with half or full button plackets and a high-low hem design. It's also possible to have a boat neck. Sleeves can be full, semi-sleeved, or sleeveless, among other options. The high-low hem, on the other hand, is stunning!
36. Choker Top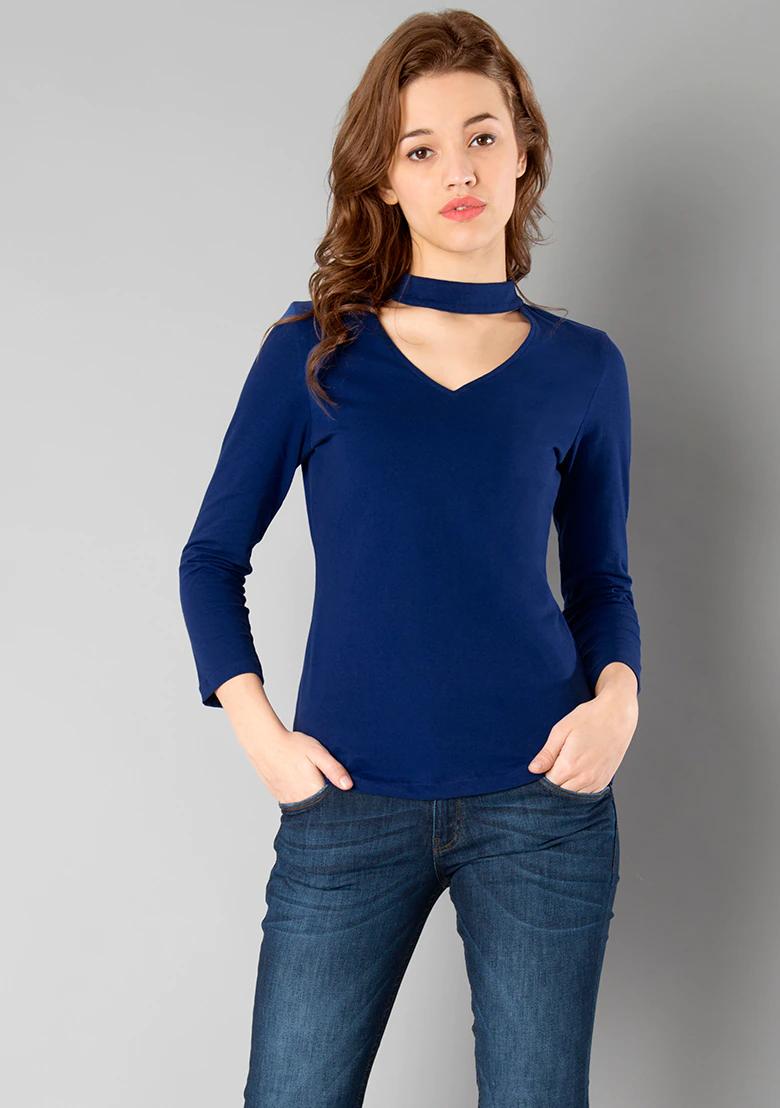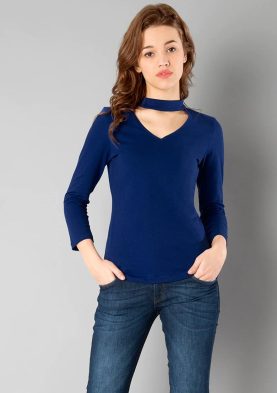 When your friends invite you out to a nightclub or a fun party, you'll need the most fashionable top to turn attention. The cut-out feature on the choker neck looks amazing!
37. Hooded Top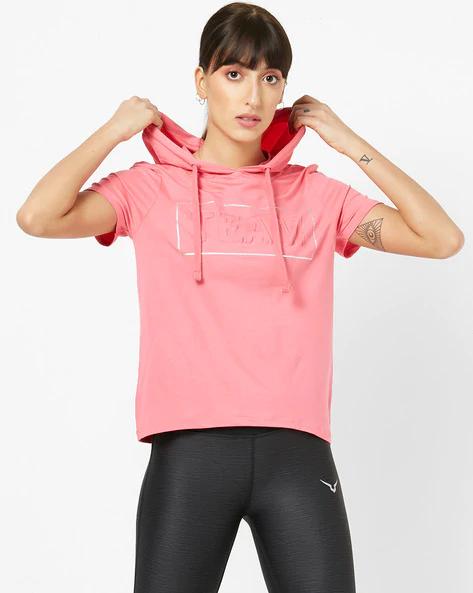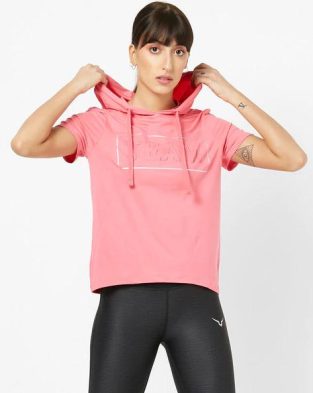 The hoodie pattern shirt is perfect for a casual day out or a picnic. It offers you a more tomboyish style, and it doesn't require much in the way of accessories!
38. Lace Top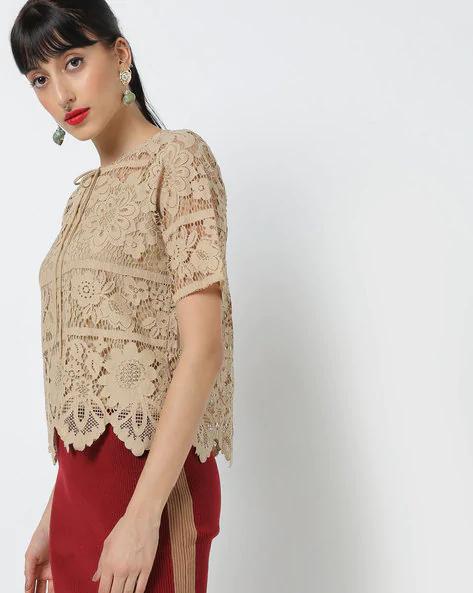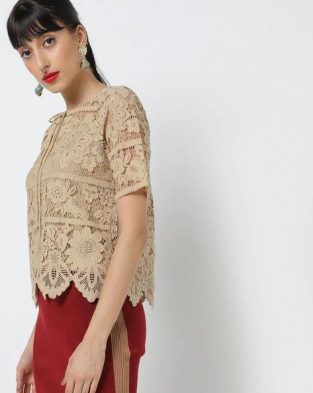 Lace tops are tops made entirely of lace, however because lace comes in a wide variety of designs, styles, and colours, no two lace tops are similar. Lace tops are loose-fitting and look fantastic on women who are a little heavier in height since they may make you seem a little slimmer. They are often produced from fabrics such as cotton and sheer.
They also have a beautiful and refined appearance, making them ideal for dressier situations such as parties and dances. These shirts often have two layers, with an inner layer that is usually a nude or neutral hue and an outer layer that is usually white or off-white.
They're available in a variety of styles and patterns, and they look fantastic with everything from skirts to denim to capris and shorts.
39. Tiered Top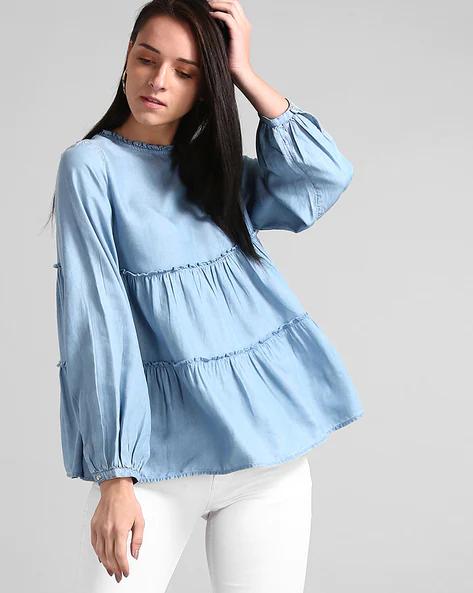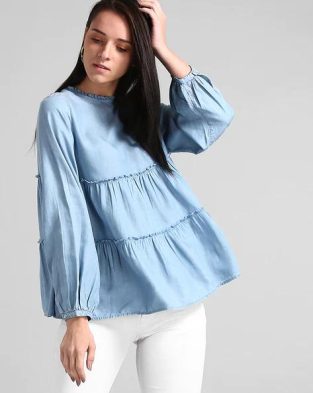 A tiered top, as the name implies, is one that is designed to appear as though it is layered on top of another, producing distinct levels. To add extra drama to an ensemble, this method works well with flared designs. Compliments are assured with such tops, whether the tiers are on the body of the top, the sleeves, the hem, or the neck design. For ladies, this sort of top is a must-have.
40. Batwing Top (Magyar/ Dolman)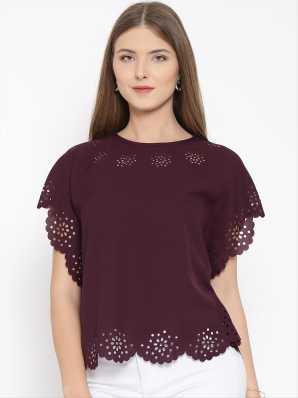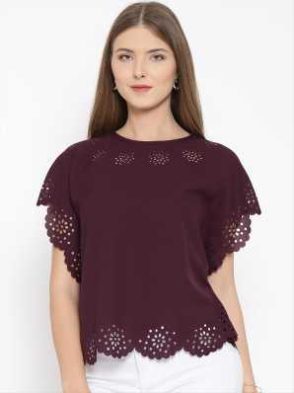 The long sleeve of a Batwing shirt has a deep armhole that tapers towards the wrist. This shirt is also known as a Magyar top sleeve. It's often composed of a drapey cloth. Dolman is a style that is comparable to Dolman.
41. Tie-Up Top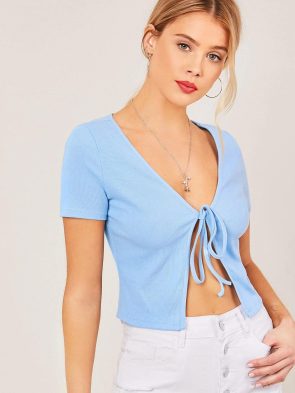 There are various varieties of tie-up tops: one with tie-ups that combine in the front (like a tightened waist top), two with a divided hem that is tied into a knot in the middle, three with tie-up features around the neck, and so on. A tie-up top will give your outfit a new depth. Pair it with your favourite jeans and a beautiful pair of sunglasses to complete the look.
42. Cape-Style Top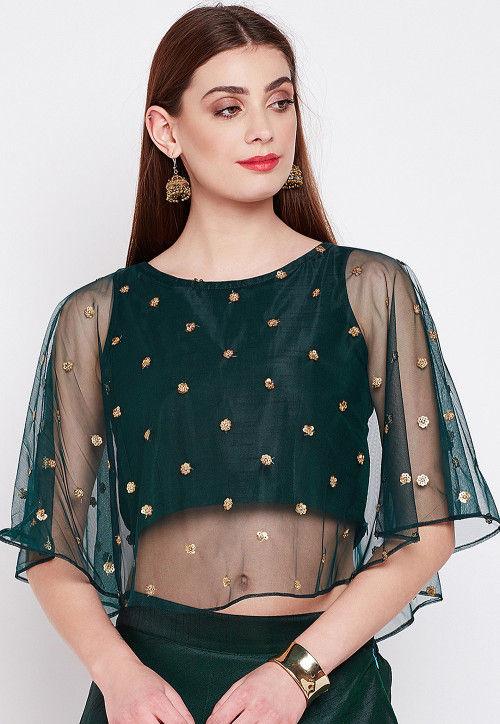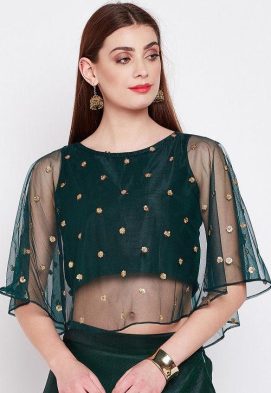 A cape top has sleeves (at least elbow length) and usually sits around the waist, though it can also be a longer top. A cape is a sleeveless outerwear that drapes the wearer's back, arms, and chest and fastens at the neck, whereas a cape is a sleeveless outerwear that drapes the wearer's back, arms, and chest and fastens at the neck. Either the entire top will be layered like a cape or the entire top will be layered like a cape. It has no separate tie-ups or fastening features and is just worn like a T-shirt. This sort of shirt for ladies is what to choose this summer if you're in a formal mood.
43. Fitted Sexy Top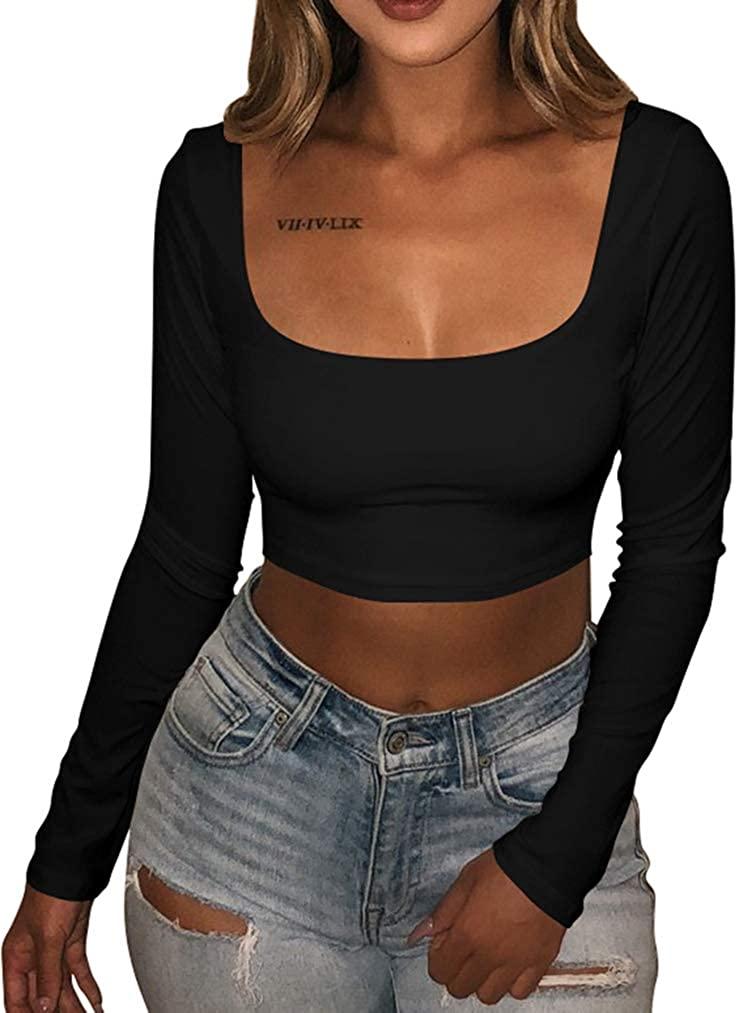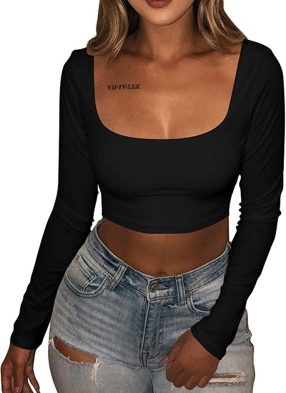 In the realm of clothing, a fitted top is a bodycon dress. It's a trendy body-hugging shirt for ladies that's both easy to dress and adaptable. For a street-style appearance, pair it with loose jeans, shoes, and a sling bag. Alternatively, wear it with skinny jeans or jeggings and a stylish longline shrug. Fitted shirts are designed to fit your body perfectly, which is why we adore them.
44. Bralette Top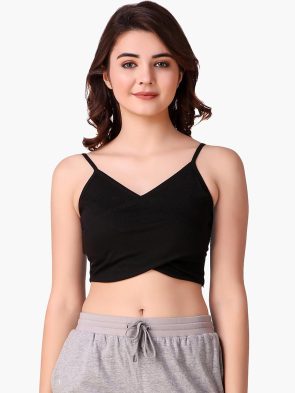 A bralette top is a cropped top with thin straps and breast cups but no hook and eye closures that resembles a bra.
45. Boxy Top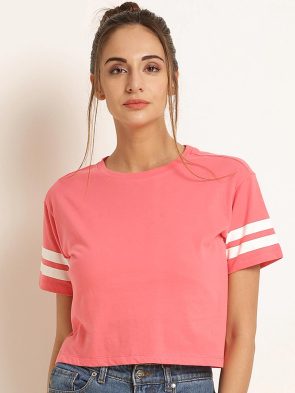 This top is the polar opposite of a fitted top; it has a boxy shape and is generally made of heavier materials.
46. Blouson Top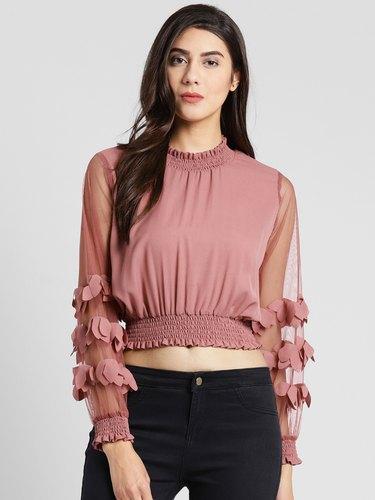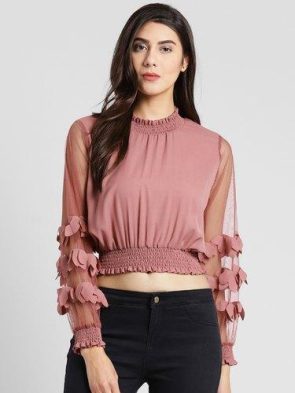 A blouson top is a loose-fitting blouse with a tightened waistline or hem. The excess fullness is drawn in using elastic or a drawstring.
47. Trendy Strips Top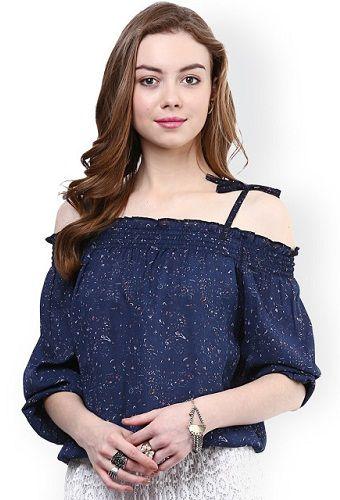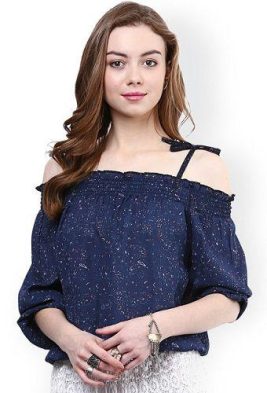 A lady is wearing a gray string top at home. These are a tank top type, but instead of a top section that looks like other tank tops, they have narrow or string-like straps to show even more skin. They are often made in silky or satin materials because, thanks to the straps, they are usually made to help the wearer feel sexy and attractive.
In addition, since they are often a bit longer at the bottom, they look good with high-waisted jeans and skirts, and the variety of colors and designs offers something for everyone to love.
48. Top With Off-The-Shoulder Sleeves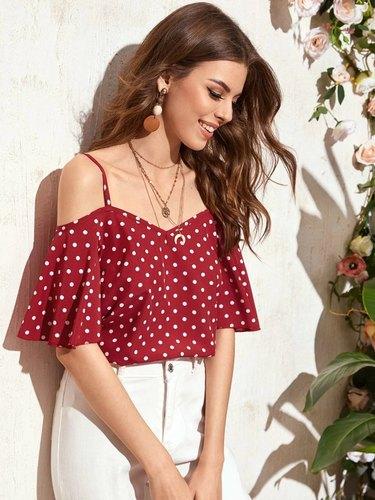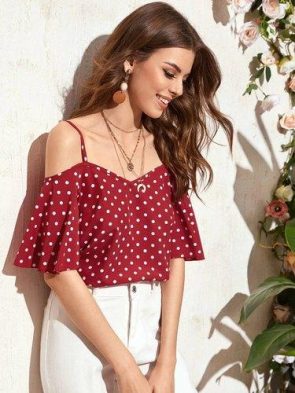 Both fashionable and seductive, Off-the-shoulder tops can have one or both shoulders and are nearly always short-sleeved, but different lengths are conceivable. Off-the-shoulder shirts might be just off the shoulders or slink all the way down, and they can occasionally have one shoulder that differs from the other.
One of the nicest things about picking one of these tops is that they are not only really comfy (because to their loose fit), but they can also be worn with virtually anything. This is partially owing to the fact that the shirts come in a variety of styles and colours, ensuring that there is something for everyone.
49. Plain Simple Top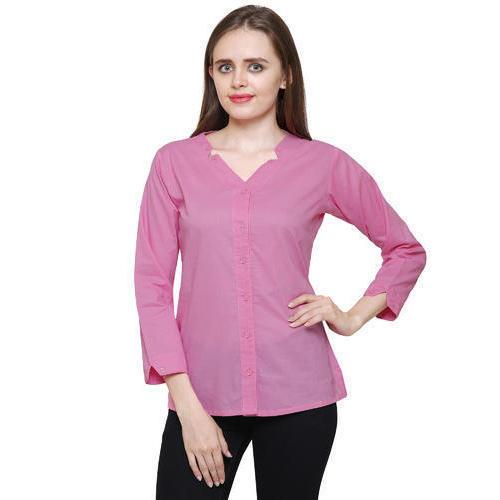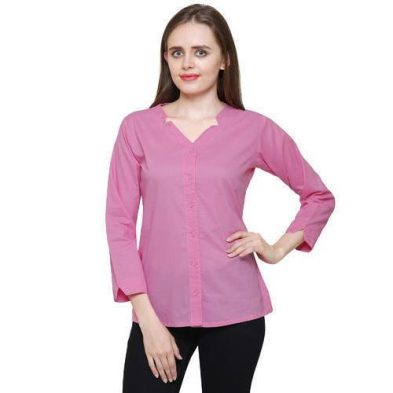 This is a sort of top that every woman should own since it is a naked top that is generally a neutral hue, allowing it to go with a wide range of outfits. If you buy these shirts in white or off-white with the correct style, you can wear them with anything from jeans to skirts, and if they have vee necks and a loose fit, they'll always be comfortable as well as attractive.
A simple white shirt should be in every woman's closet since it makes selecting what to wear each day much easier.
50. Plain Short Top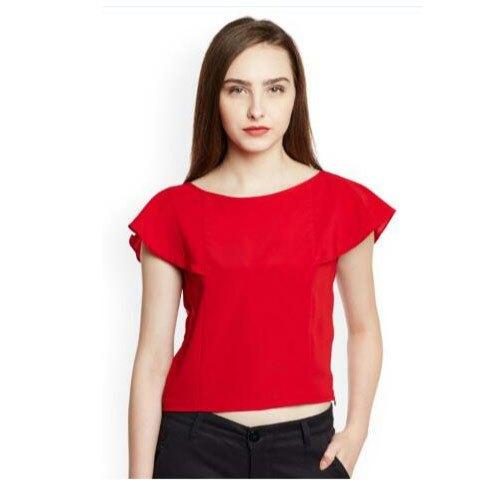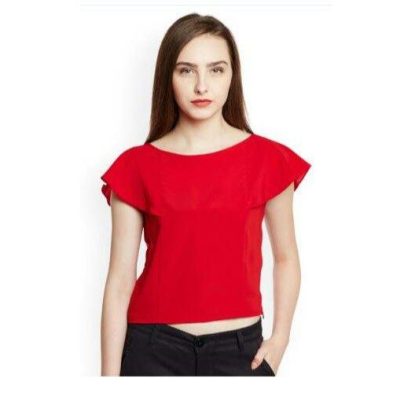 These shirts may be worn with everything from capris to skirts, and they're generally solid-colored since the designers are aiming for a more basic and conventional aesthetic. They're usually not very long at the bottom, sleeveless or short-sleeved, and made of soft fabrics.
Short shirts with basic designs are a fantastic go-to when you're in a rush and don't know what to wear because they're comfy and fashionable enough to go anyplace and with any other piece of clothing.
51. Sleeveless Shirt Top
These shirts feature collars and buttons along the front, and they can be a little looser in fit than other types of shirts. They are slightly casual but yet acceptable for workplace wear. They may also be created out of any sort of material, so whether you want a shirt made of cotton, silk, or something in between, you will almost certainly be able to locate one.
Shirt shirts, which can be worn with anything from skirts to jeans, are popular in offices and even on college campuses. They also come in short sleeves.
52. Tee-Shirt Top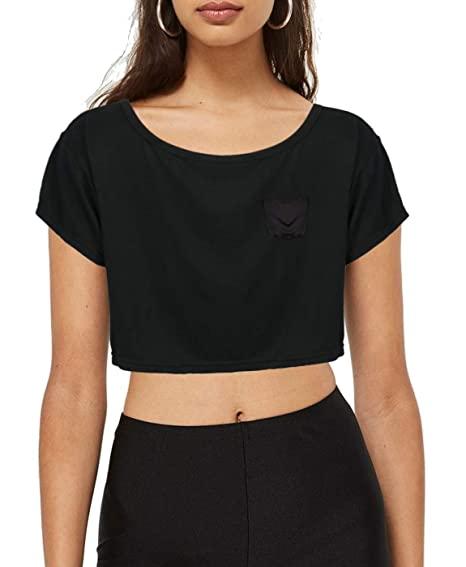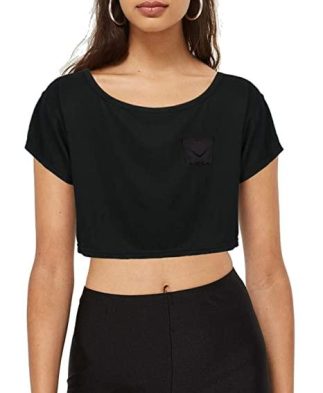 Tee-shirts are by far the most popular shirt style today, partially due to the fact that our culture is growing more casual with each passing year. Tee-shirts come in a variety of colours and designs, and hundreds of stores and businesses sell tee-shirts with their name or logo on them.
They are often composed of cotton or cotton mixes because they are meant mostly for informal situations. You can still dress them up by layering a stylish jacket or sweater over the top of the shirt.
53. Turtleneck Top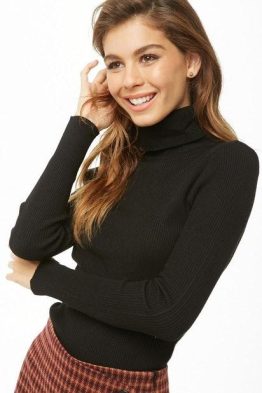 If you want to make your torso appear longer and your arms appear thinner, turtlenecks are ideal. For fall and winter, purchase a long-sleeve turtleneck to layer beneath cardigans and coats, and for summer, choose a sleeveless turtleneck.
54. Plain Poncho Top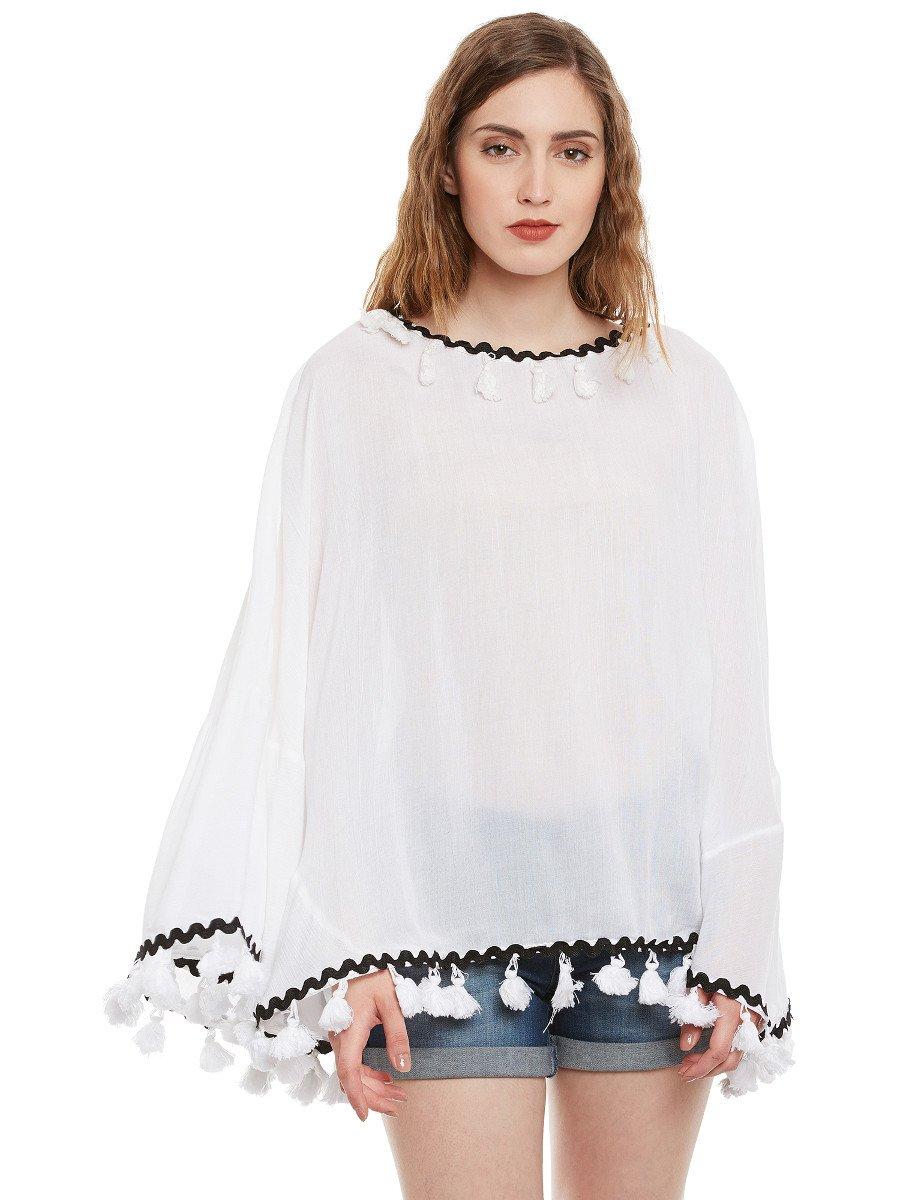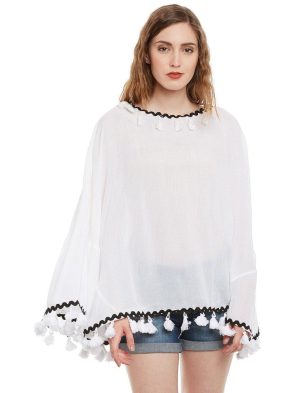 Poncho tops are usually basic in style and receive their name from the fact that they resemble a normal rain poncho. Poncho shirts are meant for the cooler or colder months and usually have long sleeves and are composed of polyester.
They frequently have a turtleneck collar and come in a variety of designs and colours. They may be worn by women of various sizes and body types, and best of all, they keep you warm during the fall and winter months with their creasy lines and flowing appearance.
55. Shrug-Like Belt Top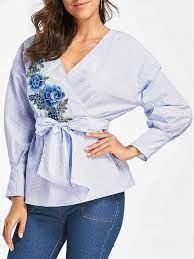 Top is blue with a built-in belt. These shirts resemble ordinary blouses in appearance, but most are designed to be worn slightly open at the top and with a belt to seem dressier. They are usually long-sleeved and feature buttons along the front and a little "gathered" or shrug appearance.
Shrug-like belt shirts, which are loose-fitting and come in a variety of colours and designs, look fantastic with skirts and jeans and are constantly popular. Furthermore, the design and materials utilised to create these tops allow you to wear them throughout the year.
56. Bustier Top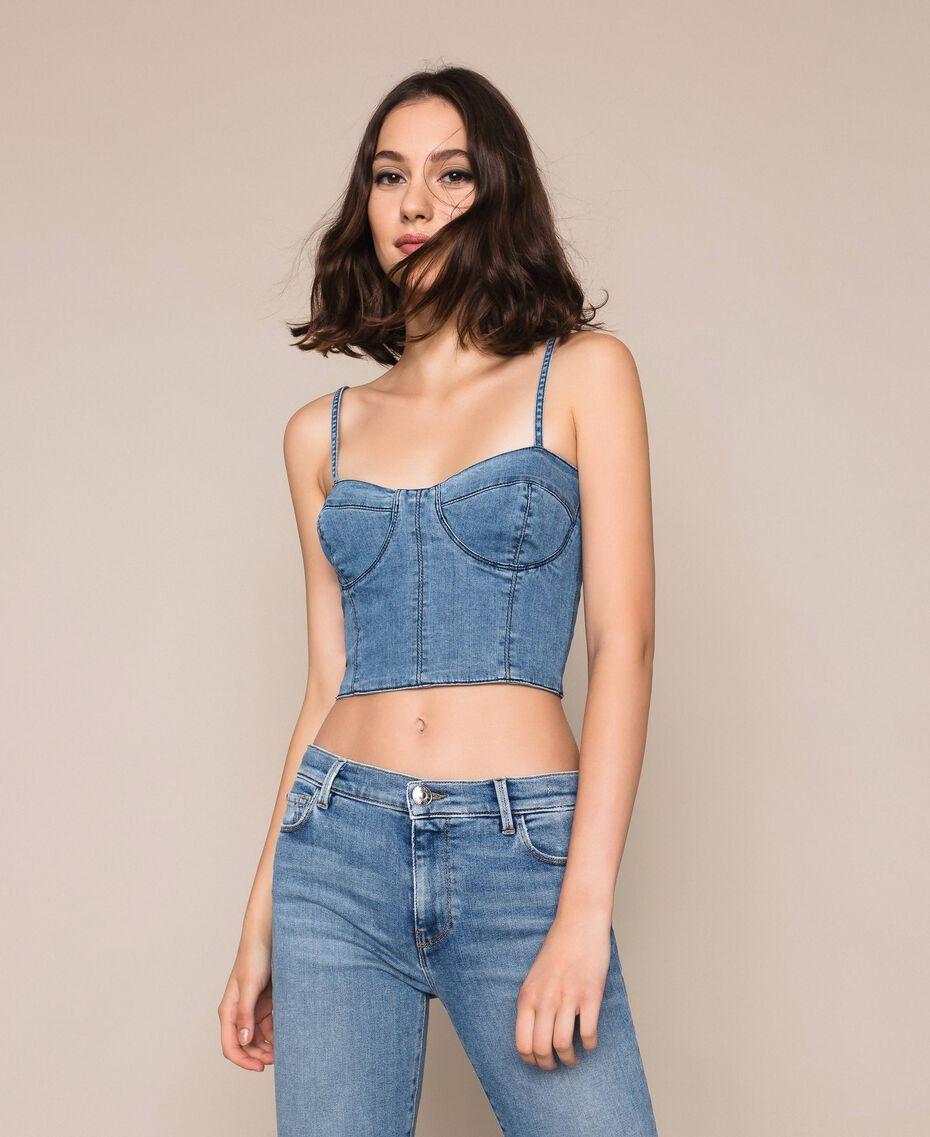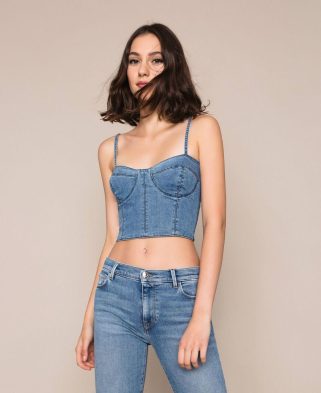 This figure-hugging top has brassiere cups that provide support and shape to the busts. With the exception of the cups and the fact that bustiers may include straps, the Bustier top is comparable to a corset.
57. Camisole Top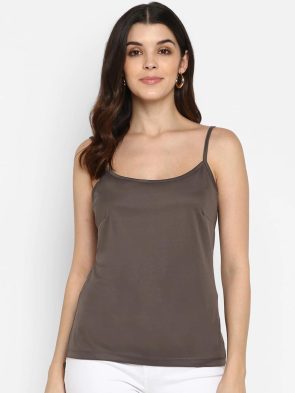 A sleeveless shirt with noodle straps that is generally worn as an undergarment.
58. Cardigans & Sweaters Top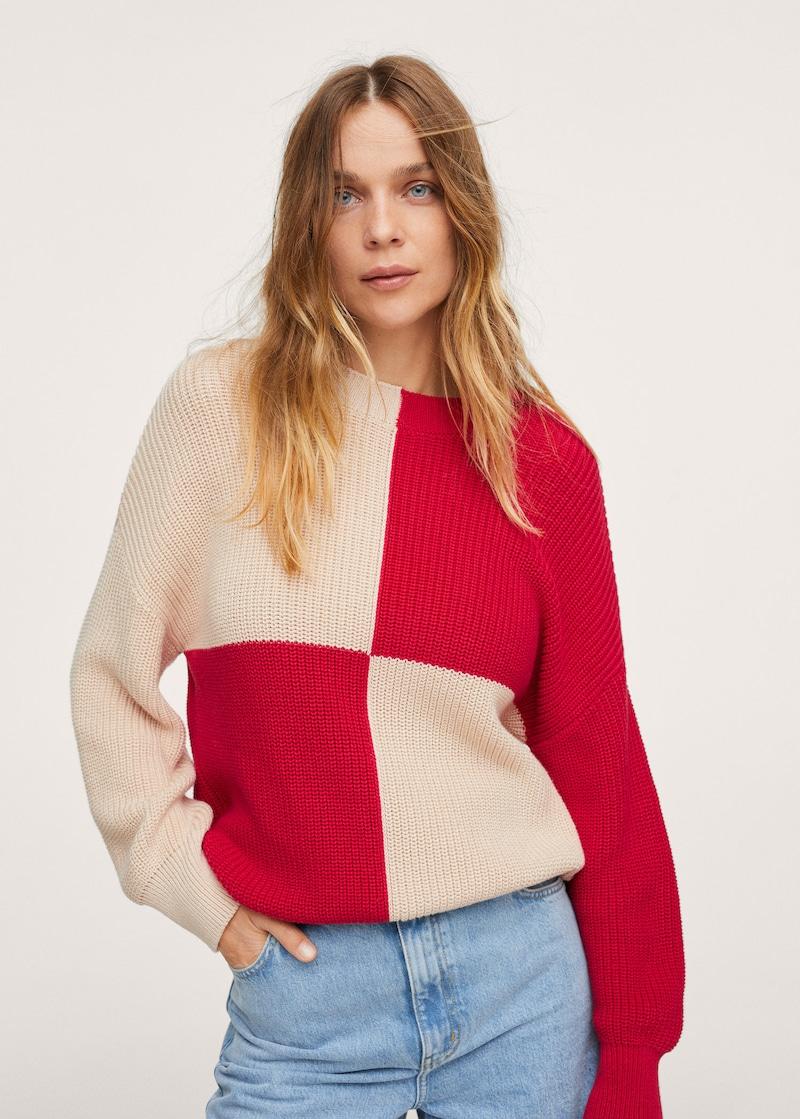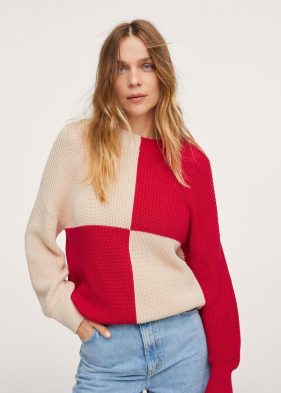 Sweaters are everyone's favourite winter garment. Sweater tops come in a variety of styles, all of which are constructed of knit fabric. A cardigan top is a top made out of a cardigan (a knitted sweater jacket with a front button opening).
59. Corset Top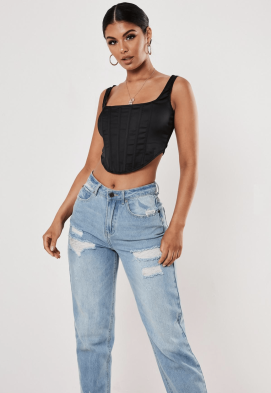 The strapless, sleeveless tight-fitting garment in fabric with steel boning to contour your waist is a top that appears like a corset. The corset top is fastened with a hook and eye clasp or a lace-up closure.
60. Collar Top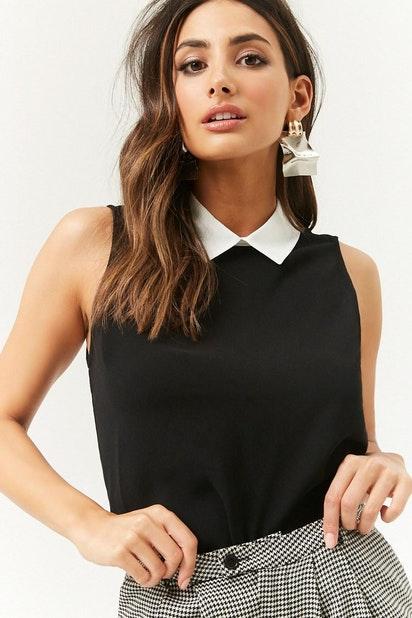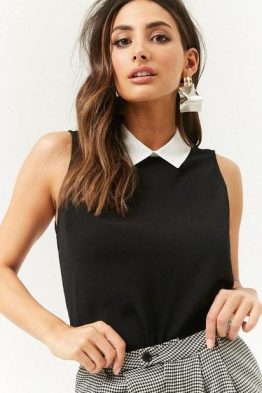 Collared tops are quite popular. For basic shirts, a peter pan or polo collar is generally recommended.
61. Draped Blouse Top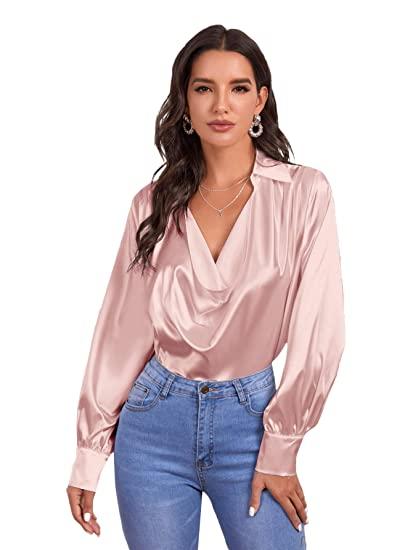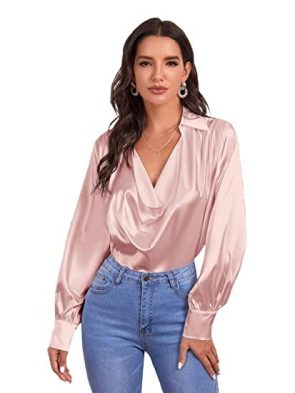 A top having draped (cowl) folds running down the bodice, generally at the neckline or hem.
62. Empire Line Top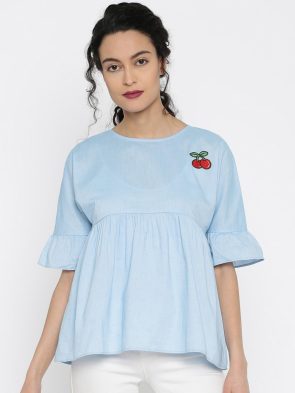 This shirt features a tight bodice with a gathered/flared skirt connected just below the breast, giving it a high-waisted appearance.
63. Flashdance Top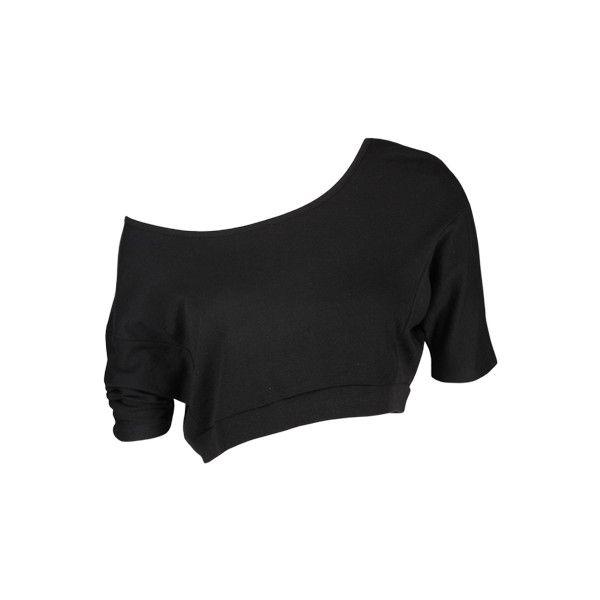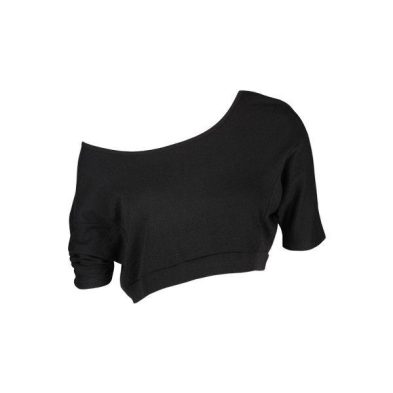 A shirt made popular by the film 'Flashdance,' which was released in 1983. This knit shirt has an off-the-shoulder neckline that is angled to one side, an unfinished neckline edge, long sleeves, a loose fit, and a grey hue.
64. Halter Top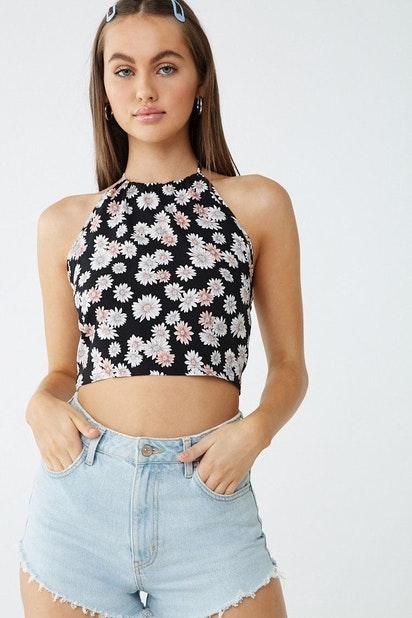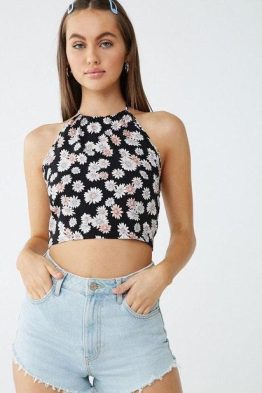 A sleeveless shirt with a halter neckline that is held together by a thin band or ties across the neckline.
65. Henley Neck Top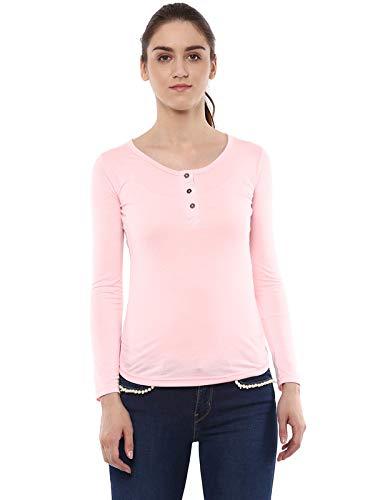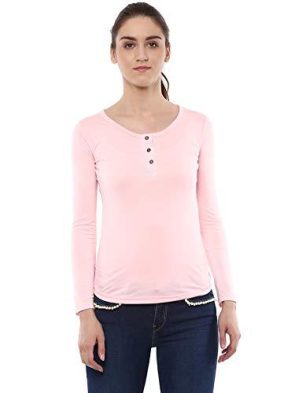 The button placket on this collarless pullover type shirt includes 2 to 5 buttons. It is generally composed of cotton materials and has short or long sleeves.
66. Poncho Top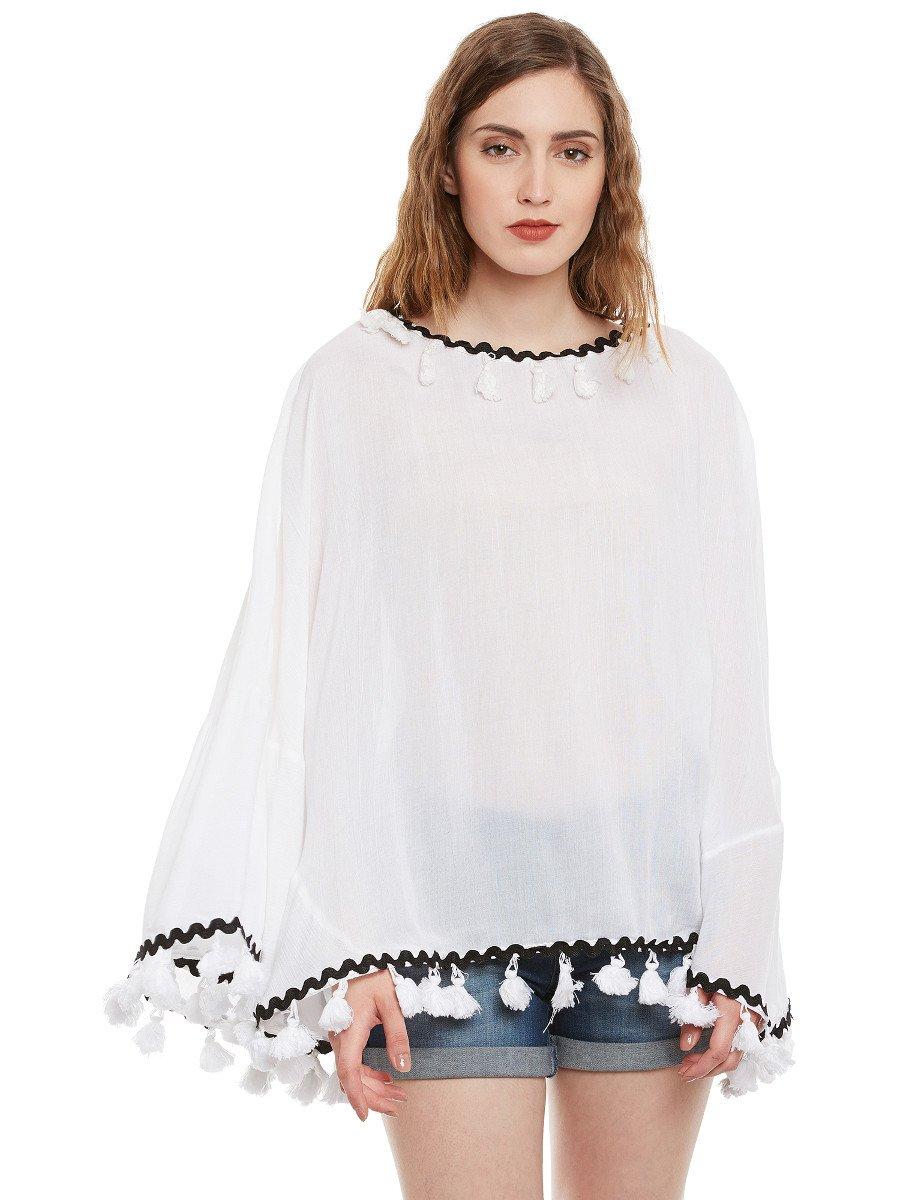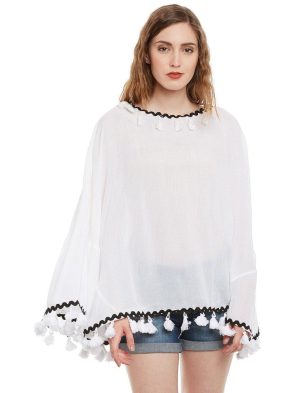 A poncho is a cloak-like shirt with no sleeves or distinct bodice and only a slit at the top for entering the head. It is simply slid over the head and worn. Learn how to manufacture ponchos in a variety of methods.
67. Princess Line Top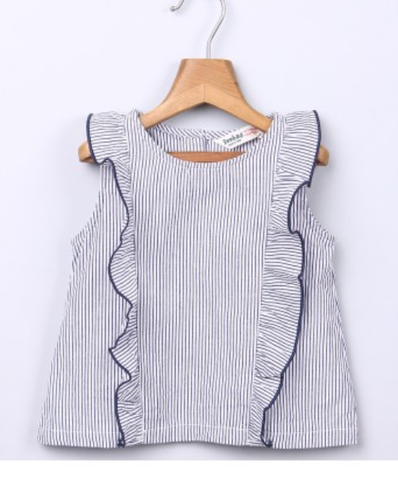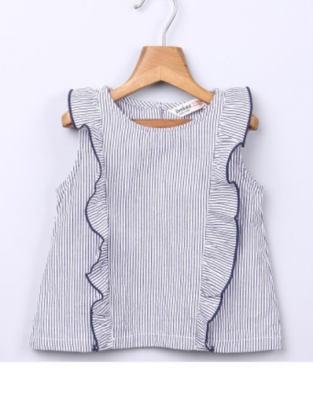 This is a fitted top created from long vertical panels that have been joined together – The princess top's front bodice is generally made up of three panels. The vertical seams serve as darts, giving the garment form.
68. Raglan Sleeve Top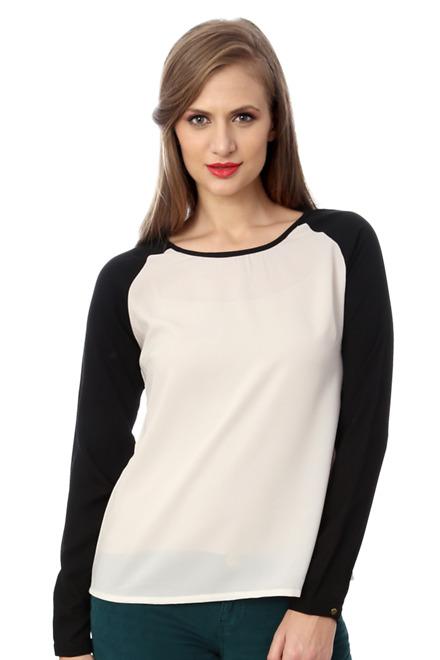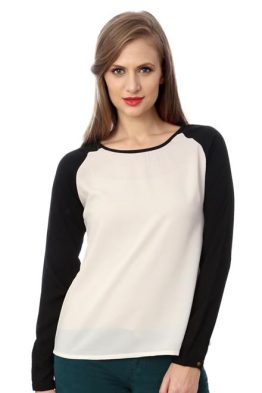 This kind of shirt has one-piece sleeves that reach all the way to the collar.
69. Spaghetti Strap Top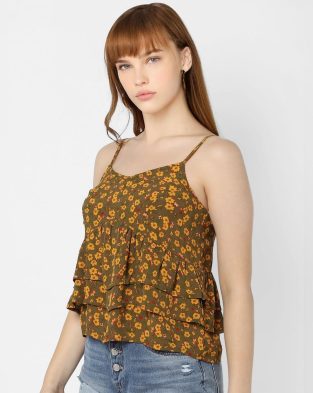 The front and back bodices are joined by spaghetti straps in this sleeveless shirt.
70. Swing Top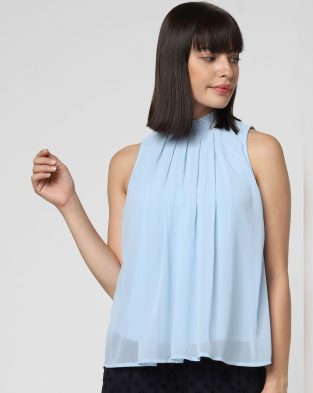 A shirt having a hem that flares out a much.
71. Shirt Top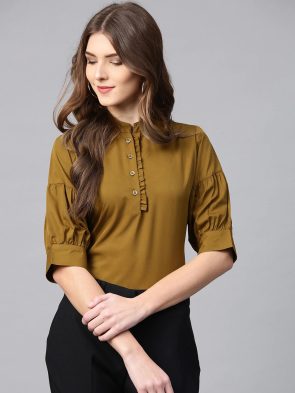 This is a blouse that has the same qualities as a tailored shirt for men, such as a high stand collar, yoke, left breast patch pocket, and button band front opening.
72. Scoop Neck Top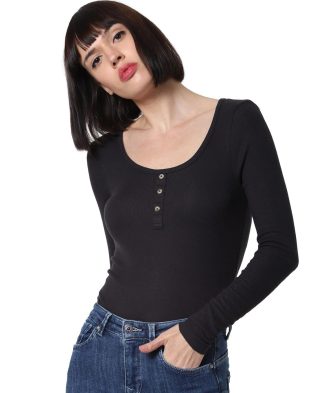 Scoop neck shirts are quite popular among teens and young people, and they are frequently constructed of polyester or polyester mixes. Because the shirt doesn't fit firmly around the neck, the scoop neck makes the top quite comfortable, and because both comfort and style are important to young people in particular, they tend to be in every young person's closet. They're available in a variety of styles and colours, and they're typically worn with jeans or shorts for a more relaxed look.
73. Smock Top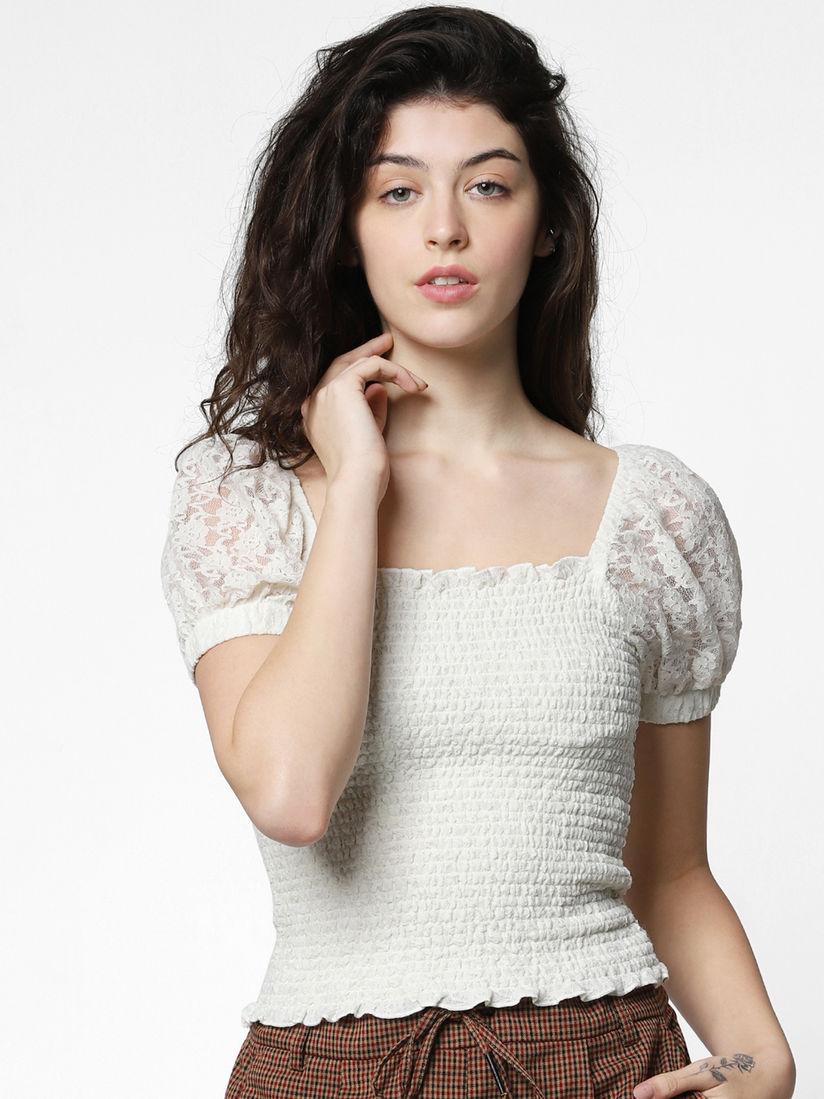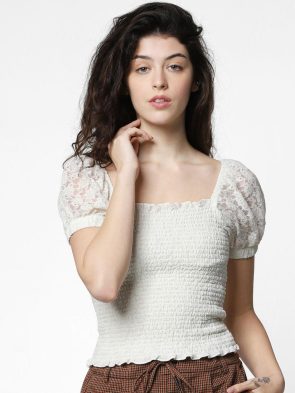 This is a loose top with an attached gathered skirt that adds to the fullness.
74. Shell Top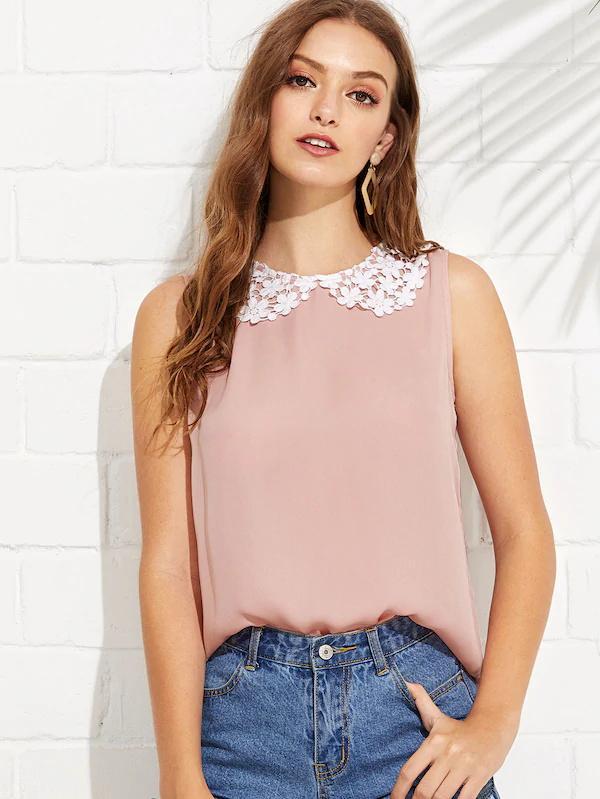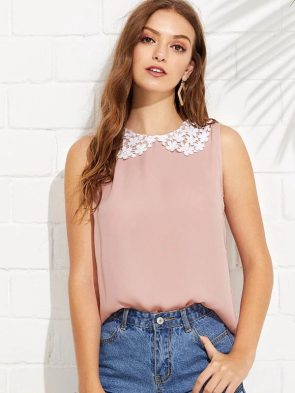 This is a sleeveless top with a crew collar and a plain, basic, slightly loose form. The back will be fastened with buttons.
75. Tie Front Top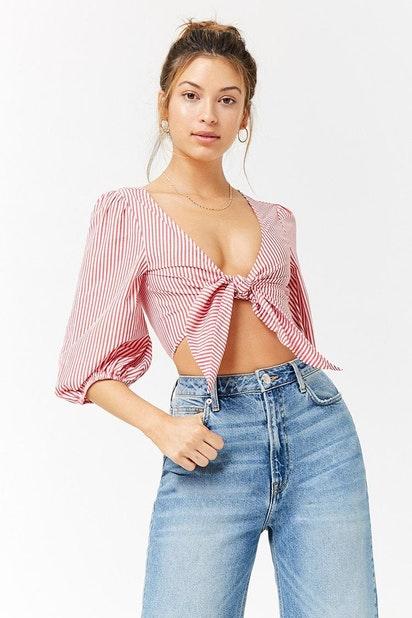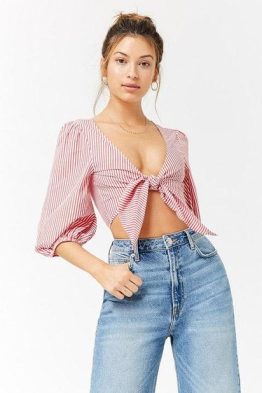 The hem of this shirt is tied with sashes or ties. Cropped or waist/hip length are also possibilities.
76. Tanktop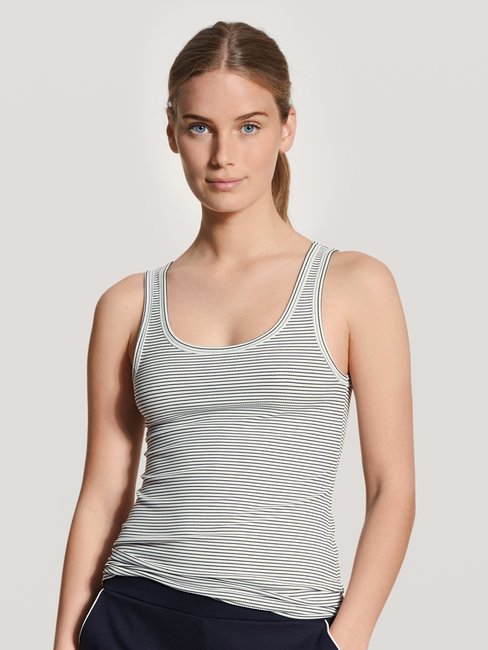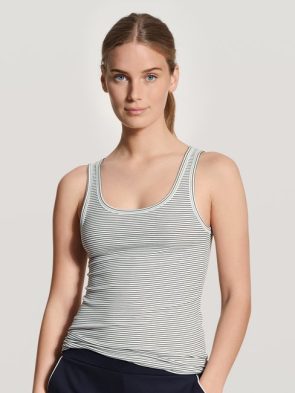 A tank top is a sleeveless, waist-length pullover with a scoop neckline. They have a racerback on occasion.
77. X-Ray Top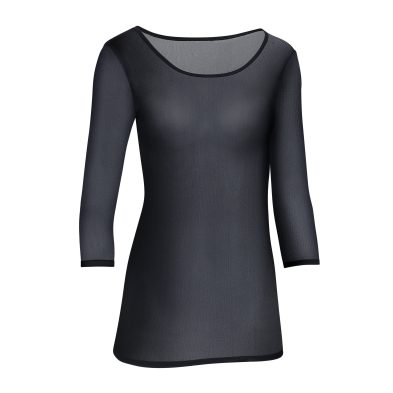 This is a see-through shirt that is generally worn over a slip or camisole top and is constructed of thin transparent materials.
78. Step Hem Top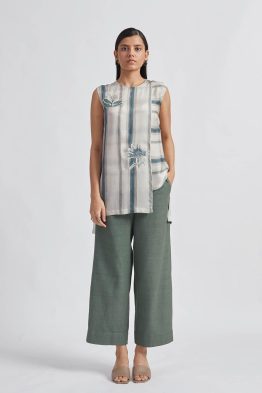 This is a shirt with a short front hem and a somewhat longer rear hem; the hem is shaped like steps, therefore the name.
79. Women's Sexy Bardot Top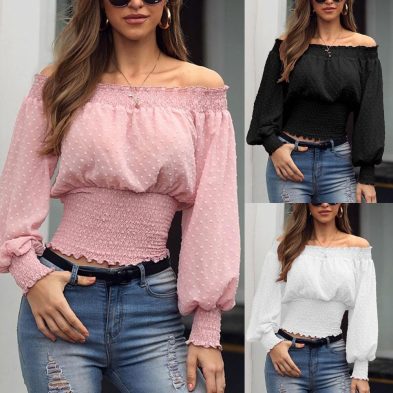 A Bardot shirt epitomises the word "sexy." We can't express how grateful we are to Brigitte Bardot, the French fashion diva who altered the fashion game with her creation and made the bared shoulder style popular and one of our favourites. This women's seductive shirt is the perfect method to show off your shoulders. If you're seeking for a fashionable summer shirt, the Bardot (top) is your best friend.
80. A-Line Top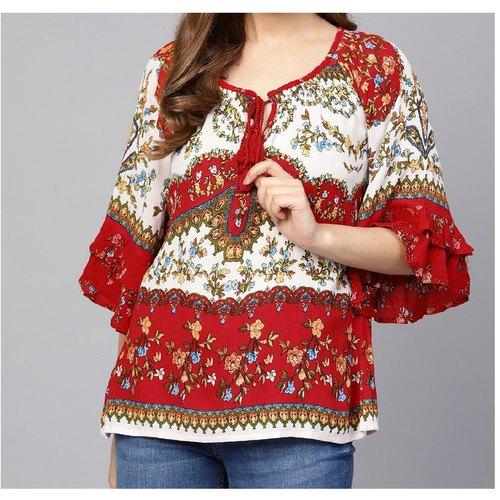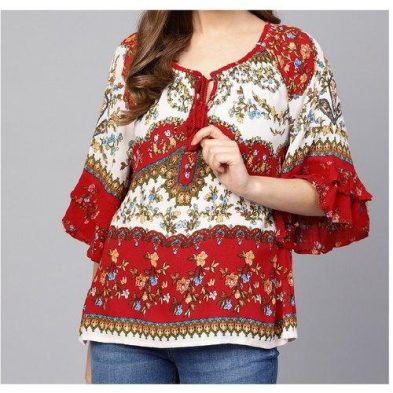 The A-line silhouette is defined by a silhouette that gradually widens towards the hemline, like the shape of a capital A. The nicest thing about this shirt is that it flatters nearly any body type. An A-line top is ideal for any occasion because it is neither too tight nor too loose.
81. Ethnic Top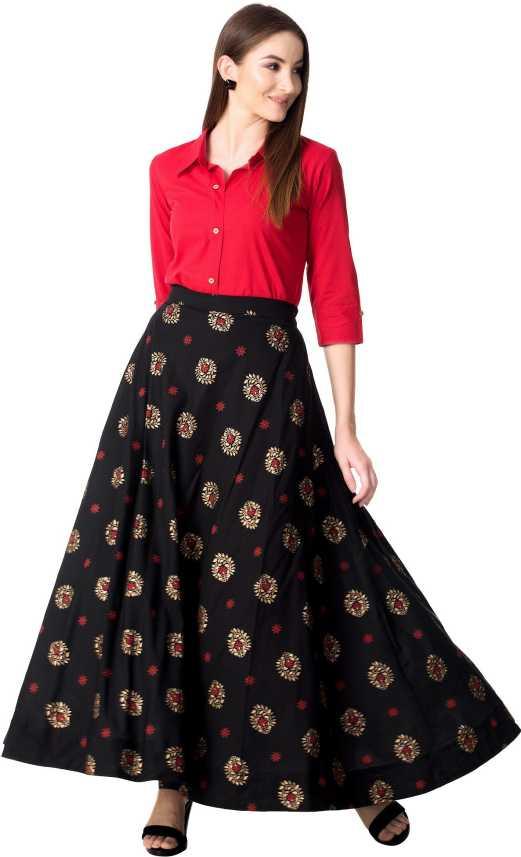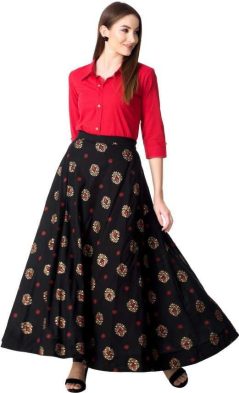 We all have our favourite items of clothes that can serve double duty. The majority of ethnic Kurtis may be worn as long shirts with jeans. When dressing one, choose short ones with an empire waistline or a flared silhouette for a stylish bohemian vibe. Because this is a modern desi style that calls for extra glitter, accessorise well.
82. Empire Waist Top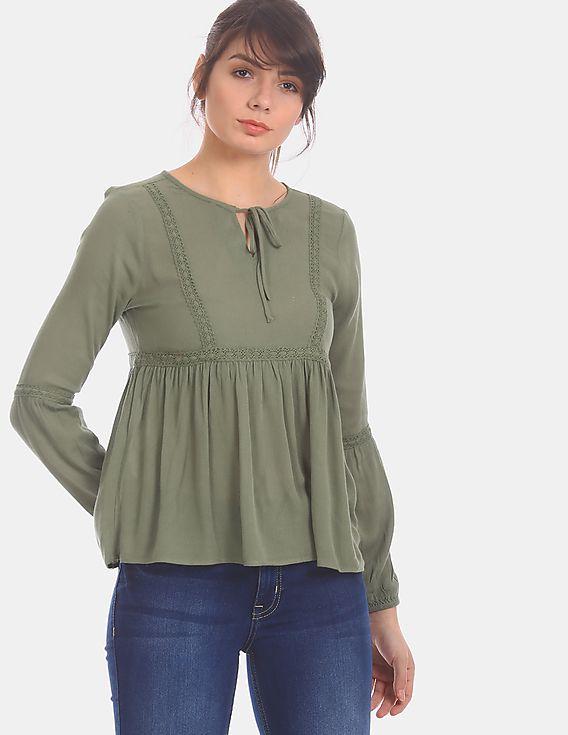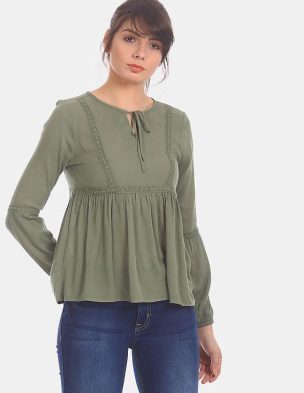 An empire waist dress or top for women has a high waistband that fits well above your normal waistline, directly below your bust. It might be elastic or have a drawstring that you can use to tighten it to your clothing. If you're self-conscious about your muffin top (which you shouldn't be since you're stunning anyway), this style is a lifesaver because it draws attention to your natural, lovely curves.
83. Tiered Bottom Top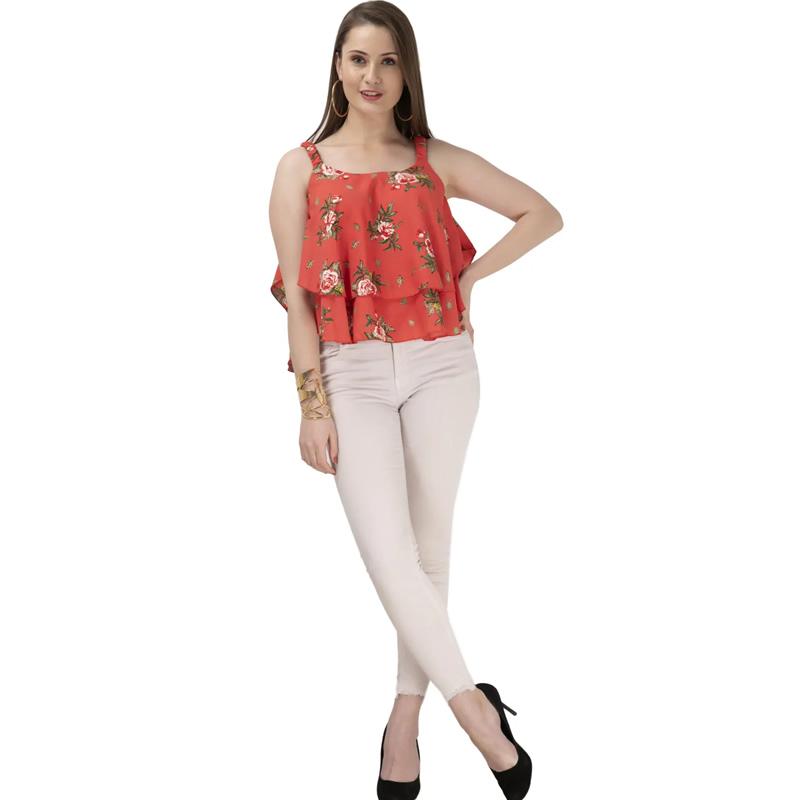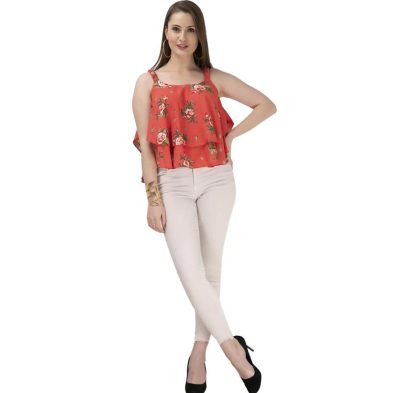 At the hem, a top with tiered or layered frills.
84. Y2k Top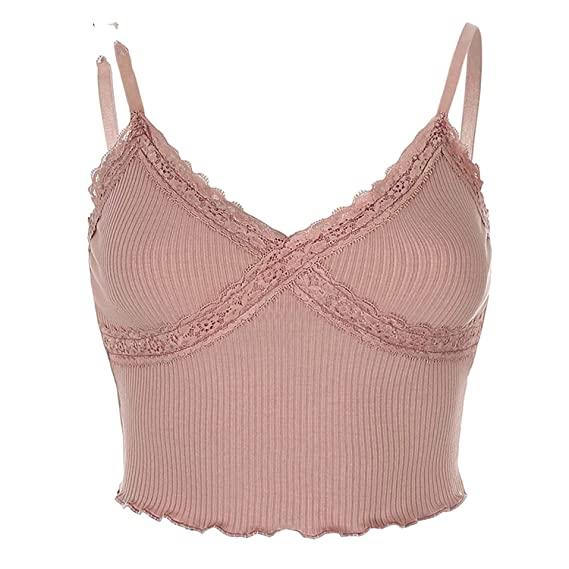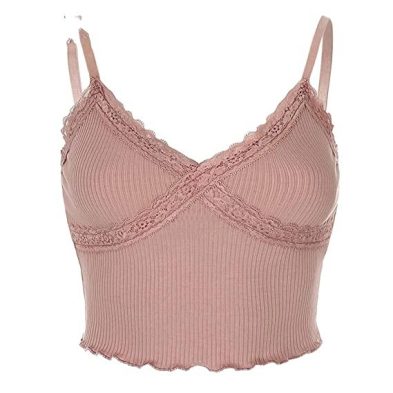 This is a crop top with a tight-fitting camisole style that was fashionable in the 2000s.
85. Loose Straight Top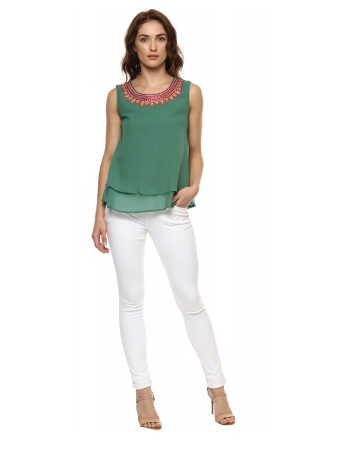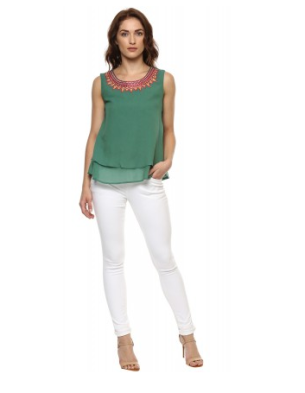 Pink flowy top in Korean style. Open straight tops flow out a bit at the bottom and are generally a little longer than normal tops, resembling tank tops at the top. Loose straight shirts are popular among women of a larger stature since they make them appear thinner.
Although fluffy at the bottom, they are thinner in length and a bit shorter in the centre than the sides and rear, giving it a "straight" appearance. Loose straight shirts pair well with jeans since they are both comfortable and elegant.
86. Loose Top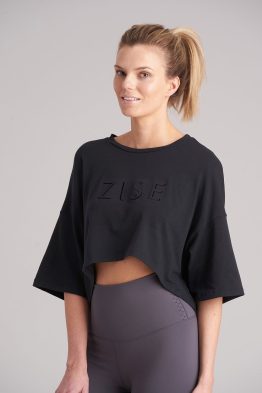 These tops are often made of soft fabrics such as cotton and feature a loose-fitting design that fits with everything from skirts to trousers. They're not just loose all the way around, but they're much looser at the top, with a low, flowing cut.
Loose shirts are typically preferred by women with medium or heavy builds since they don't fit as tightly across the body and are also quite pleasant when it's hot outdoors and you don't want to wear anything too tight.
87. Sheer Top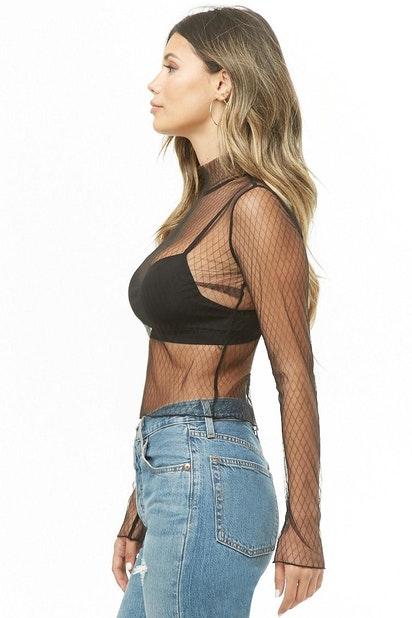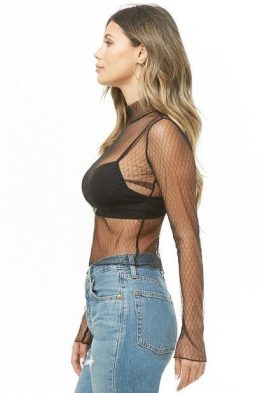 Because of the thin, semi-transparent material used to make sheer tops, they are see-through. Chiffon, georgette, and gauze are examples of these textiles. The seductive tops for women who do not have a lining may be paired with a camisole beneath with lovely embroidery and decorations on dressier items. Lace and mesh, in addition to sheer, may give you a similar appearance.
88. Net Fashion Top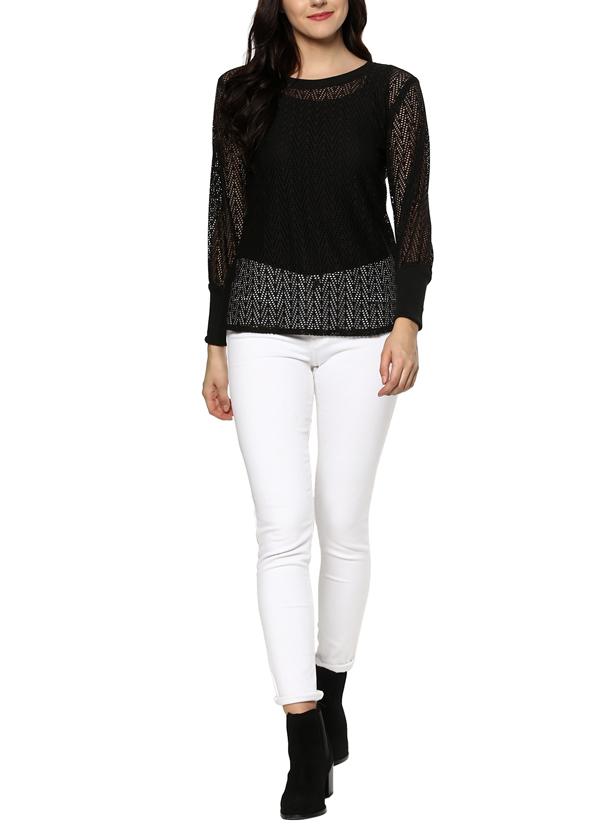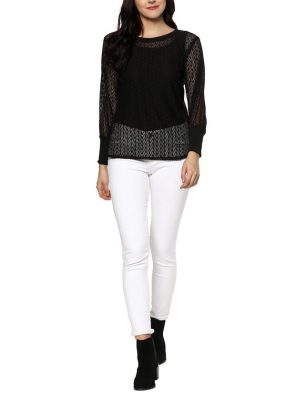 They tucked a cropped tank top inside a stylish black net top. When you just want to wear something a little unusual and unique, a lovely top made of a netted material is ideal. They are generally long-sleeved and worn over a camisole or short-sleeved shirt, and they are transparent and see-through, making them quite comfortable to wear.
Net tops may be worn to work or to the mall, and they come in a variety of colours and patterns, as well as fancy and informal styles. Some even have a faint gleam to them, providing them a touch of sophistication and flair no matter where you travel.
89. Short Frock Top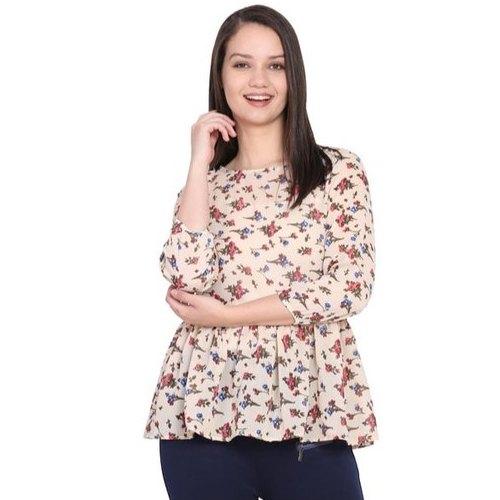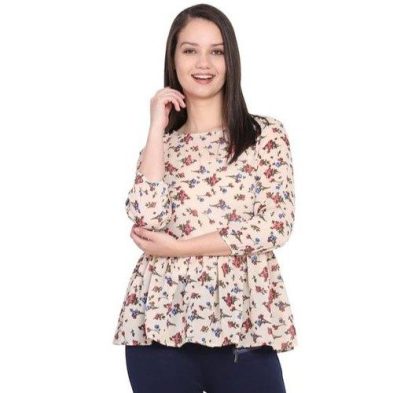 Young women's yellow gown with ruffled top. Short frock tops, which are frequently sleeveless and resemble mini-dresses, are quite popular among college coeds. They're frequently manufactured in stripes and polka dots, and when worn with a belt, they'll show off your sense of style.
Most importantly, short frock tops may be worn alone or with capris and are appropriate for both informal and semi-formal occasions. Short frock tops are seductive, exciting, and easy to wear, and they're designed for the younger audience.
90. High Neck Top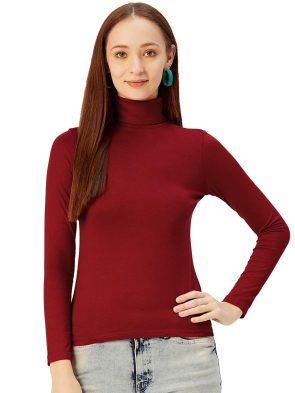 In the cold, a shirt with a high neckline is ideal. It not only protects your neck from the cold, but it is also quite fashionable. Wearing a high-neck t-shirt over a short dress or plain jeans, on the other hand, would be just as fashionable and classy.
A blouse with a high neckline and delicate lace patterns or even crochet may be quite flattering. To earn a lot of praises, try it out for formal occasions or even casual days.
Now that you've learned about almost every style of shirt for women, it's time to update your wardrobe with the season's hottest shirts.
91. Short Jacket-Style Top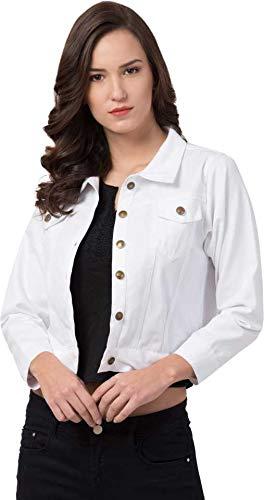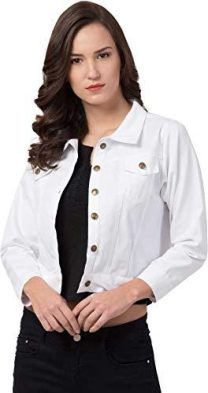 Top of a woman in a leather jacket. These tops, which are usually made of denim and reveal a little belly, are usually sleeveless. They resemble a jacket and are ideal for pairing with denim jeans. Like the jeans, these shirts are available in a variety of blue colours, including the famous faded effect seen on many denim products.
If you're going out for a casual occasion, pair these tees with denim skirts, shorts, or jeans to appear stylish no matter where you go.