Conventionally, it is a practice that is frowned upon when there is a lack of a wedding ring or ribbon as a gift to an important one. For the most part, an engagement ring is just a symbol that is then replaced with a real wedding ring. Many couples choose to keep the same ring on both occasions, so having an excellent engagement ring design is essential. Even the simplest engagement rings have a slight boom in design these days, which is something to decide.
Over the years, there are several wedding ring design ideas have become the most popular. The leading ones are diamond rings and platinum wedding rings. When you visit a jewelry store, you will find dozens of these rings with different designs. There are two ways to find the perfect wedding ring. The first is to choose from the many designs presented to you in the store. Another is to customize the design to your liking and get a new wedding ring. When customizing, you can also change the design of the family inheritance ring. The choice is yours.
Once the choice is made, you can start thinking about design ideas. It doesn't matter if you choose the ready-made ones, they are also available in many styles, sets and designs that must be selected in advance. It may not sound very romantic, but when you see a smile on your partner's face, when you see a perfectly shaped ring; it's definitely worth it.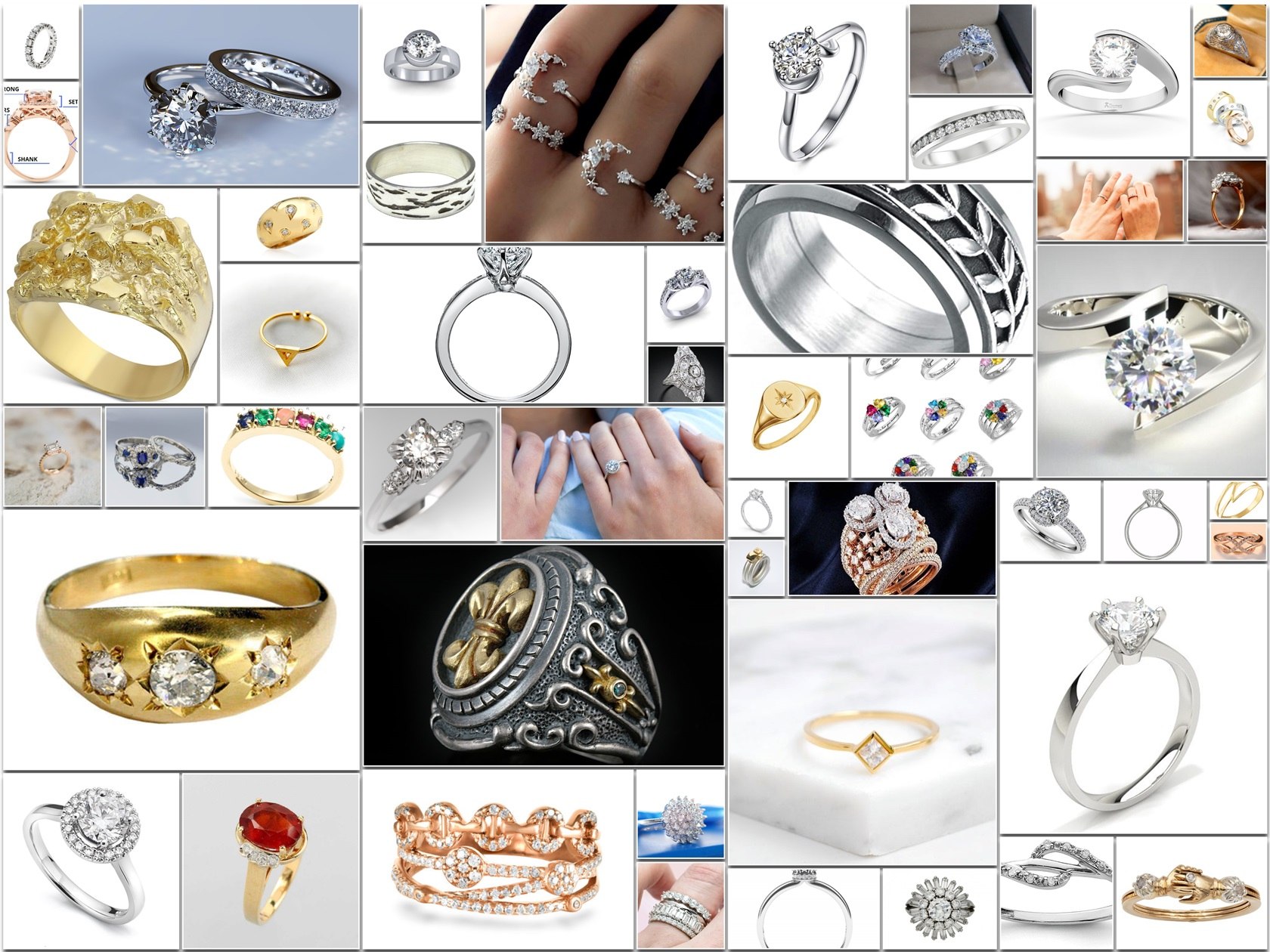 History Of Rings
People wear rings on their fingers like eternity. They have even been found in ancient tombs in Mesopotamia in present-day Iraq, dating from about 2500 BC. Wearing rings became popular with such stylish ancient Egyptians and we have worn them ever since for a variety of reasons.
While most people wear rings to adorn themselves, a ring on your finger can sometimes mean more than adorning your hand. Rings are associated with high status, authority, membership in a secret society or clubs and sororities, as well as some achievement.
Signet rings were worn as a signature in ancient Rome. Rings were created to represent insignia, to identify a person, to be worn on a wax seal, and subsequently to seal letters or sign valuable items.
Rings were designed with a tiny compartment to hold poison or medicines during the Victorian era. Rings are frequently bestowed with spiritual or supernatural significance in mythology.
What is Ring Setting?
When it comes to setting a diamond, people can be mindful of different things. Sometimes you will hear jewelers refer to an overall ring as a setting, describing the ring in which you decide to place a diamond.
Technically, the ring consists of two parts: the shank or body of the ring and the head or gallery – the metal that puts the diamond in place. This setting provides more than the safety of your diamond. This is an important aspect of the appearance of a diamond.
Different Types of Rings Names With Pictures
There are many types of rings. A ring can symbolize engagement, a seal on a legal contract, or a token to count time – but most people wear them as jewelry. Here is the latest list of all types of rings names with pictures and images that you should know about.
1. Halo Ring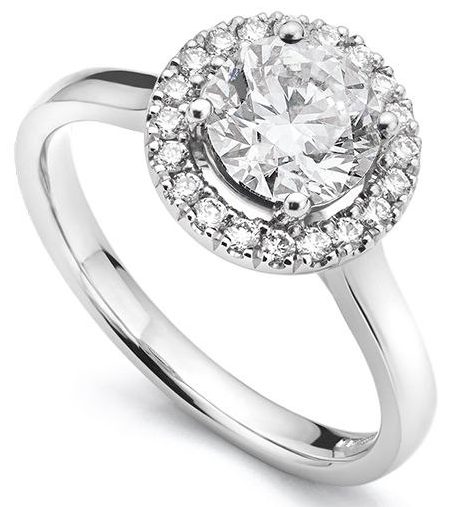 A halo effect is created by placing several tiny stones around the main stone, giving it form and sparkle. This gives the impression of a bigger central stone. The halo's purpose is to keep the main stone in place while also preserving it carefully.
2. Plain Solitaire Ring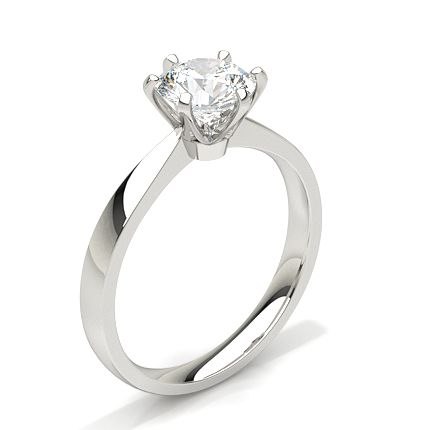 A diamond or gem placed above the band in the metal of your choice, no accents. The focus is on the center of the scene on the stone you choose for her. Solitaire is sometimes called classic solitaire, Tiffany solitaire, four or six prong solitaire, or one stone solitaire.
3. Side Stone Solitaire Ring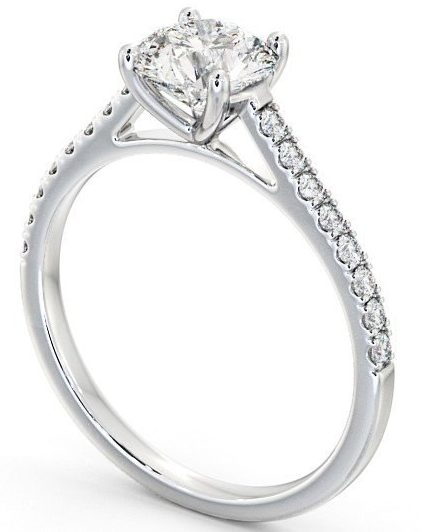 Side stones are placed in the metal, emphasizing the base of the diamond or other gemstone. Smaller diamonds add beauty and shine to the ring. Typically the side stones are a paving set, channel set, or shared prong set. Side stones create contrast and shine, complementing the center stone and highlighting the overall beauty of the ring.
4. Three Stone Ring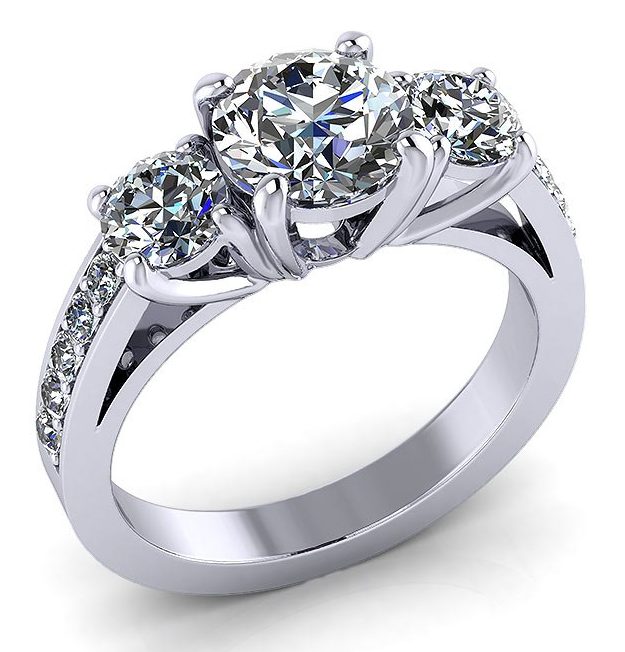 A center diamond or gemstone is surrounded on all sides by stones. There are generally more than two side stones around the central stone. Both sides of the stone might have a different shape from the center, or all three stones can be the same form. The three-stone ring beautifully portrays the past, present, and future meanings. The center stone, which is usually set above the side stones, is the ring's focal point. The ring's overall brightness is enhanced by side stones.
5. Vintage Ring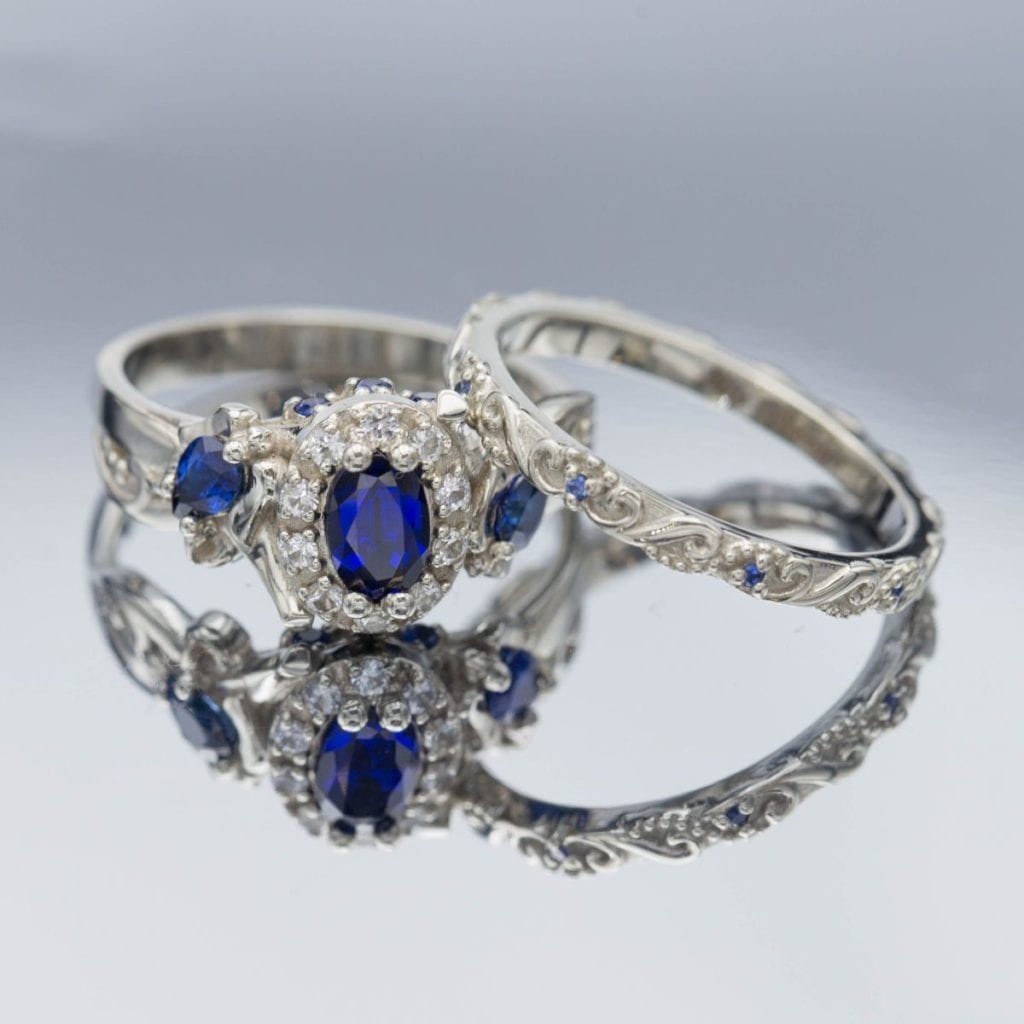 Milgrain beading, ornate etching, exquisite scroll work, or filigree embellishments may be added to an antique ring in a variety of ways. Art Deco, Antique, and Estate are all terms used to describe vintage designer rings. In the hands of a highly experienced designer, a bespoke ring in a vintage style may be produced to the highest degree today.
6. Promise Ring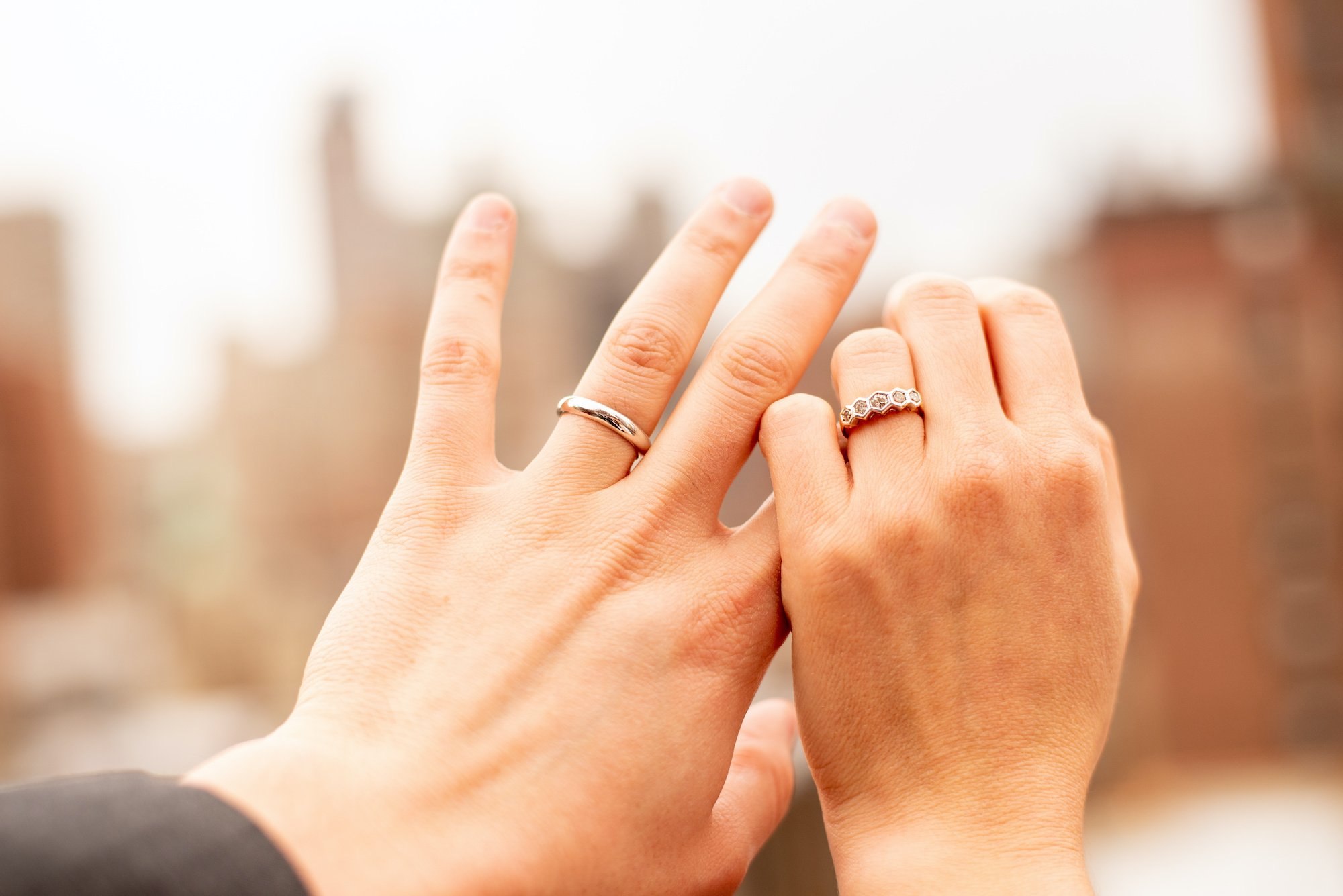 As the name suggests, Promise Ring stands for a ring that symbolizes your continued commitment to your partner prior to your engagement ring. As such, wearing a promise ring is part of a routine ritual for engaged to be couples. Currently, promise rings can be presented to a friend, as well as as a sign of endless friendship.
The promise ring is a symbol of eternal commitment and love between two people. It is a romantic symbol that radiates your love effectively.
7. Engagement Ring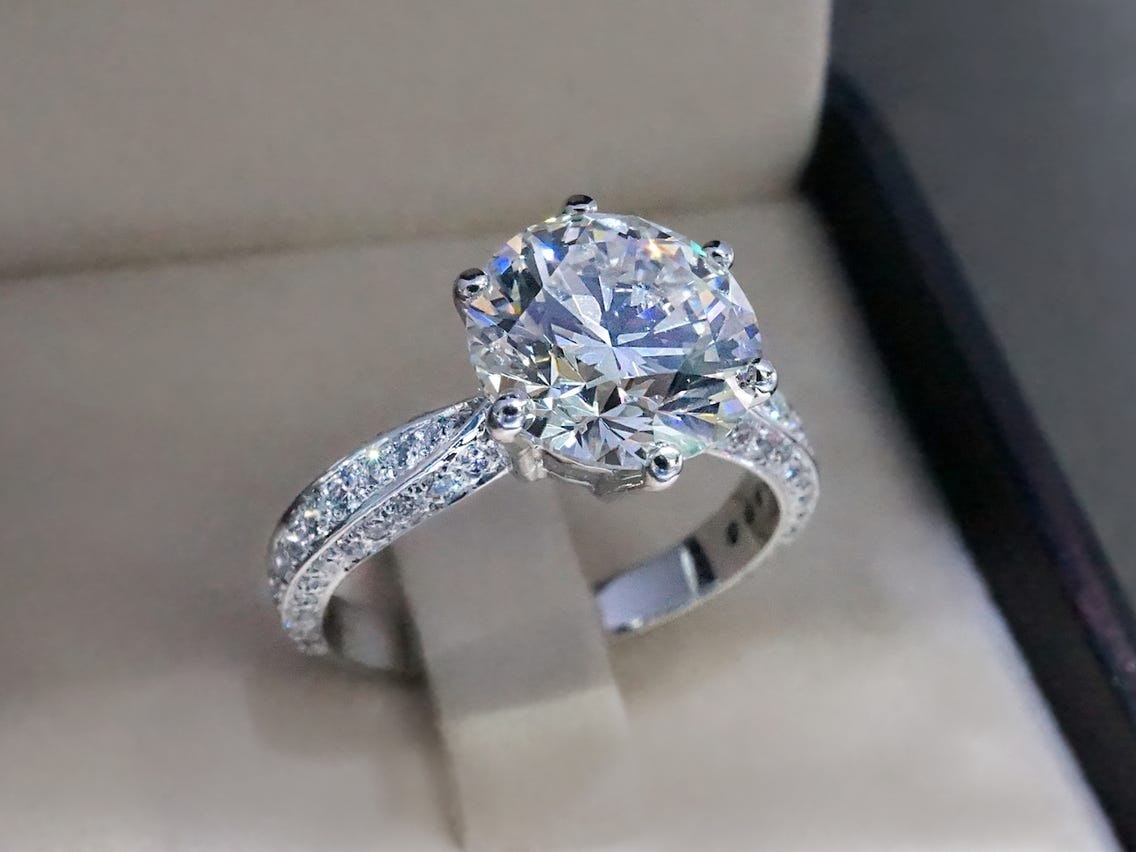 This is a ring that adds to the significance of the engagement. In reality, a youngster understands that an engagement is defined by the exchange of rings. Both partners exchange this ring, according to tradition, to share their engagement promises. Due to its wonderful tenderness, this timeless item has earned a lot of appeal among couples. Young couples frequently choose a diamond engagement ring to embellish their wedding rings with flawless radiance.
8. Wedding Ring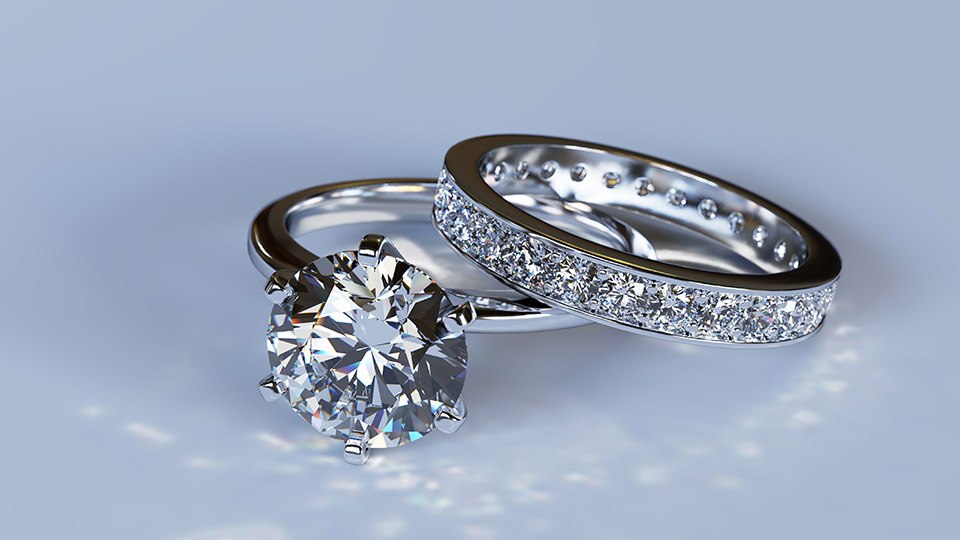 This ring represents the exchanging of wedding vows between the couple. Because the vein in the left finger is thought to be directly related to the heart, this ring is generally worn on the ring finger of the left hand. From a basic white gold wedding band to a traditional princess cut Wedding Ring, these rings are available in both diamond and non-diamond settings.
9. Anniversary Ring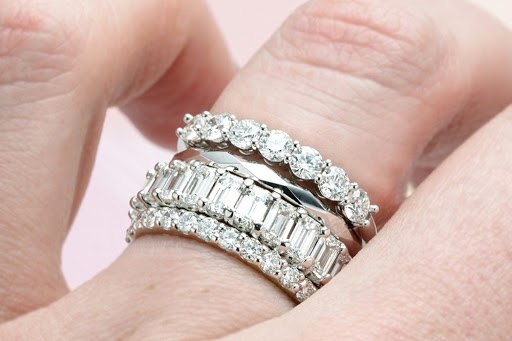 As the name suggests, the anniversary ring is specially designed to celebrate special moments such as the first, fifth, tenth or twenty-fifth wedding anniversary. Each anniversary has a meaning in a person's life. Everyone is looking for different gifts that can surprise their partners. To accomplish this, couples mostly prefer diamond anniversary bands/rings to share their anniversary vows.
10. Birthstone Ring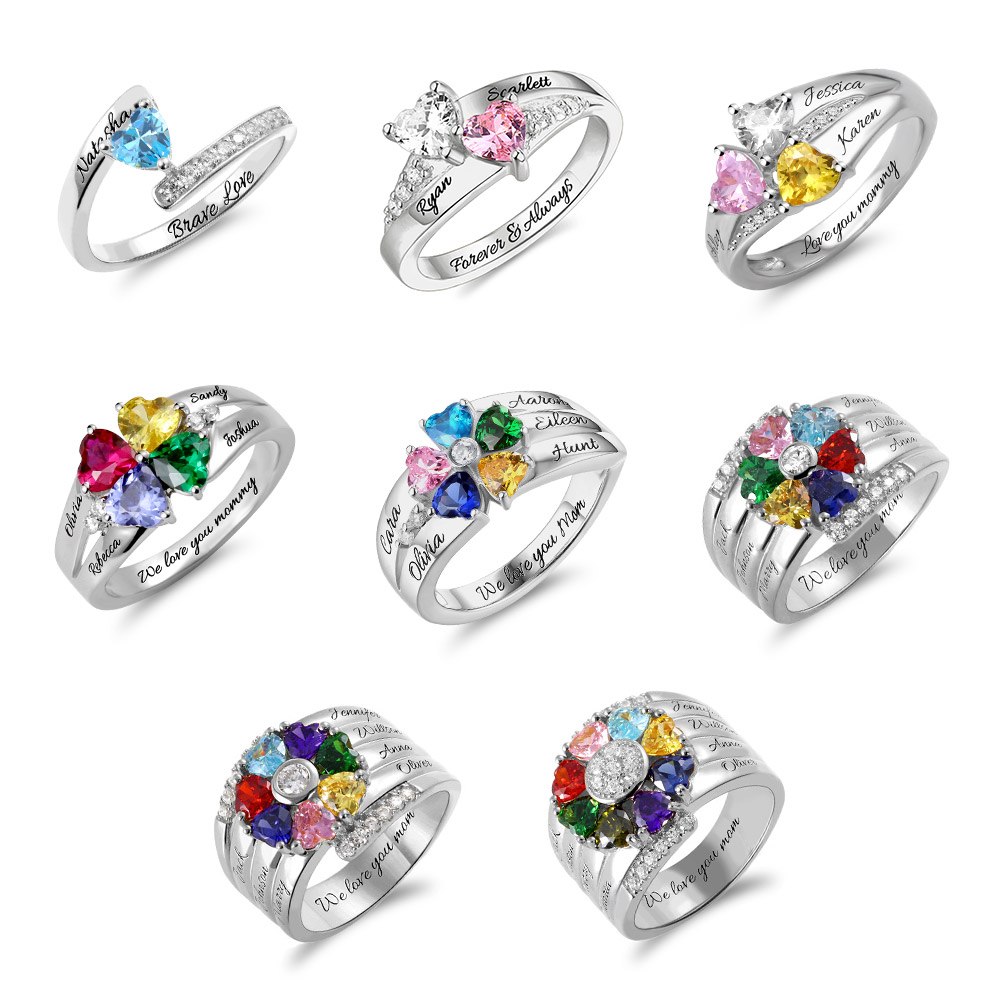 In the line of various rings, there is another ring that is of great value as a family jewelry is Birthstone Rings. Usually, birthstone rings can be gifted to anyone. Most people choose to give Birthstone jewelry, including charms and rings, on special occasions such as a baby shower or the birth of a baby.
Birthstone Rings are made of stones of different colors, which have their own meaning in a person's life and horoscope. People wore Birthstone Rings, believing that the power of auspicious colors could keep them from negative vibes.
11. Pave Ring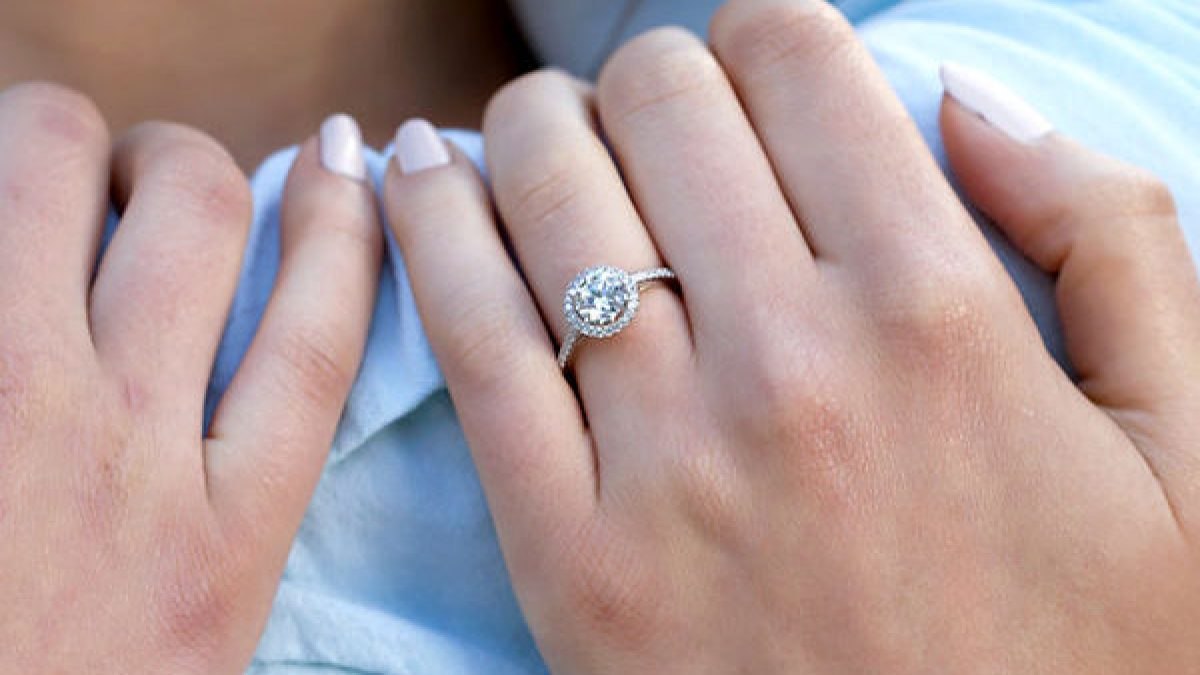 Taking its name from the French word for "paved," the gems on the paving ring are placed as close together as possible so that there is little or no metal on it. Diamond inlay gives the band the appearance of a hard diamond surface. If you are looking for super sparkle, this design might be the perfect choice.
12. Classing Ring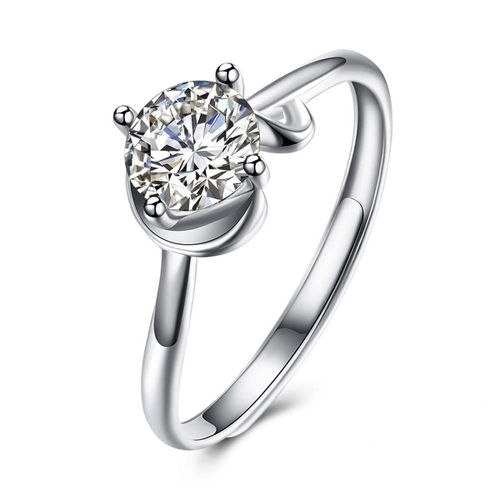 Classic engagement rings feature a timeless design and traditional patterns that enhance the beauty of the center stone. The crisp lines, solitaire style and paving accents are often considered "classic", allowing this style to appeal to those who love tradition to those who just want a gorgeous sparkle.
13. Infinity Ring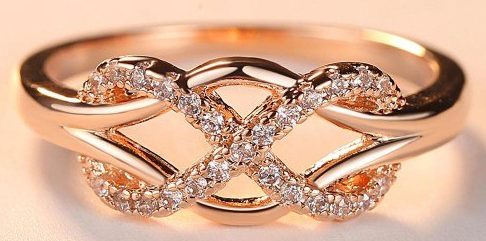 Infinity engagement bands are a contemporary style that symbolizes the intertwining of husband and wife. The lines of the band that create an infinity sign by twisting to form a shape. This unique design embodies the limitless ability to love and underlines the endless commitment to marriage.
14. Cathedral Ring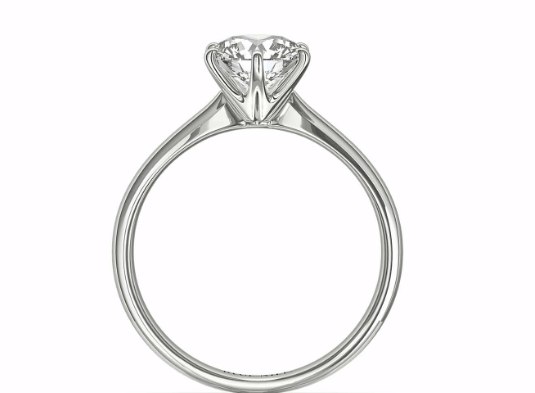 The central diamond in the frame of the cathedral is firmly enclosed between bands extending from each side. They lean in such a way that they draw the eye towards the gem. This type of engagement ring setting provides good protection for the diamond, so it is a good choice for women on the go.
15. Channel-Set Ring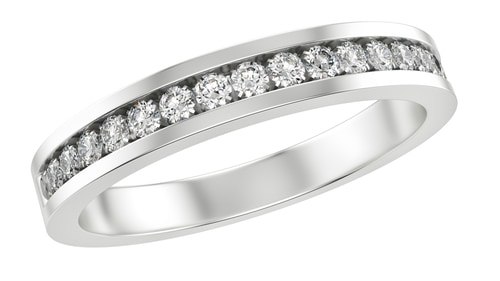 Small diamonds are embedded in the band to enhance the brilliance of the center diamond. Channel rings are accent gems that are small diamonds or other gemstones embedded in the ring to add a touch of glamour and sparkle. In a ring with a channel set ring, diamond accents are placed in a channel formed by two bands of precious metal. Grooves on both walls hold the diamonds securely in place. This style will inspire the modern woman with its fresh modern look.
16. Swirl Ring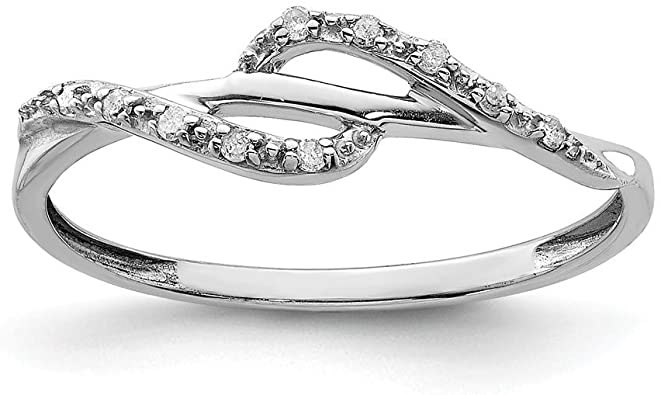 Feminine, romantic and beautiful, this style engagement ring is adorned with a "swirl" or metal around the diamond. The wedding band, which is usually sold as a set, is ideally combined with an unusual dreamy shape. An artistic, creative woman might like this ring.
17. Color-Accent Ring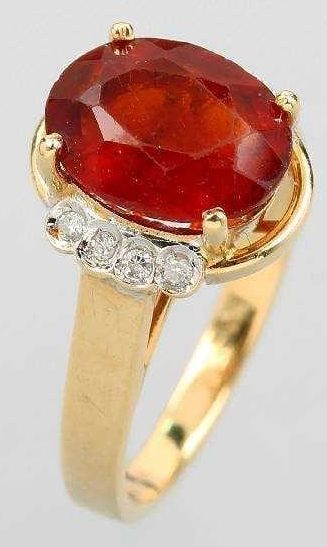 Small colored gems are placed along the ribbon to highlight the center stone and add color. Colored engagement rings are bold, vibrant, and tell the world that the user is cheerful and elegant. Whether it's accent stones or the main star, the colored engagement rings are beautiful and fun.
Adding gemstones to your engagement gives your ring a uniquely rich look. The color next to the diamond not only perfectly complements your diamond, but also allows you to give the ring a lovely color.
Whether you tend to use your favorite color or birthstone or choose jewelry from heritage, a colored stone can make your engagement ring stand out from the crowd. This is a great opportunity to make this momentous event even more sentimental.
18. Cluster Ring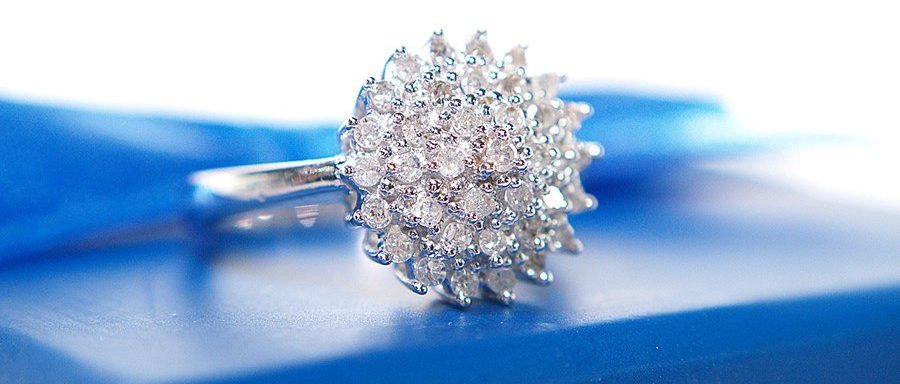 Several diamonds or gemstones of different sizes joined together in a single setting, or a ring containing a central main gemstone with many small stones to highlight it.
19. Cocktail Ring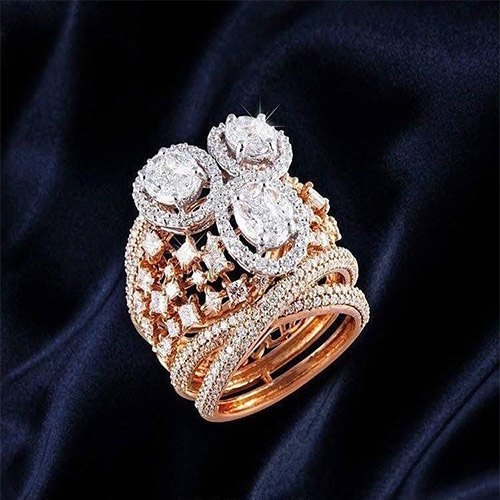 This large, dramatic ring, also known as the cluster ring and a dinner ring, rises significantly above the finger. It originated in the 30s when it was worn at cocktail parties. It is usually adorned with very large color imitations of gems and smaller faux diamonds and is designed to look luxurious and large.
20. Contemporary Ring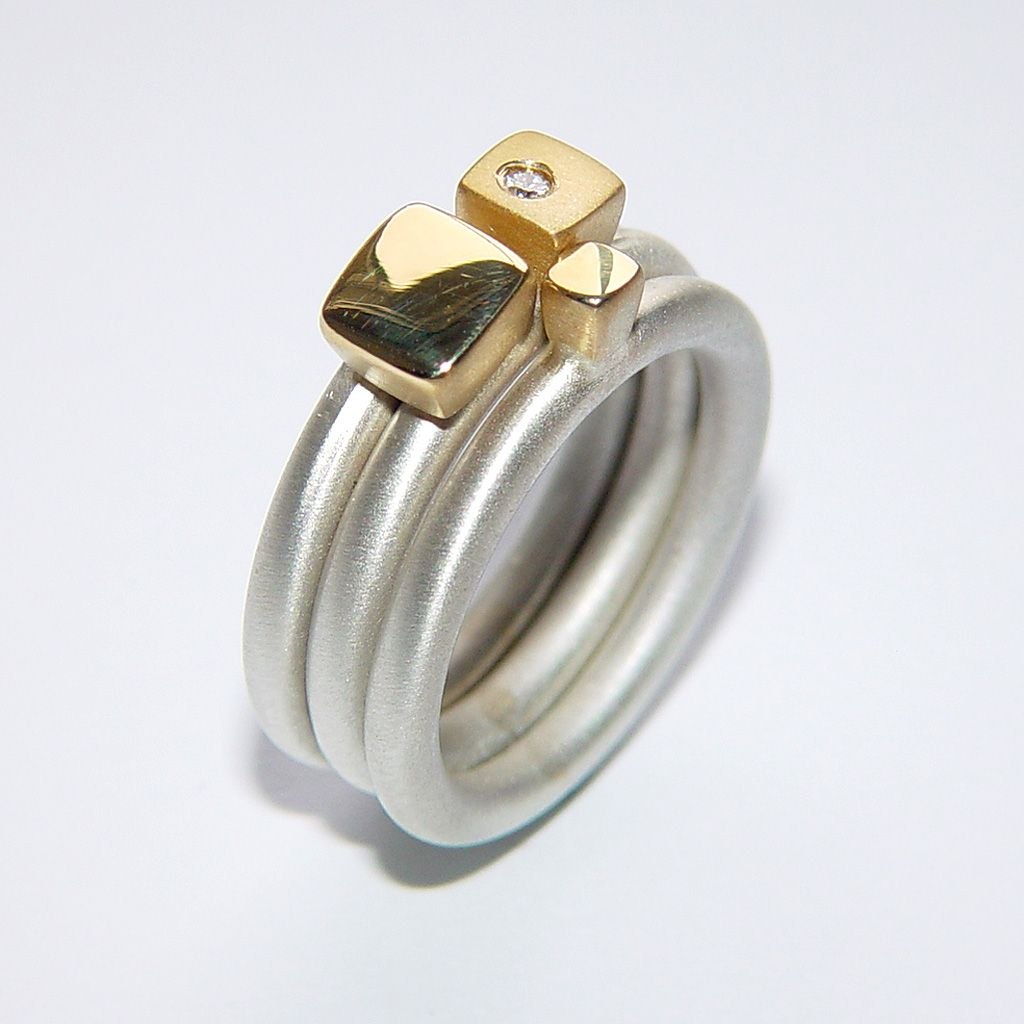 Ring with designs to match the current styles of the industry. What makes a ring contemporary is its cut, setting, design, or even the choice of materials it is made from. For example, a princess (square) gemstone ring is more contemporary cut than the classic round gemstone. A ring set in an illusion or tension setting is a more contemporary choice than the classic prong styled setting. Rings made from newer materials such as palladium or titanium will also be classified as contemporary rings, as opposed to traditional 18k yellow gold or silver jewelry. In terms of design, a contemporary ring may have a clean, minimalist design compared to the ornate, vibrant designs typical of an earlier era.
21. Estate Ring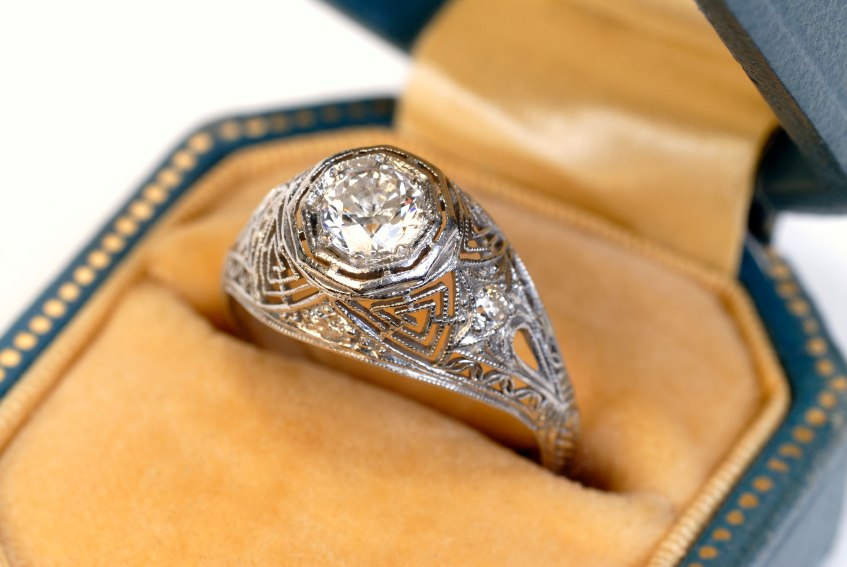 A ring that was previously owned is usually part of a deceased person's estate. These are not necessarily antiques and can include fine or costumed rings from any time period.
22. Eternity Ring/Band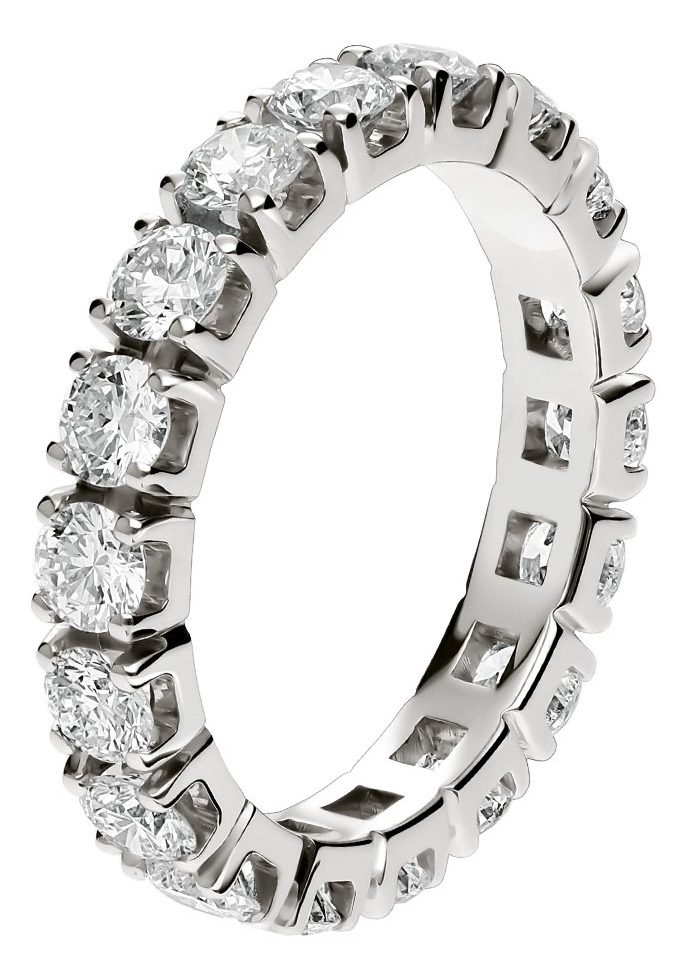 A band of equal width with one or more continuous rows of gemstones or diamonds of the same cut. The stones completely encircle the band and usually represent prong or channel set. It is usually given by the husband to his wife on their wedding anniversary.
23. Fashion Ring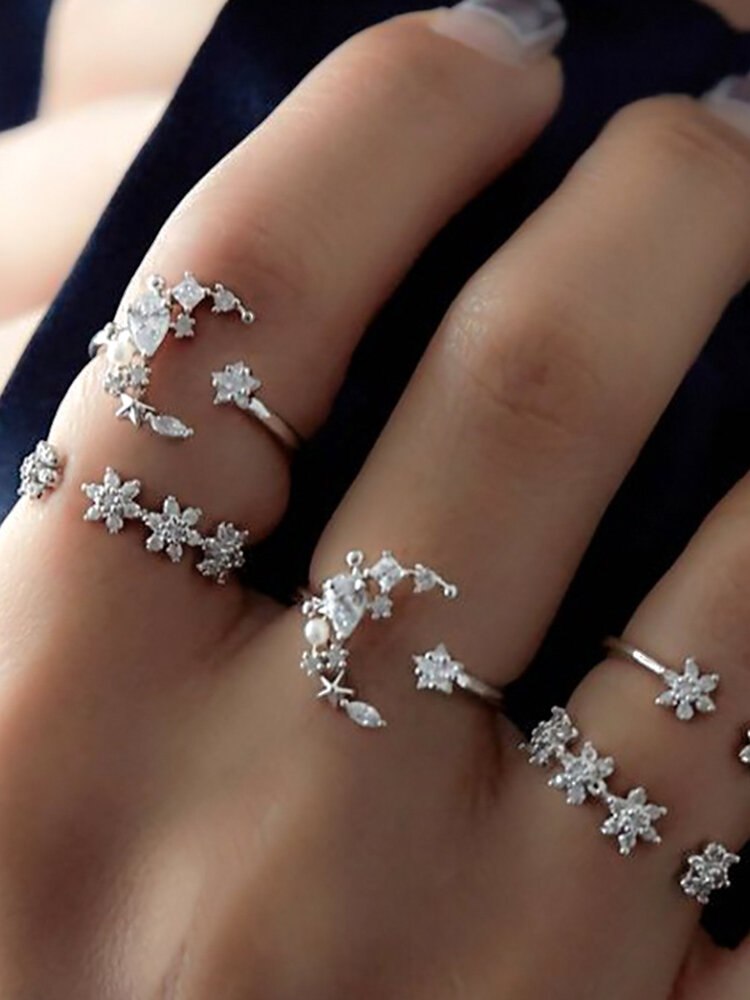 A type of ring that is only worn to express someone's fashionable style and not to mark an important event such as an engagement (with an engagement ring), a wedding (with an wedding ring), a graduation (with a ring in class), or a commitment (with a ring- a promise).
24. Gimmel Ring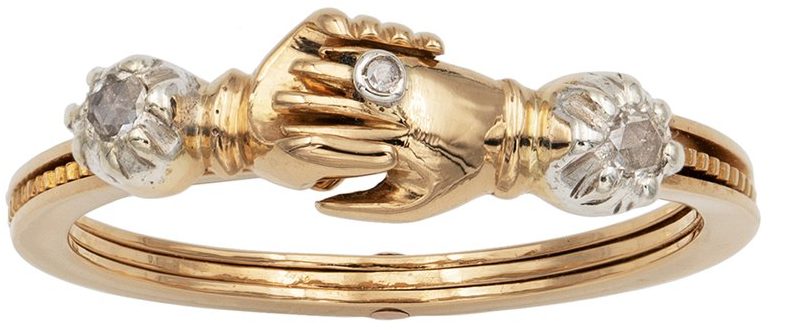 A ring popular in the 16th and 17th centuries in Western Europe that was used as a wedding/engagement ring. It included a series of connecting bands held together by a tiny pin. The bands will rotate and align to form a ring. Both the man and his fiancé will wear two separate parts of the ring, and after the wedding, the woman will wear both parts of the ring as one piece. Sometimes the two men exchange Gimmel rings to symbolize friendship. Gimmel rings were rarely combined with precious stones and remain the most valuable today.
25. Nugget Ring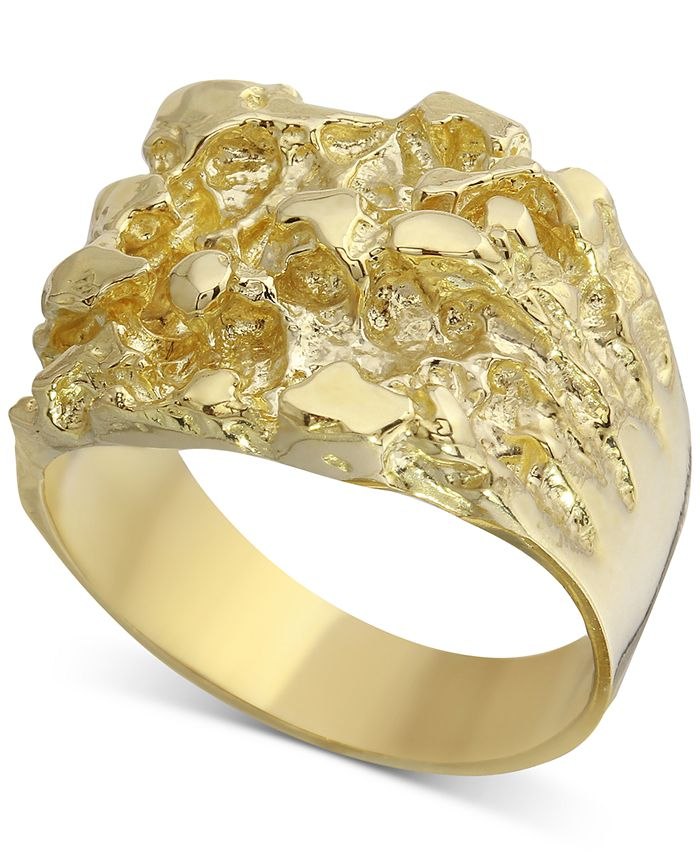 Typically worn by men, these rings are designed to imitate and exaggerate the look of the raw chunk of precious metal, usually yellow gold. The metal has a rough stone texture on the surface of the gold band, but sometimes a nugget ring can be placed with precious stones. Nowadays, a more feminine, smaller version of a nugget ring is becoming more common among women. Couples from Alaska and parts of Canada sometimes use nugget rings as wedding/engagement/anniversary rings because the gold mining industry in this area is a big part of their culture.
26. Signet Ring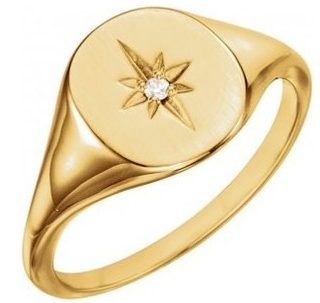 It can also be called an "seal ring". Ring with engraved letters or initials. It can also be distinguished by its specific design. A College ring is an example of a signet ring.
Signet rings have been a practical part of men's fashion for millennia. For wealthy and powerful men, the signet ring was a powerful signature tool. The ring is separated from other rings based on an engraved or raised symbol, a series of words or letters, or an image in the top half of the ring that somehow represented its owner. This can be a name, initials, position, rank, organization or family crest.
27. Spinner Ring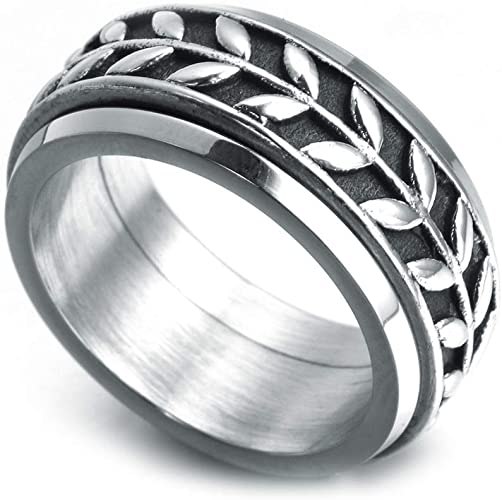 A ring with two bands, one containing the base and the other acting as a rotating insert. It can be decorated with intricate patterns or engraving.
28. Stack Ring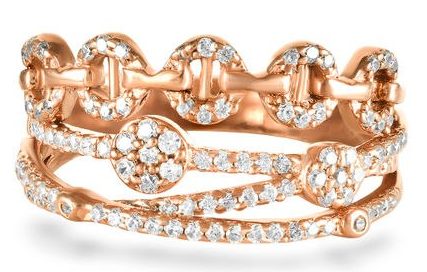 Stack rings or "stackers" have two or more straps that are designed to be worn together on one finger. They can be the same or be placed with different stones, and their size can also vary if they look good together.
29. Bezel Setting Ring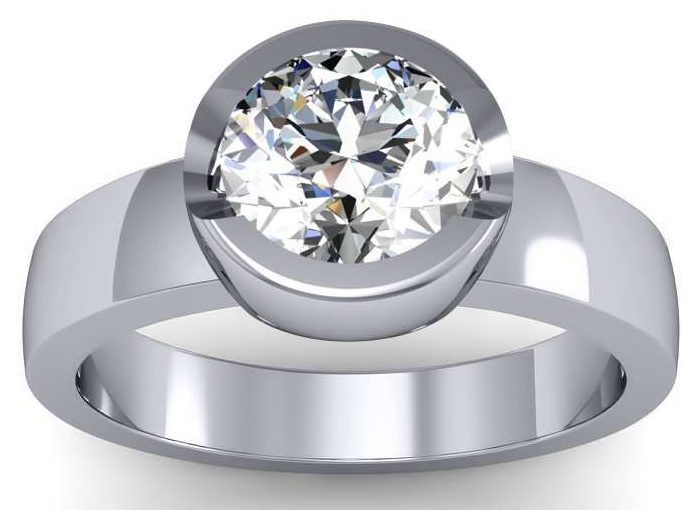 Essentially, the bezel of the ring setting where you see the rim surrounding the gemstone. The edges of the bezels can be curved, straight, or any shape suitable for the stone.
30. Prong Setting Ring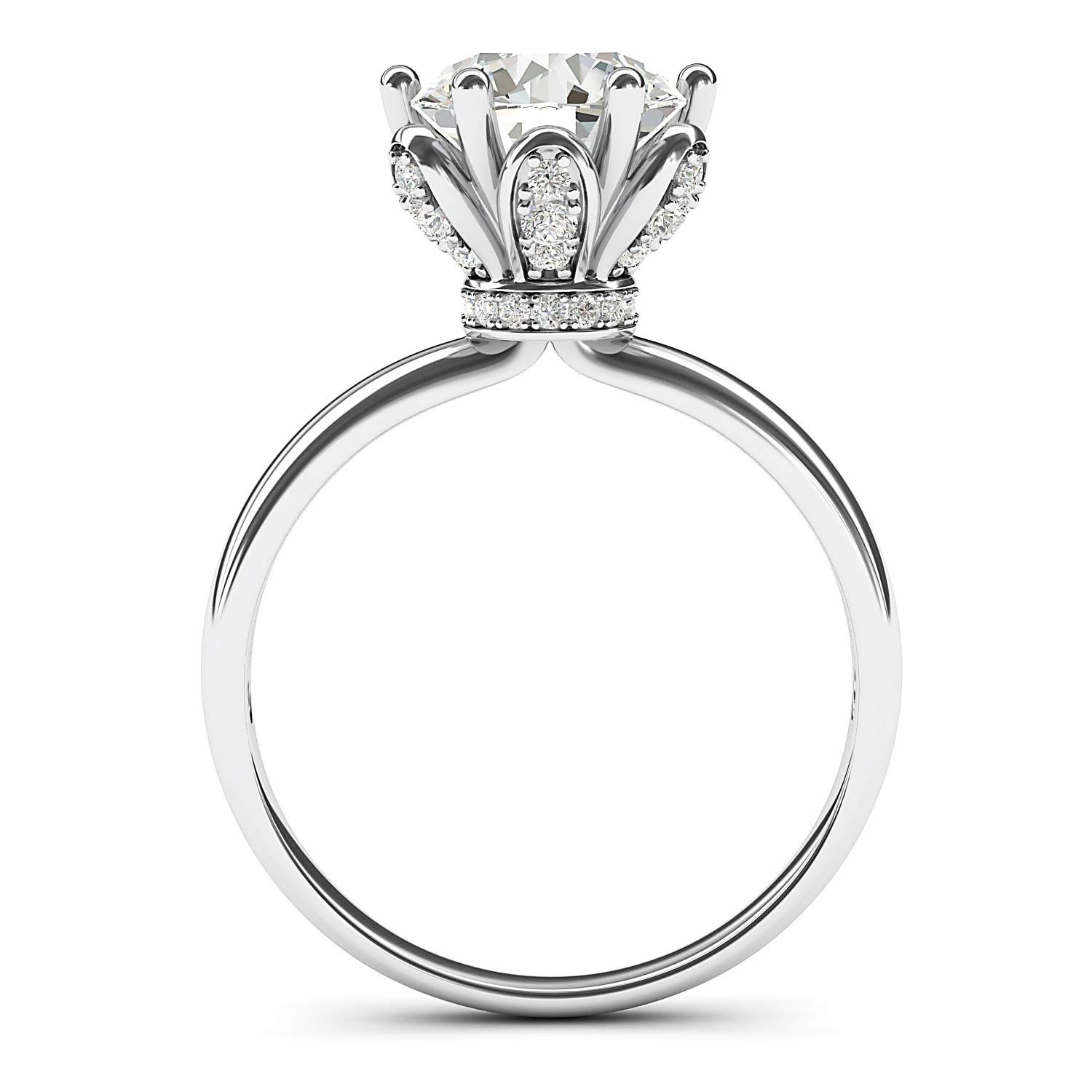 Your classic engagement ring is usually in a prong setting. As with the traditional ring, you will see a lone diamond placed in a simple mounting and surrounded by four to six prongs.
31. Illusion Setting Ring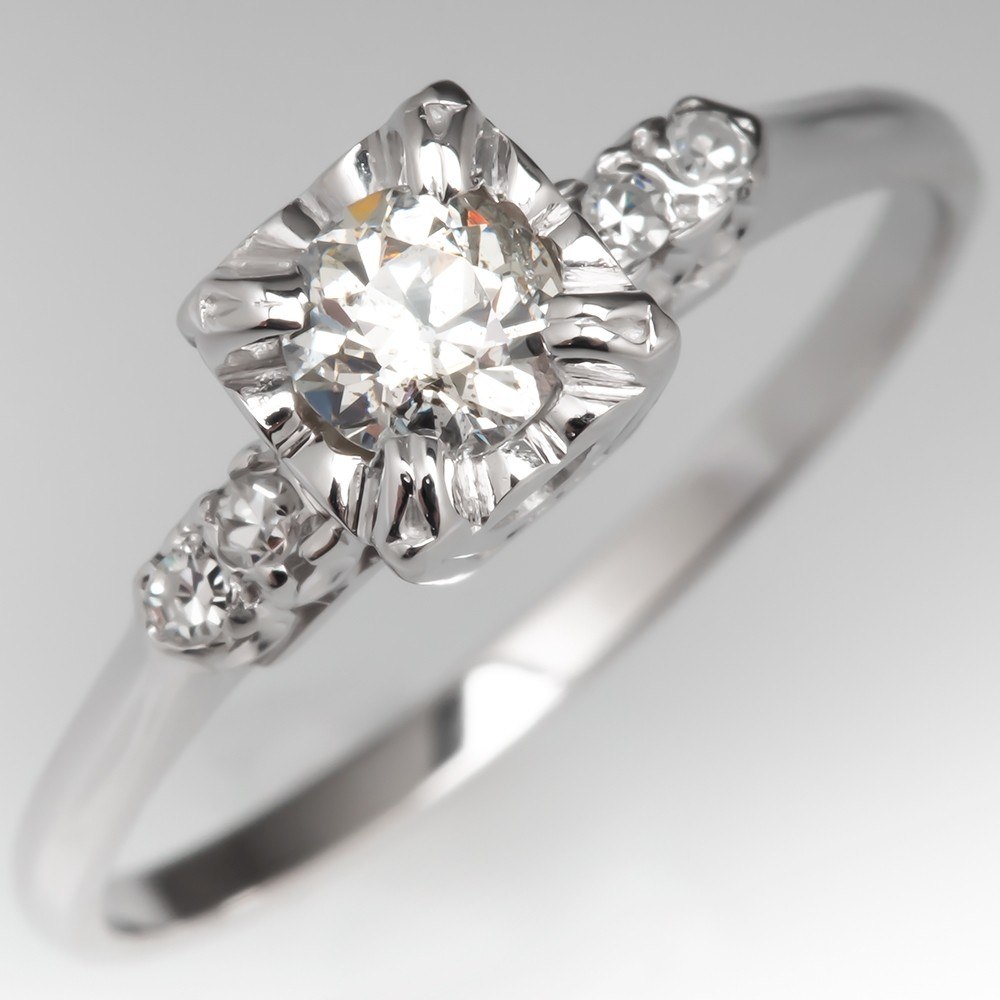 Indeed, an illusion-adjusted ring is a complex and fascinating piece. Often, princess cut stones are placed next to each other and propped up from below to create the illusion of a larger stone.
32. Gypsy Setting Ring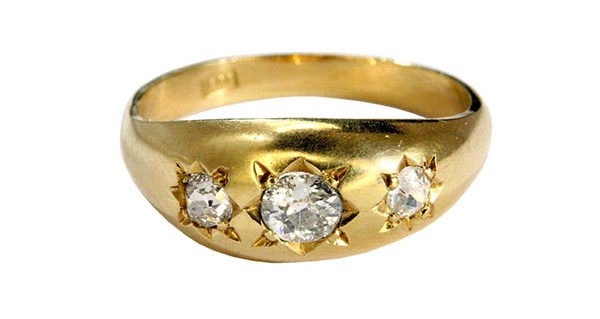 Usually gypsy is the type of setting you'll see in men's rings. It has a wide top with one piece continuous band. You will notice that its band is domed and the stone is in the center.
33. Tension Setting Ring
Have you seen a ring with a stone "squeezed" from the band's precious metal? This is a variant of the ring tension setting. In this frame you will get stylish and modern jewelry.
34. Tiffany Setting Ring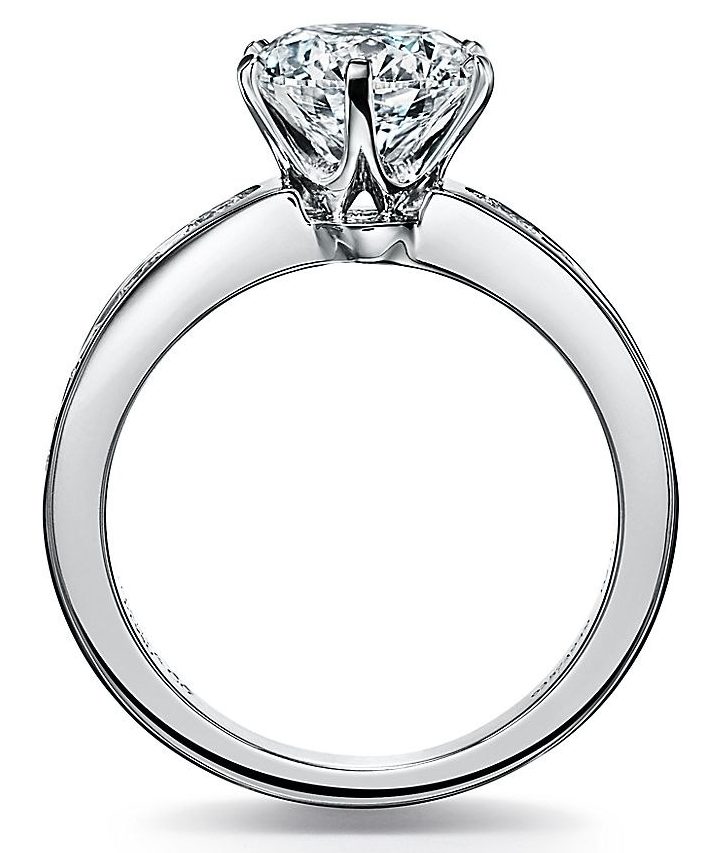 In 1886, Tiffany & Co. scientifically developed a special six prongs solitaire game to achieve maximum light reflection on the diamond. This simple band setup became known as the "Tiffany setting", which differed mainly in the "knife edge" of the shaft and the design of the prongs.
While it is possible to get a similar setting at virtually any jewelry store or website, it will never be a fine-tuning for Tiffany because Tiffany is the trademark for their prong design.
35. Flush Setting Ring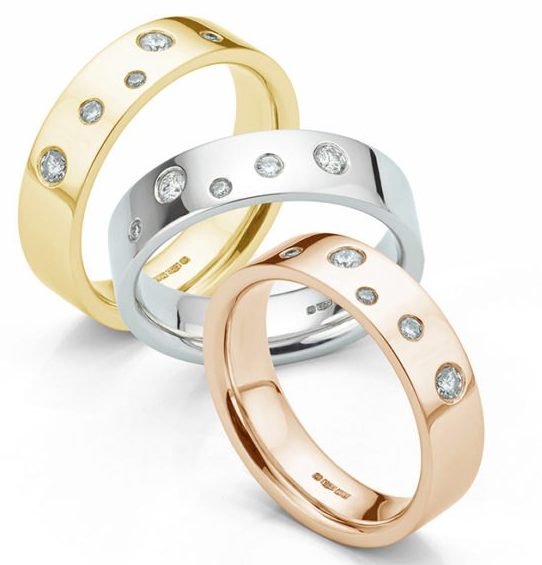 A Flush setting ring, also known as a "gypsy" setting, sets the diamond in a drilled hole in the annular band so that the ring is "flush" with the annular band.
The jeweler then strikes the metal around the diamond to hold it in place. Because the jeweler must hammer in this piece of metal to hold the stone in place, this setting is not suitable for softer stones that can crack.
This type of setting is a popular choice for wedding bands, especially mens wedding bands, as the diamond sits securely on the band of the ring and is therefore well protected from breaking or dropping. Like the bezel setting, this is one of the safest and most reliable engagement ring styles and is a great option for people who work with their hands.
36. Shank/Split-Shank Setting Ring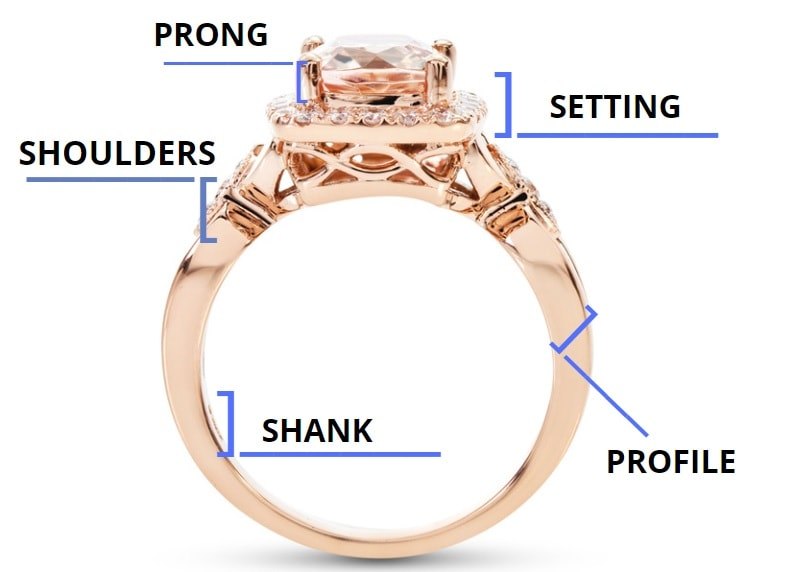 Here is another term that you might hear from jewelers. The shank refers to the band on the ring, or the part that actually surrounds your finger. Most shanks are round, but there are squares and other more creative shapes.
A split shank refers to a ring in which the shank splits into two separate shanks. See the example below for this dividing strip with a handle placed on the pave-set split-shank band.
37. Double Diamond Style Ring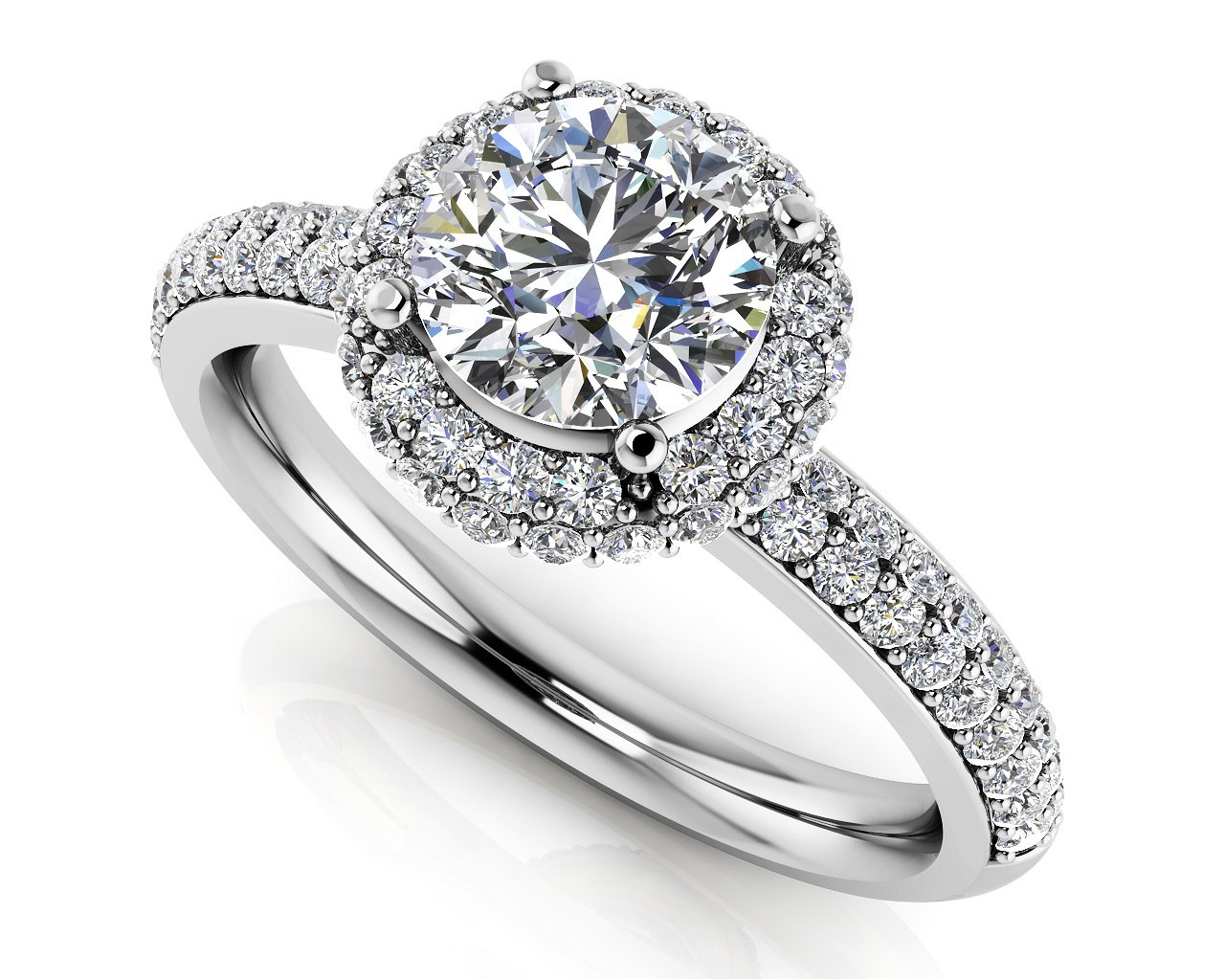 What's better than a diamond? Two! The double diamond style has recently returned to fashion thanks to its popularity with celebrities. The two stones represent you and your partner, bound together for eternity. While traditional designs are two diamonds of the same shape and size, the modern approach is to choose contrasting stones. The square and the pear is a unique combination, as well as the circle and trillions.
38. Baroque Ring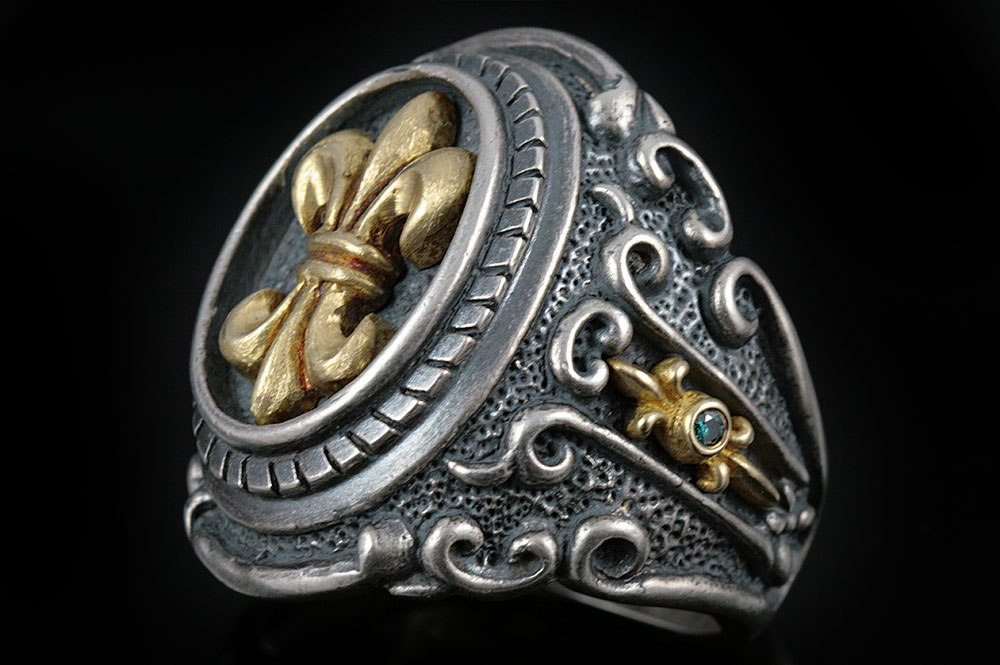 Baroque jewelry is known for its complexity, artistry and decorativeness. When it comes to engagement rings, look for unique, nature-inspired patterns and an antique look with highly intricate details. Micro-pavé and pavé elements combine with larger diamonds, clusters and halos for a truly dramatic look. A baroque engagement ring is perfect for those who have a unique, maximalist style and love all vintages.
39. Bombe Ring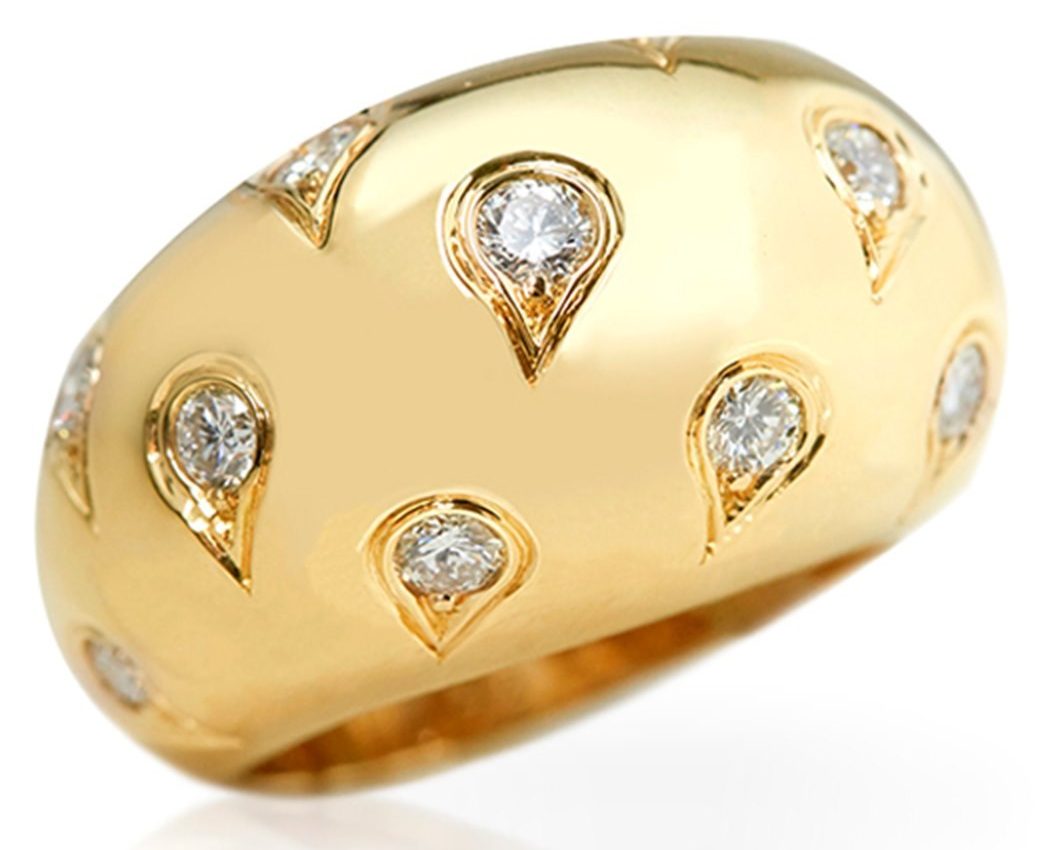 For those looking for a truly unusual and eye-catching engagement ring, nothing beats the bombe. The curved shape defines this Art Deco style; its name comes from the French word bombée, which means domed. Because they use more metal than other styles, a bombe engagement ring is usually flush or French set with many different sized stones to create a cluster effect. The combination of diamonds and colored gemstones such as sapphires and rubies is a wonderful choice for a bombe ring.
40. Single Colored Stone Ring
While many of us consider the white diamond to be the traditional stone for engagement rings, this trend only became common in the 1940s. Colored gemstones were much more commonly offered in the past. Many people today are embracing the old tradition. There are several reasons for this; First, colored stones can be much more affordable than diamonds. Secondly, you can create unique and personalized designs that suit your sense of style. Finally, you know your ring won't look like anyone else. Some popular colored stones for engagement rings include blue and blue sapphires, rubies, emeralds, and morganite. Keep in mind that if you choose colored stones, they may not be as hard as a diamond, so it is easier to damage them.
41. Acrostic Ring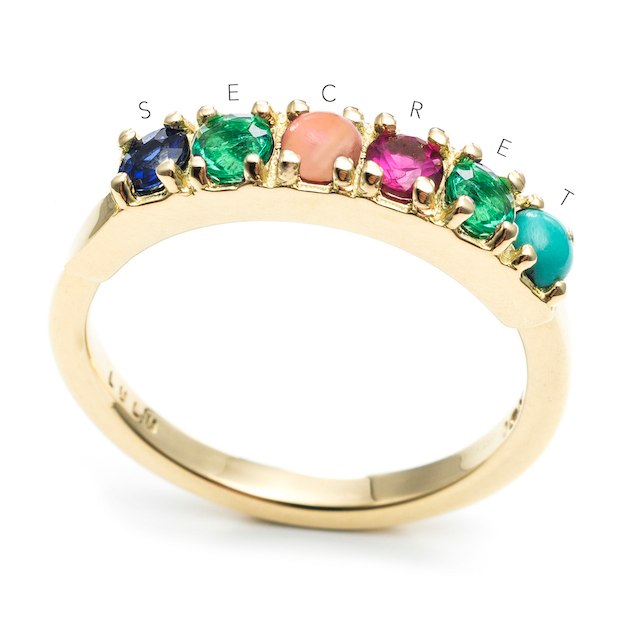 For the first time, acrostic jewelry became popular in the 19th century. Each gem was assigned a letter of the alphabet – amethyst for A, blue topaz for B, etc. As a result, people could only send secret messages by wearing their own jewelry. Therefore, those who want a meaningful engagement ring can use this secret language to represent the initials of their loved one or spell a word like "love." Who can resist such a romantic ring?
42. Vintage Edwardian Ring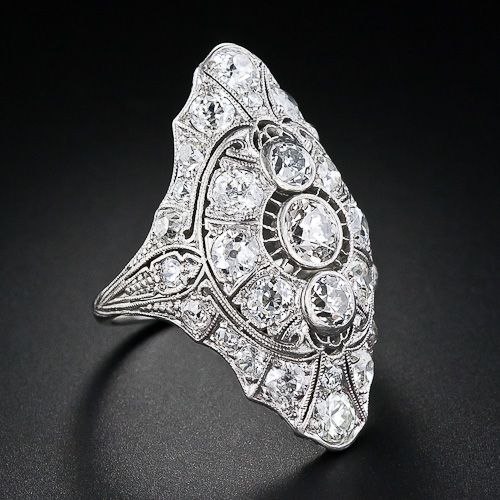 Edward jewelry is associated with delicate details, delicate filigree patterns, delicate chains, and floral motifs that create a very feminine look. When it comes to vintage engagement rings from that time – from 1901 to 1910 – you will find many romantic elements. Think of flower-inspired clusters and unusual cut diamonds like the rose and old mine rather than more modern styles like a princess or round brilliant. Colored center stones are also more common during this period so that you can find engagement rings with ruby and sapphires or even opal, topaz, and zirconia.
43. Ballerina Ring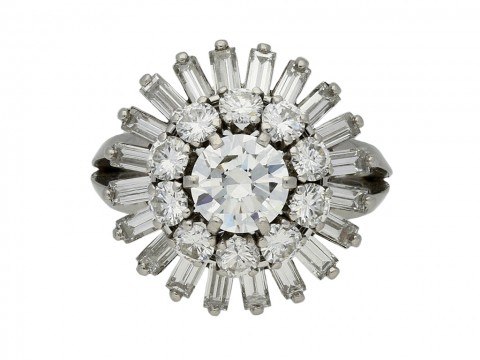 Inspired by the shape of the tutu, the ballerina is one of the most eye-catching engagement ring styles. Ring with clusters, center stone surrounded by a diamond baguette fan. To further mimic the look of a dancer's costume, haloed diamonds can be sharpened to create the illusion of a swirling motion. The style dates back to the 50s of the last century and is back in fashion thanks to its striking appearance.
44. Art Nouveau Ring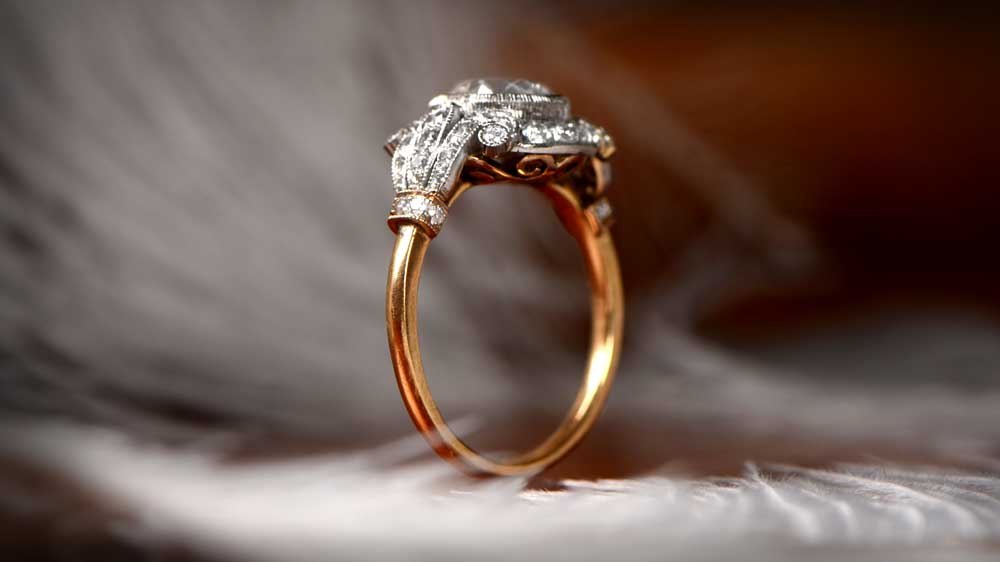 Art Nouveau was a movement that originated in the late 19th century. Inspired by nature, artists working in this style used flowing, fluid lines and intertwining patterns that mimic plants and animals. The jewelry of the time followed the same principles. Gemstones such as moonstone, lapis lazuli, pearls, and opal are often used in Art Nouveau jewelry. While it can be difficult to find genuine vintage engagement rings from that period, many jewelers today create beautiful pieces of jewelry using the same techniques and designs. If you prefer an unconventional stone in your engagement ring, test its hardness to see if it is suitable for everyday wear. Some gemstones, such as pearls, can be easily damaged by fragrances and rough surfaces; white opals cannot be exposed to water.
45. Etched Ring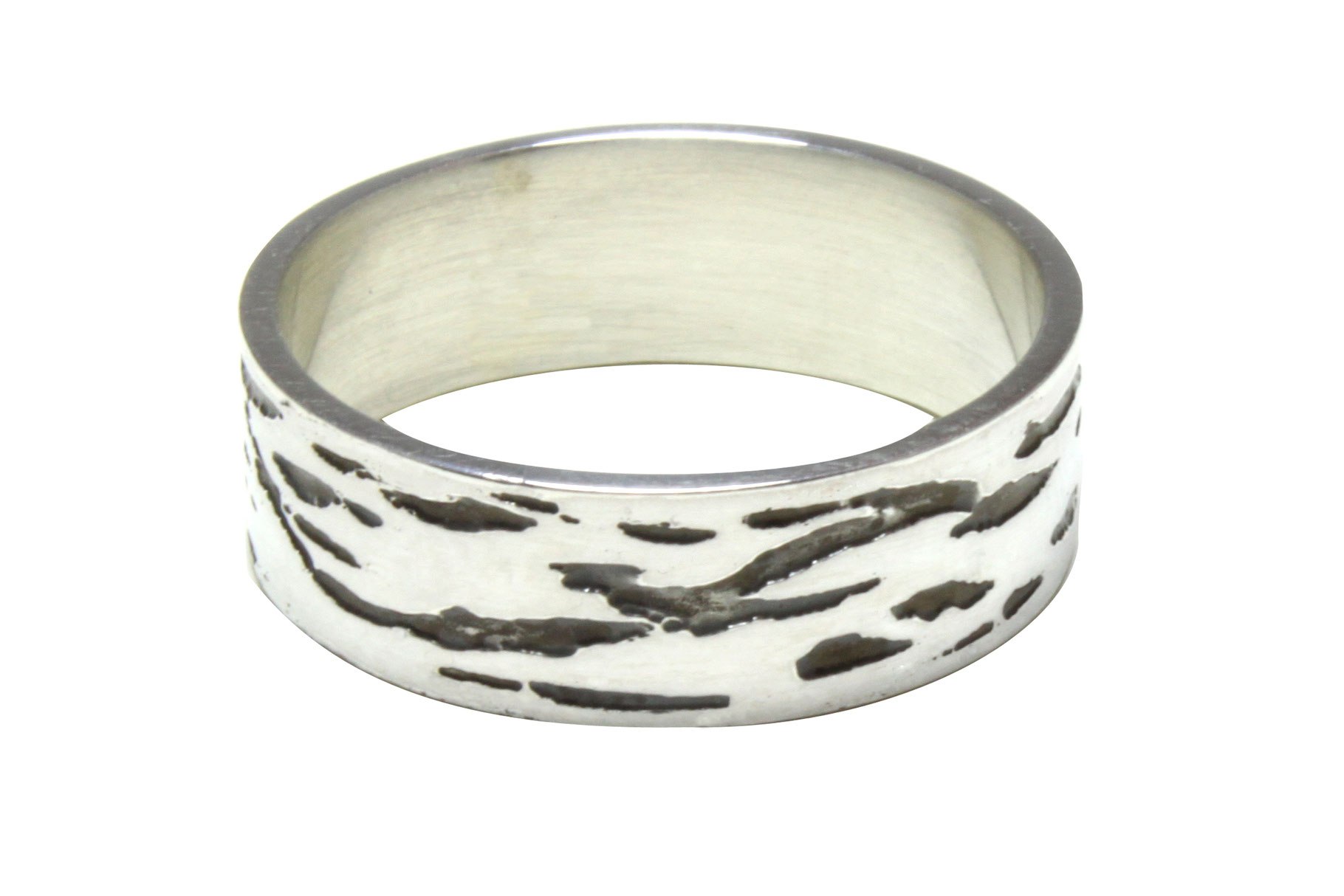 The etching technique is a great way to personalize an engagement ring. It involves the use of chemicals to selectively wear far from the metal of the rod, leaving unique patterns and shapes. Swirls, rope, and leaves are popular design choices as they give the piece a soft and feminine look. Etched engagement rings are also often paired with milgrain, which creates a bead around the edges of the metal for a stunning vintage effect.
46. Modern Contemporary Ring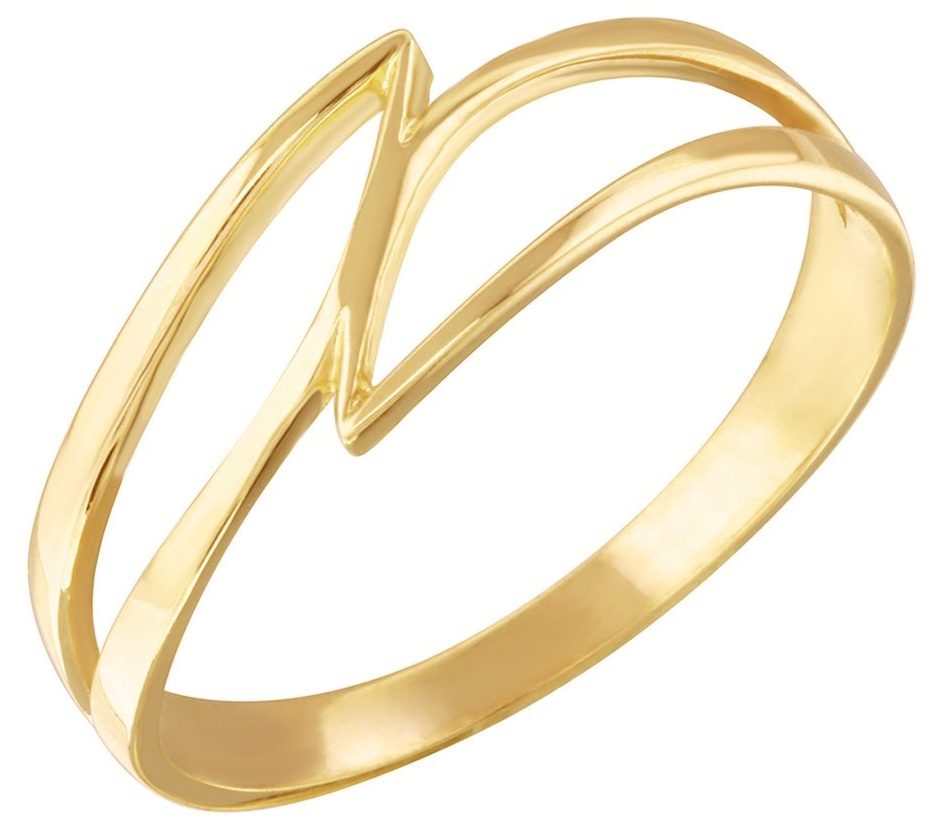 For those brides-to-be who are completely connected with fashion, an engagement ring with a trend and head-turning is a must. Traditional and casual bands don't fit their style. Instead, quirky design, modern and contemporary yet romantic and elegant, is the ideal choice. Wraparound rings (also called serpentine rings), set with white diamonds, give a new look to the classic engagement stone by presenting it in a fashionable setting.
47. Geometric Ring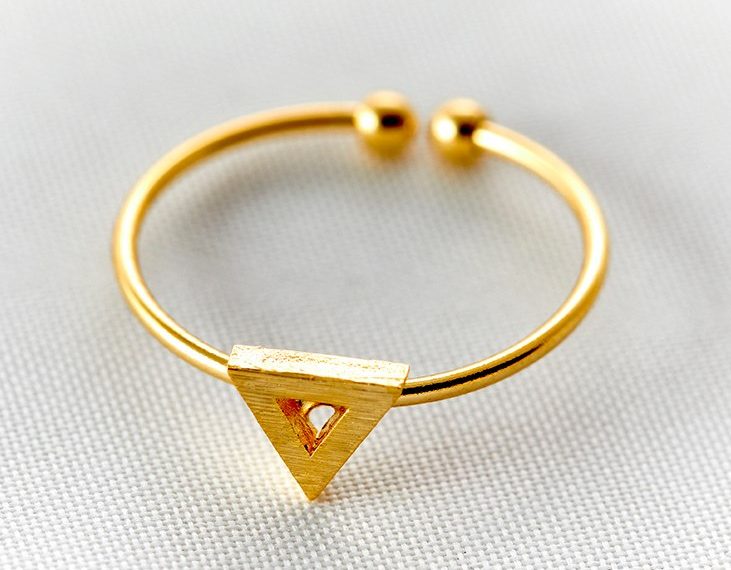 Geometric rings have angular shapes such as squares and triangles to create exquisite jewelry. The style is associated with clean lines and sharp edges that enhance the shine and brilliance of the stone. Geometric patterns can also highlight an unusual cut or diamond shape, such as a trillion. Geometric engagement ring attracts with its unexpectedness. The classic ring is soft and round, while the geometric ring is bold and not afraid to stand out.
48. Minimalist Ring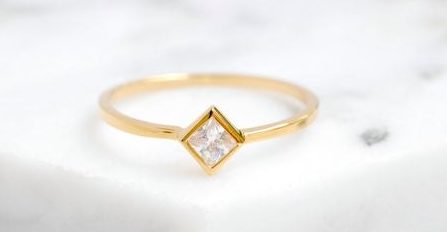 If you wear minimalistic low-cut jewelry in your daily life, your engagement ring should be the same. A thin fine strip of classic metal like yellow gold, rose gold, or platinum and a solitaire diamond create a beautiful, simple finish. There are many advantages to choosing a minimalist ring. It matches perfectly with other jewelry, is easy to clean and maintain, and will always be comfortable to wear. Not to mention, minimalist rings never go out of style.
49. Suspended Ring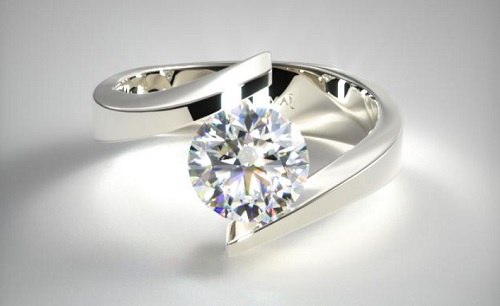 Like the tension ring, the suspended diamond ring also creates the illusion of the stone being hovering. However, the suspended ring sits above the rod, creating a platform effect rather than being placed between the two ends of the rod. The suspended ring is a lovely design, but it creates an intriguing sense of drama when viewed from the side. It's an interesting style to pair with claw or cathedral so it can adapt.